IN LEAH'S WAKE BLOG PARTY
FOUR GREAT AUTHORS – ONE NEVER BEFORE RELEASED MYSTERY STORY
---
Hosted by Terri Giuliano Long
December 12 – 16
---
December 15… Sean Keefer, author of the legal thriller 'The Trust.' When Will and Zoe are arrested for allowing an underage party, Will calls in attorney Noah Parks, a friend from college to defend them. Sean continues the story.
Read on to participate in the fun and to compete for your chance at the prizes. Today's question is: Should Will and Zoe be charged? Answer it in the comments section below and you just might win $500!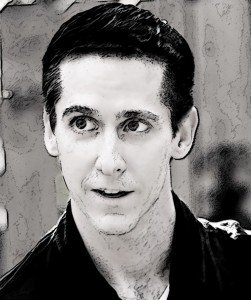 Narrated by Noah Parks
from The Trust by Sean Keefer
Noah Parks is a nice guy. He works hard for his clients. Most importantly, he knows how to balance his personal life and his professional life. Friends and family are important to him though he is still building his family. He's the person you want on your side if you have a problem.

<READ PREVIOUS PART* * *ABOUT THIS EVENT* * *ABOUT THE AUTHOR* * *READ NEXT PART >
"The flight was fine and now I'm in a cab heading out to Cortland," I said into the phone. I glanced up to the rearview mirror and saw the cabbie's eyes on me rather than the road.
"Let me go. I'll call you back and give you an update. Love you." I heard the same words said back over a dog's barking in the background.
I checked the rearview. Despite having traveled several miles, the cabbie's eyes hadn't moved.
"You're not from around here are you?"
"No," I said.
"Watch this, I can guess. The south right?"
"Actually yes. What gave it away?"
"I knew it. I knew it. Knew you were from the south. I always get it. Wicked cool."
Having decided his passenger was from this place called "The South," the cabbie launched on a monologue that quickly covered the Red Sox, the Big Dig and whether he was going to take his wife on vacation or head to Atlantic City with some union buddies. Seems Atlantic City was the odds on favorite.
His words faded into the background. I watched the Boston cityscape pass by the cab's window until we arrived at the rental car company. I paid the cabbie who was still going on about me being from "The South," and quickly collected my rental car. I pulled up an email and checked directions to Cortland. Looked like a quick drive as I hit the road.
I was in Boston from Charleston, South Carolina, for a DUI defense conference when I received the email. The daughter of a fraternity brother's friend hosted an underage party and the family needed some legal help. Not that a South Carolina attorney has any business smoothing over underage parties in Massachusetts, but I rarely ever got to take advantage of my Massachusetts law license.
And, a couple of problems made this one a little unique. First, it seems there had been drugs, a lot of drugs, at the party. Two, a girl was missing. What would have otherwise been but a blip on the police radar now became priority one for several law enforcement agencies. The email even said the locals brought in an out-of-town cop to help out. This meant a lot of attention was going to be focused on the parents – in fact, seems the police had already spoken to them and to their daughter. I'd bet a dozen Dunkin' Donuts there wasn't an attorney to be found when the police were talking to the family. I'd put an end to that.
Turns out Cortland wasn't too large and the Tyler house was easy enough to find. Nice house, I thought, as I walked up to the front door. As I was about to ring the bell, the door opened.
Standing in the doorway was a girl of no more than 17. She was barefoot, dressed in a white tee shirt and a pair of flannel pajama bottoms. She looked tired and, well, like she was somewhere else. We stared at each other for a moment, then I realized I was the only one doing any staring. I was looking at her, but I was pretty sure it had yet to register I was standing in the doorway.
"Hi. I'm looking for Will or Zoe," I said.
Silence.
Her blank stare continued for an awkward minute before her eyes met mine.
"Oh, um, hi."
She turned and wandered back into the house.
"Mom. Someone's here," she said as she disappeared around the corner.
I was left looking into an empty den and dining room beyond. After several minutes an attractive, but harried looking woman in her late 30's appeared.
"Hi," I said.
"Tell me you're Malcolm's friend, the attorney."
"I am. Noah Parks," I said as I stepped into the house. I glanced back over my head as the silence outside the door was broken by distant police sirens. I shut the door behind me.
"Thank heavens. I'm Zoe Tyler," she said as she shook my hand. "Give me a minute. I'll get my husband."
She turned and left me in the den before I had a chance to say anything else. I looked around the room and my eyes fell upon a large portrait over the fireplace. A man, woman and two younger girls. I recognized Zoe as the woman and one of the two girls as the one who opened the door for me though the other girl in the photo, though younger, looked exactly like her sister.
"Awful blue, huh?" a voice said.
I turned to see the man from the photo standing beside Zoe in the doorway.
"The photo, lots of blue. Never mind, anyway, I'm Will Tyler and thank you for coming."
"Happy to help. Malcolm said the police were being less than friendly. It's always a good idea to have a buffer between you and the authorities. Don't worry, I'll take care of that, but let's talk so I understand what's happened."
"Certainly. Anything you need."
I looked back to the portrait.
"Your girls. I'd like to talk to them."
Zoe and Will exchanged looks.
"That won't be easy," Will said.
"Pardon me if I'm blunt, but if I'm going to be any help, ya'll, that's southern for everybody," I said as I motioned with my finger. "Will have to talk to me. I can't help you unless you help me."
"Mr. Parks," Zoe said as she walked in and motioned for me to sit.
"Call me Noah."
"Noah, Leah, well, talking to Leah just isn't easy."
"Lately, anyway," Will said as he moved to join Zoe on the sofa.
"And our other daughter, Justine, she's the one who's missing," Zoe said.
"I'm sorry, seems Malcolm neglected to tell me that. Ok, we'll talk then I'll deal with the police," I said. "And try to talk to Leah."
An emotional three hours later I had more than I needed. The Tyler's weren't going to be charged with anything. These parents had a missing daughter on their hands. I was also 100% confident neither Zoe nor Will had anything to do with their daughter's disappearance.
Leah, well, that was another story. She likely wouldn't be arrested and probably wasn't directly involved with Justine's disappearance, but if fingers of responsibility were to be pointed, Leah was going to be a popular target. It seems that Leah was developing a reputation as a rebellious teen. Something that was taking a toll on the family.
Will and Zoe were sitting side by side on the couch, embracing, sobbing.
I let them sit in silence for a moment.
"Guys, I need to talk to Leah."
"I'll go get her," Will said.
"Why don't you point me towards her room and let me introduce myself. I'll go ahead and give the police a call, let them know they go through me."
Zoe and Will looked at each other.
"Second door on the right," Will said.
"Try to relax. I'll get an update on what the police are doing and we'll see what Leah has to say."
I walked out of the den and glanced down the hall towards Leah's room. I half expected a "Keep Out" sign, but instead saw only a, "Leah's Room" sign. I stepped into the kitchen and saw the phone by the refrigerator. Sure enough, a sticker with the Cortland Police Department phone number was right where I expected it. I dialed the number on my cell.
"Cortland Police, could you please hold?"
"No, I can't. My name's Attorney Noah Parks and I'm calling on behalf of the Tyler's concerning their missing daughter. I've got some information. Could you please connect me to the officer in charge?"
"Sir, he's not available."
"I'm certain he's working on finding their daughter, but I'm also sure you wouldn't want to keep any information from him now would you?"
Silence. I got that a lot.
"No, sir, I wouldn't. Let me see if I can find him. Do you want to leave a number?"
"I'll just hold so we don't have to keep him waiting."
I glanced back into the living room and saw Will and Zoe still on the couch. Had to be tough for them. I headed down the hall toward Leah's room with hold music playing in my ear.
I knocked. Nothing. I knocked again.
I placed my ear against the door. Odd, complete silence.
Glancing up the hall I saw the next door down had a sign that read, "Justine's Room." I walked the few steps, knocked and opened the door half expecting to find Leah on her sister's bed, but instead found only an empty room. I went back to Leah's room and opened the door.
Empty.
"Will! Zoe!"
They were there in seconds.
"Where's Leah?" Zoe said.
"My question exactly," I said. "Would you guys go have a look around?"
They disappeared. I stood in the middle of the room. It looked like a typical teenager's room – in short a disaster area. Clothes strewn everywhere, out on the window ledge was an ashtray, an opened laptop was on the desk. I took a step towards the bed. The flannel bottoms she'd been wearing when she answered the door were lying on the covers. Great, there was a half-dressed teenager roaming around somewhere. I glanced to the computer and touched the track pad. The hard drive started to spin.
The screen came to life and I saw an open instant message window.
ToddC – The cops grabbed me & think Theo has sumthing 2 do w Jus! Mt me @ the school NOW!!
SoccerGrl – Leaving now
I checked the time of the message. Almost half an hour ago.
"Noah."
Will was standing in the door, Zoe to his side.
"She's not here."
A voice came across my phone.
"This is Officer Johnson. Who am I talking to?"
"Attorney Noah Parks. Can you hold on a moment?"
"Mr. Parks, you called me."
"I know, but the Tyler's daughter…"
"Mr. Parks, good news. We've just caught a break. We've had a report of a girl fitting the description of the Tyler's daughter at the high school."
"That's great. Which daughter?" I said.
"Excuse me, did you say which daughter?"
"I did. That was what I was trying to tell you. Leah's missing and we think she was heading to the high school."
"Great and next you're going to tell me she's half-dressed," Johnson said.
"Well, actually yes. How did you know?"
[box title="Sean Keefer"]Sean Keefer was born and raised in the Carolinas. After studying law in North Carolina, Sean settled in Charleston, South Carolina and instantly became enamored with the people as well as the city. When Sean is not writing he practices Family Law and works as a Domestic Mediator. Sean can frequently be found wandering the lowcountry of South Carolina with his camera, playing guitar in assorted venues around Charleston or exploring the underwater world of the southeast.[/box]
<READ PREVIOUS PART* * *ABOUT THIS EVENT* * *ABOUT THE AUTHOR* * *READ NEXT PART >