Best Seller for a Day is coming on August 17th!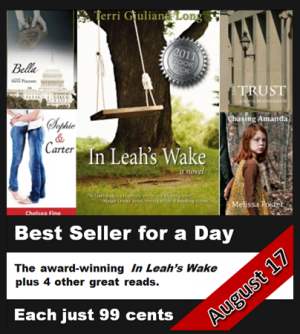 In just two more days, In Leah's Wake will be featured in the Indie Book Collective's premier promotion Bestseller For a Day! It's an honor to partner with fantastic authors – Chelsea Fine, Sophie & Carter, Steve Piacente, Bella, Melissa Foster, Chasing Amanda, Sean Keefer, The Trust. If you enjoyed In Leah's Wake -Â or any of these phenomenal partner books – please help drive our books up the charts by posting on Facebook or Twitter and passing the word to family and friends. Thank you so very much!! Your kindness and support mean the world to me and to my award-winning fellow authors!
To celebrate, we're giving away a Kindle! To enter the giveaway, please visit the Bestseller For a Day website. You'll find the entry form on the upper righthand side of the page. While you're there, sign up for the IBC newsletter! Writers receive all sorts of fantastic promotional info and readers will find great new books!
A million thanks to the IBC for your support and for selecting In Leah's Wake for Bestseller For a Day promotion!
The story behind the story
In Leah's Wake tells the story of a family in collapse. Sixteen-year-old Leah, a star soccer player, destined for a full scholarship to college, has led a perfect life. When she meets a sexy older guy, a former roadie in a rock band, drawn to his free spirit and independence, she begins to spread her wings. Drinking, ignoring curfew, dabbling in drugs-all this feels like freedom to her. Her parents, naturally terrified, feel they're losing their daughter, and pull the reigns tighter.
This is unfamiliar territory for the whole family. Unfortunately, they get it all wrong, pushing when they ought to be pulling, and communication breaks down. Soon, there's no turning back. Twelve-year-old Justine caught between the parents she loves, and the big sister she adores, finds herself in the fight of her life, trying desperately to pull her family together.
If this novel has any memorable aspect or quality, I'd say it's the characters. Readers often tell me – and reviewers have noted – that the book feels real and complex. They understand this family because they've been here – as a parent or a teen. Readers feel like they know the characters, and they care about them.
The Tyler family is far from perfect, but they love one another, deeply. Our flaws make us human and that humanity connects us. While I hope readers enjoy In Leah's Wake, it's important to me to share this sense of connection-and hope.
Inspiration
Years ago, I wrote a series of feature articles about families living with drug and alcohol-addicted teens. The moms talked candidly about their children. Their heartbreaking stories stayed with me.
My husband and I have four daughters. When I began writing In Leah's Wake, our children were adolescents. Most families struggle in some way or other during their children's teenage years. We're no different – though, thank goodness, we experienced nothing remotely like the problems and challenges the Tylers face in my book.
As a parent, I know how it feels to be scared, concerned for your children's future. This, I feel in retrospect, was the driving force behind this story.
All these things played on my conscious and subconscious mind, and ultimately emerged as this book.
What do you hope readers will take from your story?
The epigraph, from The Grand Inquisitor, says it best: 'everyone is really responsible to all men for all men and for everything.' The Tyler family is far from perfect, but they love one another. Our flaws make us human and our humanity connects us. I hope readers feel that sense of connection-and hope.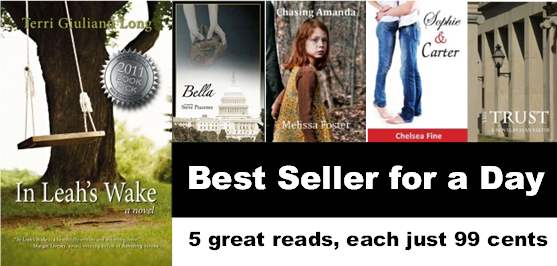 On August 17th help make this award-winning work of literary fiction Bestseller for a Day!
As part of this special promotional extravaganza, the price of the In Leah's Wake Kindle edition is dropping to just 99 cents. What's more, by purchasing this novel at such an incredibly low price, you can enter to win a Kindle!
To win the prizes:
Purchase your copy of In Leah's Wake on August 17th
Visit the Best Seller for a Day site and enter to win a Kindle
How easy is that?
While you're over at Amazon.com, you might as well purchase the bonus buys too. Yes, to celebrate the event, 4 amazing partner authors have also dropped the prices of their phenomenal eBooks to 99 cents. So for just $4.95-that's the price of a Venti latte-you'll get:
Eager to get reading but don't yet have a Kindle? Grab a free Kindle app for your PC, your Mac, your iPhone, iPad, etc. HERE.
About In Leah's Wake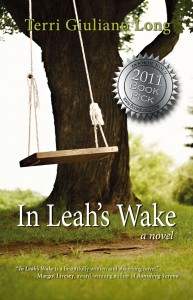 The Tyler family had the perfect life – until sixteen-year-old Leah decided she didn't want to be perfect anymore. While Zoe and Will fight to save their daughter from destroying her brilliant future, Leah's younger sister, Justine, must cope with the damage her out-of-control sibling leaves in her wake.
Will this family survive? What happens when love just isn't enough?
Jodi Picoult fans will love this beautifully written and absorbing novel.