Best Seller for a Day is TODAY, August 17th!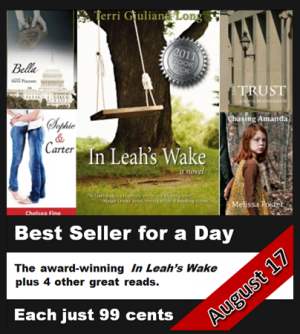 People often ask who the In Leah's Wake characters are – really, in real life.
Dorothy, the designer and creator of the bracelets Zoe buys for herself and Leah, and Bob Sullivan, owner of Sullivan Farms Ice Cream, are real people. These are their real jobs and real names – and I've tried my best to capture their spirit.
No other character is real. I borrowed habits and physical characteristics from real people – for the runaway arm, I owe my youngest daughter, KK; and my poor husband is a physical stand-in for Will. We writers do this for the sake of realism. This sometimes results in unfortunate assumptions. I'm lucky – I have a good-natured family who puts up with my thievery, and – smiling – claims not to mind.
The personality, motivation, and behaviors – these I'm 100 % responsible for.
Why use multiple Points Of View, rather than stick to just one?
For me, this book is not about any one character. It's a story about a family. For this reason, each person had to have a voice. We experience and remember shared events differently, from our own perspective. By using multiple points of view – sometimes overlapping the stories – I hoped to show this. Also, by telling their individual stories, I hoped give readers greater insight into the characters.
Why the POV of Officer Johnson, a character outside of the family?
In the first draft, Jerry's voice emerged as I wrote. I didn't give it much thought. As I revised, I saw themes of connection and responsibility. The epigraph conveys those themes as I hope they come across: 'everyone is really responsible to all men for all men and for everything . . .' I see Jerry as the connecting force, both in the novel and for this family. Although, like all of us, he's flawed, Jerry takes his responsibility for others to heart. Thematically, his voice is very important.
What advice would you give to parents who may be going through a similar situation as Zoe and Will?
In troubled times, it's hard to believe you'll ever see the light of day. Truth is, the challenges we face with teens don't last forever. Children grow up. Maybe sooner than you think, your child will find his or her way, and you'll be close again.
Believe me, I understand how terrifying and painful it is to watch your child make mistakes, or fall. While some certainly take longer than others to mature, most kids do turn out well. As the mom of four grown daughters, all wonderful adults, I speak from experience; as a teacher, I've known and worked with many kids over the years. Ironically, the very qualities we value in adults-creativity, leadership, independence – often lead teens to rebel. In the long run, these qualities pay off.
Parenting is the toughest job in the world. Let's not make it harder by beating up on ourselves! Try to believe in yourself – make decisions that feel right, for the right reasons, and then trust your decisions. The strong values and character you've instilled will prevail. You love your child. Though at times it may be hard to believe, your child loves you. Try to remember this, and remind yourself often!
Any advice for teens who may feel pressured by family or friends to do things they don't want to do?
Be true to yourself. I honestly believe that most teens want to please the people they care about. You want to connect with others, belong. That's a beautiful part of who you are. But it shouldn't dictate your behavior. The adults who love you -parents, relatives, teachers, coaches – want the best for you, but they don't always get it right. You might ask what they're thinking, where they're coming from, consider and evaluate their response. At the end of the day, though, you know what's right for you. Listen to yourself, stay in touch, and follow your heart.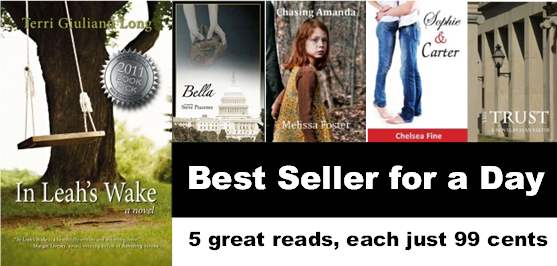 Help make this award-winning work of literary fiction Bestseller for a Day – and that day is today!
As part of this special promotional extravaganza, the price of the In Leah's Wake-Kindle edition is dropping to just 99 cents. What's more, by purchasing this novel at such an incredibly low price, you can enter to win a Kindle!
To win the prizes:
Purchase your copy of In Leah's Wake on August 17th
Visit the Best Seller for a Day site and enter to win a Kindle
How easy is that?
While you re over at Amazon.com, you might as well purchase the bonus buys too. Yes, to celebrate the event, 4 partnering authors have also dropped the prices of their eBooks to 99 cents. So for just $4.95-that's the price of a Venti latte-you'll get:
Eager to get reading but don't yet have a Kindle? Grab a free Kindle app for your PC, your Mac, your iPhone, iPad, etc. HERE.
About In Leah's Wake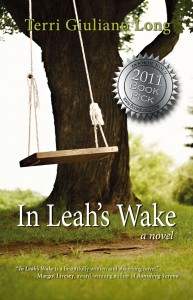 The Tyler family had the perfect life – until sixteen-year-old Leah decided she didn't want to be perfect anymore. While Zoe and Will fight to save their daughter from destroying her brilliant future, Leah's younger sister, Justine, must cope with the damage her out-of-control sibling leaves in her wake.
Will this family survive? What happens when love just isn't enough?
Jodi Picoult fans will love this beautifully written and absorbing novel.