Best Seller for a Day – It's not too late to play!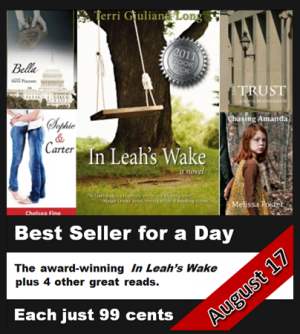 In 2006, In Leah's Wake was under contract with a small traditional publisher. About a month before the release, things began to fall apart. Shortly thereafter (unrelated to me), the company folded. I sent the book to a handful of agents, received lovely, complimentary responses, no offers. I really believed in this book. I'd received so much encouragement over the years, from agents, editors, readers, writer friends' – and I'm grateful, truly grateful to all of them – that I had a hard time letting go. For years, I tried to revise. Eventually, I realized I was writing in circles. The book had changed, but it was no better. Reluctantly, I put it away.
After several false starts, I finally gained traction on a new novel, a psychological thriller, Nowhere to Run. Like In Leah's Wake, Nowhere is a family story at heart. I anticipate finishing the new novel this fall. I knew I'd need a platform and hoped, by publishing In Leah's Wake, to build one. Many talented people have joined the indie publishing revolution, but this was a new, and scary, avenue for me. It's been bumpy ride – and easily the best thing I've ever done for myself.
What are your thoughts on e-books, the self-publishing revolution?
This is an exciting time for both readers and writers. The traditional gatekeepers no longer hold all the power; today readers can choose from a rich selection of traditionally and indie-published books. The big houses are trying to find their way, and that's hard. But writers whose books might have been lost under the old system are enjoying phenomenal success. I'm awed and encouraged by this.
That said, indie-publishing is far from easy. The logistics aside, it's tough to bring a book to market. You're a writer, but you've got to think like an entrepreneur. If you hope to be noticed, you must work tirelessly to promote yourself. You have to create a brand, sell yourself to readers. Not everyone has the stomach for that.
Right now, no one knows how this will shake out. My guess is, we'll follow the film industry. The big houses will continue to underwrite and support big name authors, books they believe will make money or win major prizes, while new and mid-list authors will publish on their own, or join forces with other indie authors.
This is already happening. The Indie Book Collective, founded by a wonderfully creative team of go-getting women, is helping to bring indie authors together, and working to end the self-publishing stigma. Over Memorial Day weekend, I had the honor of participating in the Blog Tour de Troops, hosted by the IBC.
Thirty-five indie authors banded together to create a daisy chain blog hop. For every comment left on his or her blog, the author donated two books – one to the commenter, one to an active duty U.S. troop. Before joining the Tour, I'd had no idea that e-books are the number one care package item requested by troops!
The response was amazing – and the notes from vets and their families incredibly emotional. We were so moved that we've offered to donate extra books. I haven't seen the final tally, but initial numbers suggest that we'll be giving about 10,000 books to the troops! That's power in numbers! And that's the indie spirit at work!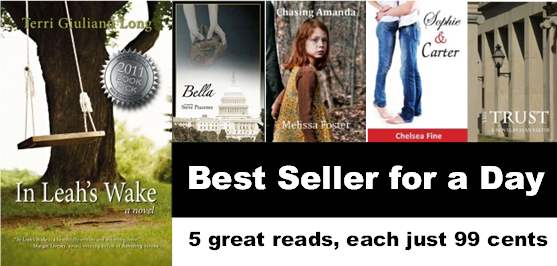 Best Seller for a Day – It's not too late to play!
As part of this special promotional extravaganza, the price of the In Leah's Wake Kindle edition is dropping to just 99 cents. What's more, by purchasing this novel at such an incredibly low price, you can enter to win a Kindle!
To win the prizes:
Purchase your copy of In Leah's Wake on August 17th
Visit the Best Seller for a Day site and enter to win a Kindle
How easy is that?
While you're over at Amazon.com, you might as well purchase the bonus buys too. Yes, to celebrate the event, 4 partnering authors have also dropped the prices of their eBooks to 99 cents. So for just $4.95-that's the price of a Venti latte-you'll get:
Eager to get reading but don't yet have a Kindle? Grab a free Kindle app for your PC, your Mac, your iPhone, iPad, etc. HERE.
About In Leah's Wake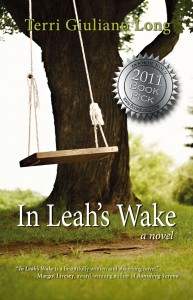 The Tyler family had the perfect life – until sixteen-year-old Leah decided she didn't want to be perfect anymore. While Zoe and Will fight to save their daughter from destroying her brilliant future, Leah's younger sister, Justine, must cope with the damage her out-of-control sibling leaves in her wake.
Will this family survive? What happens when love just isn't enough?
Jodi Picoult fans will love this beautifully written and absorbing novel.