Best Seller for a Day is coming on August 17th!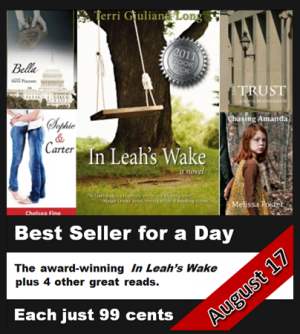 I've always been a writer at heart. As a child, I entertained myself by making up stories and acting in my own improvisational plays. In high school, most of my hobbies and activities involved writing. One day, brazenly, I walked into the editor's office at the town paper and asked for a job. Initially, I covered sports and other high school news. Eventually, the editor gave me my own column. I was sixteen. That column was my first paid writing job. I earned about a dollar a week – and I knew then that the only job I'd ever want would be as a writer.
I can't imagine not writing. I've been a writer, in one form or another, my whole life. Writing transports me; I lose myself in the process.
Writing & Schedules
People often ask about my schedule – when do I write? Ideally, I blog in the morning and either write or edit my novel-in-progress from early afternoon until dinnertime. This schedule doesn't always work. We recently finished the school year at Boston College; during crunch time, when I'm busy editing and grading students' papers, my own work falls by the wayside. I've neglected my novel for the last month, and I'm eager to dig in again. Typically, it takes me a few weeks to catch up and get back into a regular routine.
In the past, I insisted that students write every day. I now believe rules to be counterproductive. The right way to do anything is the way that works best for you. Life interferes with the best-laid plans. You can fight it or go with it. I try to go with it. Of course, I don't always succeed.
What, for you, is the most difficult aspect of writing?
For many writers, it's facing a blank screen, revising, dealing with rejection. I struggle with all of this, too, to varying degrees. For me, sustaining belief-not in the project, but in myself-is, by far, the biggest challenge. I wonder if I'm on the right track, constantly second-guess myself, which results in periods of – let's call it – creative procrastination.
What are the most common misconceptions about writing?
That writing a novel is easy and/or fast. Occasionally an author, like the indie-publishing sensation Amanda Hocking, claims to have written his or her book in a few weeks, a month. People, maybe because they want to believe this, get the idea that you have only to channel the muse and the words spill out. If only. Most of us spend many long months, if not years, drafting, revising, editing.
The sister misconception is that writing is hard. People who believe this think writing is effortless-for the gifted. This belief discourages many people, wonderful writers, away from writing. They write a first draft, fail to see its merit, and quit, not realizing that writing is a process. While it's difficult to sustain the necessary energy, confidence, attention to write a novel- craft can be learned.
Why do you like writing in this genre?
Families fascinate me. While my stories differ-I'm currently working on a psychological thriller with a historical twist-they always tie back to the family, the ways we love, yet often hurt one another, the grief, the sorrow, the revelation, the joy. I believe people connect with these stories. I've heard from so many readers – family, friends, reviewers, readers I've never met. They tell me that In Leah's Wake feels real, the problems complex. They've been there – as a parent or a teen. They feel like they know these characters, and they care about them. This connection, for me, is the most important reason for writing.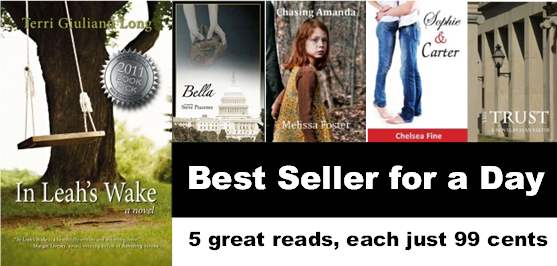 On August 17th help make this award-winning work of literary fiction Bestseller for a Day!
As part of this special promotional extravaganza, the price of the In Leah's Wake Kindle edition is dropping to just 99 cents. What's more, by purchasing this novel at such an incredibly low price, you can enter to win a Kindle!
To win the prizes:
Purchase your copy of In Leah's Wake on August 17th
Visit the Best Seller for a Day site and enter to win a Kindle
How easy is that?
While you're over at Amazon.com, you might as well purchase the bonus buys too. Yes, to celebrate the event, 4 partnering authors have also dropped the prices of their eBooks to 99 cents. So for just $4.95-that's the price of a Venti latte-you'll get:
Eager to get reading but don't yet have a Kindle? Grab a free Kindle app for your PC, your Mac, your iPhone, iPad, etc. HERE.

About In Leah's Wake
The Tyler family had the perfect life – until sixteen-year-old Leah decided she didn't want to be perfect anymore. While Zoe and Will fight to save their daughter from destroying her brilliant future, Leah's younger sister, Justine, must cope with the damage her out-of-control sibling leaves in her wake.
Will this family survive? What happens when love just isn't enough?
Jodi Picoult fans will love this beautifully written and absorbing novel.