Today, I'm pleased and honored to bring you an interview the wonderful, multi-talented writer Gregory Allen. Shortly after I met Greg on Twitter, I began reading his poignant memoir about his drug-addicted older brother. Before Greg's, I'd never seen a memoir written in first person from the perspective of someone other than the writer, and I wanted to share his story with you. Here he talks about PROUD PANTS, his writing process and the journey that led him to write this moving book.
Interview with Gregory G. Allen
ABOUT GREG
When and how did you begin writing?
I started writing short stories and plays as a child. But I was 14 years old when my first musical was produced on stage by a local children's theatre company. I continued writing for children's theatre all through high school.
You write in different genres. Which is your favorite and why?
That is a tough one. I've always said I can't really be defined by a certain genre. If I'm writing 'chick lit', 'literary fiction' or non-fiction – I'm drawn to character driven personal journeys. I love to write about people who attempt to overcome some sort of adversity. That's not saying that everyone always does, but the process of the attempt is really what I love to write.
What's helped most to improve your craft of writing?
Reading. Reading. Reading. I find it so important to read what others are writing – especially going outside my 'comfort zone' of what I usually reach for and discovering something new.
What inspires you?
Tenacity. When I see someone who is truly persistent in going after what they want, their hearts desire: I love that.
Could you please tell us something we wouldn't find on your site or in a release?
I've never shared the original name of the book: 'The Boy in the Striped Pants' (because the pants described in the book are these wild yellow and purple striped pants of the 70s). However – it was too close to 'The Boy in the Striped Pajamas' (a book I love) so a good friend helped me tighten up my title to what it was truly about: the mere moment when my brother felt the most proud.
ABOUT YOUR BOOK & WRITING PROCESS
You've written PROUD PANTS, a 'memoir' about your brother using his voice. What prompted you to take that approach? And how do you feel it works for the book?
I first wrote the story as a short story in third person POV. In the meantime, I was working on my debut novel that is out 10.11.11 and my mentor suggested I rework that entire novel in 1st person. When I did, I loved it (and found it creeping in to my other writing). I returned to Proud Pants and felt I needed to get inside of my brother's head and write the story from his point of view. Part of that was due to my trying to make sense of the hard life he had led. By sharing his 'thoughts' (knowing they were imposed thoughts by me to stories shared over the years) – I believe it humanized a character that would be easily despised in a book.
Was it hard to write in the first-person from a perspective not your own?
I tend to do it in much of my fiction now, so I had to treat my brother like a character in order to do it. I can hear his voice in my memory and know we did not see eye to eye on everything – but to capture that on the page, I had to remove myself and attempt to think as he did.
Why did you decide to write a memoir about your brother?
My brother had a rough life. And as his younger sibling, I did in turn: when he was around. I moved away at 18 years old when he was in his early 20s and I didn't give much thought to him after that. But when he died, I couldn't help but think about his wasted life. I truly think (in an odd way), I have him to thank for my being an over achiever. I have always been a person with the thought of 'what can I do next?' Growing up, he was always in trouble so I tried to be the good son. Writing this book was a way to pay tribute to the life he led and just maybe help someone along the way dealing with their own addictions.
Your older brother was a drug addict. Was it difficult to write about him?
Yes and no. Oddly enough, I seem to write a lot about addiction. (My personal addiction is food.) So I could allow myself to go there with him and not think of the fact I was writing about my own brother (we share a father, but not the same mother).
What sort of preparation did you do before writing this book?
I had to dig deep into my own memory as well as others in the family. Memories are very strange because we can all remember things differently – but this is the life I recall. I created a timeline to keep things in order. Those memories can hurt some people, but my intention was never to cause pain to anyone. (It's one of the reasons I use a pen name when writing and never share my family name in the book.)
What did you learn over the course of the writing?
Everyone has a story. No matter how it may appear on the outside looking in, if you dig deep into the 'why' you can discover so much more about that person.
What were your best and worst experiences and why?
The best experience was writing the words 'finally the anger is gone' because those words were twofold: both for my brother and for me. It was amazing to let go of my own anger I had carried against him for so many years. The worst experience was the punch that hit in my stomach when I realized all those people in my life (who never knew I even had an older half brother) would read about me picking up a pipe to defend my mother. There are moments of our lives that we may not want to share, but I knew it was important to put those moments in the book so it would ring true.
You're also a playwright – do you plan to write a play or screenplay based on the book?
I've had readers ask me that, but I haven't given it any thought. It was a novelette to portray this short life he led. Perhaps a movie short would work. That would be a huge undertaking when I have so many other projects on the horizon. I'll probably leave in this format and let reader's take the large message from this small book.
FINAL THOUGHTS
What are you working on now? I am busy promoting the release of my debut novel Well with My Soul, editing a novel due out next year, and have a children's book submitted to a few places.
How can your fans contact you? @GregoryGAllen on twitter.
Anything else you'd like to share? Twitter is an amazing medium. It brought me to you and your book and I'm so glad you invited me to join you on your blog! Thank you!
About Gregory G. Allen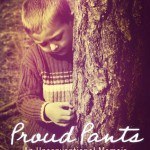 Gregory G. Allen is the author of Well With My Soul and Proud Pants: An Unconventional Memoir. He has had short stories and poetry published in anthologies and websites and is a contributor of articles and blogs on several sites. He has been in the entertainment business for over twenty years as an actor, director, writer, and producer (even toured the country as a Teenage Mutant Ninja Turtle in the late 80s). He's had over ten shows that he has served as book writer and/or composer/lyricists produced on stage (winner of Best Score Award for River Divine) and currently manages an arts center on the campus of a college.