WHEN JANE & JOHNNY COME MARCHING HOMELESS
This weekend, I am proud and honored to be one of 50 indie authors participating in Tour de Troops, a charity blog hop sponsored by the Indie Book Collective. You've come from the blog of my lovely writer-friend, superstar Amber Scott. From here, please visit SCBWI award-winning author Anne Tibbets, for another free eBook.
Never in the field of human conflict was so much owed by so many to so few.
Winston Churchill
As a writer, I enjoy the freedom to write whatever I choose, to criticize as I see fit, without ever worrying about persecution – or prosecution. To assure my freedom, many courageous men and women have given their hearts, their souls, and their lives. This weekend, we give thanks to all those who've served in our armed forces.
In their honor, I introduce my beautiful and talented childhood friend Nina Gilberti.
Nina is an Emmy-winning film editor, currently working full-time for the hit CBS television series Criminal Minds, and also an indie filmmaker. Today she'll talk about her upcoming documentary, When Jane and Johnny Coming Marching Homeless, about the horrors faced by some veterans upon their return home after war.
Jam On Toast Productions Presents…
When Jane & Johnny Come Marching Homeless
a film about the emotional & psychological wounds of war
Produced & Directed by
Nina M. Gilberti
Terri, thank you, once again, for inviting me to participate in this amazing event, Blog Tour de Troops, especially on this day, the day we honor all those who answered the call to serve this country, Veterans Day.
As you know, on Criminal Minds we start and end most episodes with a quote. I'd like to start by sharing a favorite one that sums up my feelings about veterans.
As we express our gratitude, we must never forget that the highest appreciation is not to utter words, but to live by them.
John F. Kennedy
People often ask how was I drawn to this subject. The Vietnam War became part of my childhood, in the 60s and early 70s, as my family and I watched it unfold on the Nightly News. The juxtaposition of popular culture in television shows like The Beverly Hillbillies, The Munsters, The Addam's Family, That Girl, Bewitched, The Flying Nun, to name a few, and the real life drama and turmoil on the news – the war, civil rights, the assassinations of our leaders, women's rights, the protest movement, the hippie generation, and of course, the music – had a profound influence on me. A consciousness emerged and I embraced the social responsibility that all Americans should have to give back to those who've sacrificed so much for all of us so we can enjoy the freedom we take for granted.
In the mid-90s, while doing research for a screenplay I was writing about a homeless Vietnam veteran, I read a statistic on the VA website stating that one-third of the people living on the streets were veterans who'd served in the Vietnam War.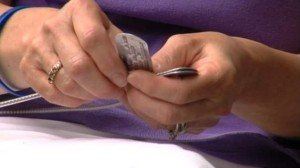 I was shocked, saddened, confused, and angry.
In addition to physical homelessness – whether couch surfing, living in a car or existing on the street – many vets also face emotional, psychological, and spiritual homelessness. While they may seem fine on the outside, within they struggle with the hidden wounds of war – issues like Post Traumatic Stress (PTSD), nightmares, hyper-vigilance, meaning they are on high alert all the time, Traumatic Brain Injury (TBI), drug & alcohol abuse and addiction, prescription drug addiction – resulting in high divorce rates, joblessness, spousal abuse, and suicide. Naturally, these life-altering problems also affect the spouse, children, and parents of veterans.
In my dreams I hear again the crash of guns, the rattle of musketry, the strange, mournful mutter of the battlefield.
In November 2007, the WGA writers went on strike in Hollywood. As I am now, I was a film editor on the popular television crime drama series, Criminal Minds. Thanks to the strike, I suddenly found myself with time on my hands. I went into debt and bought all the equipment I needed to create this documentary, and shipped it back to my hometown, in the suburbs of Philadelphia. That winter, I began filming.
Trust is the most important thing for me to build with the folks who agree to talk on camera. Before filming, I speak to eachperson, at some length, usually by phone. My goal is to bring their message to a wider audience in order to raise awareness and affect change, thereby bringing compassion, understanding and hope to our veterans and their families. By the end of the conversation, I think they're confident that I am their devoted advocate.
When shooting, I use a very small film crew, usually just two people: me, the director, and one other person. In addition to directing, I operate the camera. When filming outdoors, the other person helps with the sound as boom operator (holding the boom microphone). When it's an indoor shoot, this person helps by setting up the lighting equipment. I always keep the shoots intimate because it is less intimating for the person being interviewed. It's hard enough for vets and their families to share their story on camera, so the fewer people around the better.
The voices of the veterans and their families must be heard
Typically in documentaries, interviews are filmed with the interviewee looking off to the right or left of the camera, talking to a person the audience can't see. Before I begin filming, I ask the interviewees to look directly into the camera lens as they talk to me, the person behind the camera asking questions. I instruct each person to speak directly to the audience – the American people – eye to eye, so to speak. It's vital, I feel, for these veterans and families to have an opportunity for their voices to finally be heard by the very people who were benefitting from their sacrifice.
Giving veterans and their families an opportunity to express their voice on camera is not only incredibly moving to witness, but is deeply empowering to the individual being interviewed.For the first time, being heard and having a witness – the camera – to document it, they feel validated. These interviews of raw candor and emotion result in a connection to the human journey and the broken spirit we all experience at one time or another. People I've interviewed have expressed great appreciation afterward; they tell me they experienced a catharsis, which is at least a start toward healing.
We all have a responsibility to help those who served our country so that we can enjoy the freedom many of us take for granted.
There is tremendous power in documentary film in that it has the ability to change a collective viewpoint. The visceral emotion we feel as we watch and become affected by a film can have a profound effect within the very cells of our body and, on many levels, can motivate us to create an entire movement toward healing.
In her book Trauma and Recovery, psychiatrist Judith Herman writes, 'the interpretation of what seems to be a cathartic experience for the participant can also be seen as a means to initiate a collective working through trauma within the audience.' Since we have gone through the act of listening, we too can function as a witness.
And if we bear witness together, we can heal together.
With Jane & Johnny my purpose is to do just that – to wake up a nation from its apathy and to move people to take some form of responsibility to help those who have sacrificed so much for all of us.
To date, I've shot over 160 hours of film with veterans and family members located in California, New Jersey, Pennsylvania, Indiana, and Massachusetts. I have about 25 more film shoots to go in various locations around the country. In December 2011, I am taking a leave of absence from my day job on Criminal Minds in order to continue and, hopefully, complete the filming stage for this documentary,
The wounds of war are not all on the outside
Today, many soldiers are returning home only to find themselves 'lost in America – out of uniform, and out of sight,' to borrow a phrase from my good friend, Shad Meshad, who appears in this film. A Vietnam veteran, Seth is the founder of the National Veterans Foundation in Los Angeles. The OIF/OEF Veterans are finding themselves invisible in a nation struggling in this recession.
We Americans need to wake up and step up. It is our responsibility to do something positive, to create a real difference in the lives of those who gave us so much.
Not to him who is offensive to us are we most unfair, but to him who doth not concern us at all.
It's Time to Give Back
We are all responsible for helping those who have fought the wars, no matter how we feel about war. Those warriors are our sons, daughters, brothers, sisters, mothers and fathers. They are a part of each of us we are one. When one of us dies in the name of Freedom, so we can all live Free, we ALL need to give pause and honor them. When one of those warriors returns home changed forever, physically, emotionally or psychologically, it is our duty, our responsibility as Americans, to come to their aide with compassion, understanding, and hope for a better life.
It is my hope, through making this film, to inspire a nation to care, to generate real compassion, and perhaps create a movement towards profound healing and understanding.
I am grateful to all those who have answered the call, I salute you, and thank you, not only today, on Veteran's Day, but every day.
Here's How You Can Help
In just a few months, all soldiers currently serving in Iraq are scheduled to return to the U.S. By raising awareness of their challenges,When Jane and Johnny Come Marching Homeless can help us find a way to ease the struggles faced by the brave men and women who've dedicated their lives to protecting our freedom.
Joe Mantegna, actor- star of the CBS crime drama, Criminal Minds, and advocate for Veterans, endorses Nina Gilberti's upcoming documentary, When Jane & Johnny Come Marching Homeless.
Joe's comments…
To date, Nina has spent $200, 000 of her own money to make this important film, exhausting her resources. To finish filming and production, she needs our help.
To give a tax-deductible donation, visit the film's nonprofit funding sponsor, The Center for Independent Documentary. Any donation – even $5 – will help! Thank you so very much!
To learn more, please visit the film's website. Or go to Facebook and like the film's page. You can also find Nina on Twitter via @NinaGilberti.
A MILLION THANKS TO OUR GENEROUS SPONSORS
Nina and I offer our heartfelt thanks to our sponsors for their generosity and support:
Indie Book Collective, Criminal Minds, Emlyn Chand, Kimberly Kinrade, Rob Guthrie, Sean Keefer, Becky Illson-Skinner, Molly Greene, Tess Hardwick, Kimberly Kinrade, Dmytry Karpov, Lane Diamond, Patti Larsen, L.M. Stull, Tee G Ayer, Kait Culbertson, Laura Elliott, Dan Conklin, Joli Huynh, Shah Wharton, and Danielle Spakes.
To learn more about our amazing sponsors, please visit our sponsor page.
Please note, the views of the post author - and indeed anyone who guest posts on Day by Day - are not necessarily indicative of the views of Terri Giuliano Long and comments are moderated to filter spam/profanity only.


"Censorship always defeats its own purpose, for it creates in the end the kind of society that is incapable of exercising real discretion."