Leah had totally lost track of time. She and Todd had been hanging out at the water tower for hours, perched on the hood of Todd's jeep drinking vodka and OJ, admiring the beautiful night. This was the most perfect place in the universe, maybe. Big sky, lots of trees. From up here, they could see the whole town. In the valley, lights began to blink out. Leaning on her elbows, Leah gazed at the heavens.
'Look,' she said, mesmerized by the inky black sky, the billions and billions of stars. 'The Big Dipper.' As she stared into space, time fell away, the past merging seamlessly with the future.
Todd set the flask on the hood of his truck and put his arm around her, drawing her close. So close she could smell the spicy deodorant under his armpits. Just being with Todd Corbett made her feel dizzy all over. Todd was, by far, the hottest boy she had ever laid eyes on. His hair was long on top, short on the sides. He had full lips, and the most fabulous blue eyes, like: like crystals or something. A Romanesque nose, the exact nose she'd once told Cissy she'd die for, only now that she'd seen it on Todd, she realized that particular nose was meant for a boy. Best of all, he had this incredible aura, all purple and blue, like James Dean or Kurt Cobain.
She curled her legs under her and laid her head on Todd's chest.
About In Leah's Wake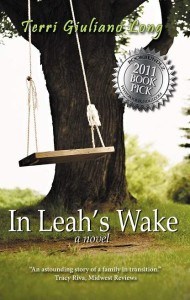 The Tylers have a perfect life-beautiful home, established careers, two sweet and talented daughters. Their eldest daughter, Leah, an exceptional soccer player, is on track for a prestigious scholarship. Their youngest, Justine, more responsible than seems possible for her 12 years, just wants her sister's approval. With Leah nearing the end of high school and Justine a seemingly together kid, the parents are set to enjoy a peaceful life…until everything goes wrong.
As Leah's parents fight to save their daughter from a world of drugs, sex, and wild parties, their divided approach drives their daughter out of their home and a wedge into their marriage. Meanwhile, twelve-year-old Justine observes her sister's rebellion from the shadows of their fragmented family-leaving her to question whether anyone loves her and if God even knows she exists.
Can this family survive in Leah's wake? What happens when love just isn't enough?
***
Margot Livesey, award-winning author of The Flight of Gemma Hardy, calls In Leah's Wake, "A beautifully written and absorbing novel."
Amazon ~~ Amazon UK ~~ Barnes & Noble
Enter the competition
a Rafflecopter giveaway