'There are weeds in every garden.' On her flip chart, Leah's mother drew weeds, invading a patch of roughly sketched daisies. 'We must learn to deal with disappointment.'
The hall, with its speckled linoleum floor and pallid blue walls, resembled the emergency room at St. John's, where Leah had worked last summer, running errands for Cissy's mom. In place of the hospital odors of rubbing alcohol, medication, and disease, the hall smelled of incense and candles. A wooden cross behind the podium gave an impression of a crucifixion, not at all like the life-sized suffering Jesus above the altar in St. Theresa's Catholic Church, where Leah's family worshiped.
A woman in the front row raised her hand. As soon as Leah's mom completed her sentence, she called on her. The woman's polyester slacks crackled as she stood. 'Deal with disappointment?' The woman sighed. 'Sounds easy. But how do you do it?'
'We're here,' Leah's mother replied, with a sweep of her hand. 'That's the first step.'
Beaming, the woman took her seat.
Leah was proud of her mom. She looked so professional standing by the podium with her flip chart. As she talked, she jotted down bullets, her audience scribbling furiously on their notepads.
Weeds in every garden? The advice was cheesy, unoriginal, and yet, maybe because she put so much of herself in her words, her mother sounded totally convincing.
About In Leah's Wake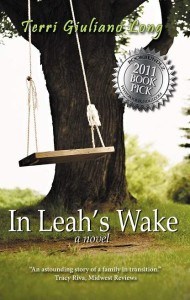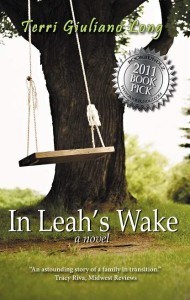 The Tylers have a perfect life-beautiful home, established careers, two sweet and talented daughters. Their eldest daughter, Leah, an exceptional soccer player, is on track for a prestigious scholarship. Their youngest, Justine, more responsible than seems possible for her 12 years, just wants her sister's approval. With Leah nearing the end of high school and Justine a seemingly together kid, the parents are set to enjoy a peaceful life…until everything goes wrong.
As Leah's parents fight to save their daughter from a world of drugs, sex, and wild parties, their divided approach drives their daughter out of their home and a wedge into their marriage. Meanwhile, twelve-year-old Justine observes her sister's rebellion from the shadows of their fragmented family-leaving her to question whether anyone loves her and if God even knows she exists.
Can this family survive in Leah's wake? What happens when love just isn't enough?
***
Margot Livesey, award-winning author of The Flight of Gemma Hardy, calls In Leah's Wake, "A beautifully written and absorbing novel."
Amazon ~~ Amazon UK ~~ Barnes & Noble
Enter the competition
a Rafflecopter giveaway