Fuming, Leah watched the opposing team disembark. For an entire week, she'd been on her best behavior. Twice, she'd made dinner. She helped Justine with her algebra homework. Offered to wash and wax her father's car-he hadn't let her. But still. She did her homework every night, whether she felt like it or not, had even turned in several old assignments, ones she'd ignored or neglected to finish. She'd received the only A in her entire class on the biology exam. At Hope's party, even though she'd wanted to drink, even though she'd wanted to smoke, she'd been the model kid, resisting every temptation. What good had it all done?
Thankfully, her father was in California. Otherwise he'd be here. He insisted on arriving twenty minutes early for games. The warm-ups, he said, gave him an opportunity to observe the opposing players, size up the competition. Leah wondered if Coach Thomas had called her mom yet, or if she'd wait until after the game. If she'd called, Leah's mom would have immediately called Leah's father, on the job site.
If there was anything worse than her father hearing bad news, it was hearing it when he was at work. Once, when Leah was ten, she'd broken a metatarsal bone, an injury that had sidelined her for most of the season. Her dad was in Chicago. Her mom called from the hospital, interrupting a meeting, and her father had caught the first plane home. He hadn't yelled at her, but he had not been pleased. With her luck, he was probably already in the air.
About In Leah's Wake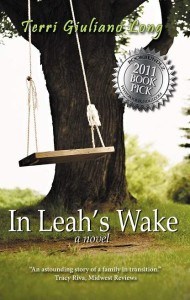 The Tylers have a perfect life-beautiful home, established careers, two sweet and talented daughters. Their eldest daughter, Leah, an exceptional soccer player, is on track for a prestigious scholarship. Their youngest, Justine, more responsible than seems possible for her 12 years, just wants her sister's approval. With Leah nearing the end of high school and Justine a seemingly together kid, the parents are set to enjoy a peaceful life…until everything goes wrong.
As Leah's parents fight to save their daughter from a world of drugs, sex, and wild parties, their divided approach drives their daughter out of their home and a wedge into their marriage. Meanwhile, twelve-year-old Justine observes her sister's rebellion from the shadows of their fragmented family-leaving her to question whether anyone loves her and if God even knows she exists.
Can this family survive in Leah's wake? What happens when love just isn't enough?
***
Margot Livesey, award-winning author of The Flight of Gemma Hardy, calls In Leah's Wake, "A beautifully written and absorbing novel."
Amazon ~~ Amazon UK ~~ Barnes & Noble
Enter the competition
a Rafflecopter giveaway