It was rare for Jerry to be summoned to the east side of town. Cortland was a quiet suburb of fewer than four thousand people, a town where young hooligans smashed mailboxes or occasionally broke into a car, offenses cops in bigger towns were sometimes forced to ignore. In Cortland the police took a smashed mailbox seriously, even prosecuted sometimes.
Like many old New England towns, Cortland was divided by a river. From the west, Jerry's side of town, it could take twenty minutes to reach the nearest highway. The houses in West Cortland were older and smaller than people built today, the undeveloped land, primarily forest or scrub, isolating the neighbors as opposed to providing views.
When people on Jerry's side of town called the police, the call often arose out of helpless desperation. An elderly woman hadn't answered her telephone in three days, a family member was drunk or out of control. If you were new to the area, driving west to east and landed here, you might wonder if you'd accidentally crossed the town line.
East Cortland hugged Route 2, providing easier access to Boston; here the subdivisions were not neighborhoods; they were 'estates.' Residents typically called the police to report some minor inconvenience. A lockout, a lost pet, at times a dead deer in the road. Not that wealth liberated people from personal problems. Rich people had their share of trouble, as Jerry could attest.
About In Leah's Wake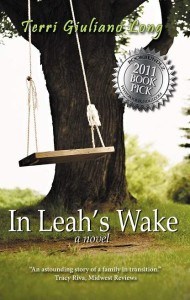 The Tylers have a perfect life-beautiful home, established careers, two sweet and talented daughters. Their eldest daughter, Leah, an exceptional soccer player, is on track for a prestigious scholarship. Their youngest, Justine, more responsible than seems possible for her 12 years, just wants her sister's approval. With Leah nearing the end of high school and Justine a seemingly together kid, the parents are set to enjoy a peaceful life…until everything goes wrong.
As Leah's parents fight to save their daughter from a world of drugs, sex, and wild parties, their divided approach drives their daughter out of their home and a wedge into their marriage. Meanwhile, twelve-year-old Justine observes her sister's rebellion from the shadows of their fragmented family-leaving her to question whether anyone loves her and if God even knows she exists.
Can this family survive in Leah's wake? What happens when love just isn't enough?
***
Margot Livesey, award-winning author of The Flight of Gemma Hardy, calls In Leah's Wake, "A beautifully written and absorbing novel."
Amazon ~~ Amazon UK ~~ Barnes & Noble
Enter the competition
a Rafflecopter giveaway