How involved within your books and characters do you become and how does it affect your life?
Question from Diane by email
Very involved – from conception through the writing, publishing and marketing. This is typical for indie authors, of course. Self-publishing is very much like starting and running a small business. The difference is that, as authors, we both create and market our product. This requires us to wear different hats, which can be stressful. I feel very blessed to work with a wonderful publicist, Donna Brown. I also have a terrific intern, Kendra Recht. We work as a team, which makes marketing a lot of fun. I've also met many wonderful readers and fellow authors.
Until recently, I often worked 12- to 16-hour days. This takes a physical and emotional toll. Over the last year, I've gained ten pounds and too often passed up my daily 5-mile walk with my husband, a time we used to talk and connect. I'm not complaining – I've been very fortunate. Still, my single-mindedness left me feeling exhausted, disconnected, and anxious. This was difficult for my husband and children to watch. In March, after a mini-intervention, I cut back significantly. Although I think it elusive, I'm doing my best to achieve some degree of balance.
When I'm writing, my characters live alongside me; they inhabit my dreams. I was so involved with the characters I created for In Leah's Wake that, at times, I thought they were real people. I actually believed the imaginary town of Cortland, Massachusetts, was a real place. The same is happening now, with Nowhere to Run. This is good and bad. Good because living with the story helps me, I hope, write convincingly and create believable characters and places. Bad because I can be someplace, suddenly hear my characters talking, and disappear into their conversation. We writers often live inside our heads, so this is hard to turn off. Thankfully, my family knows this about me and they graciously put up with me.
About In Leah's Wake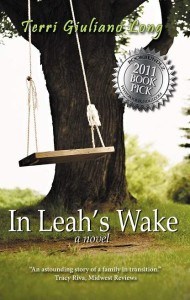 The Tylers have a perfect life-beautiful home, established careers, two sweet and talented daughters. Their eldest daughter, Leah, an exceptional soccer player, is on track for a prestigious scholarship. Their youngest, Justine, more responsible than seems possible for her 12 years, just wants her sister's approval. With Leah nearing the end of high school and Justine a seemingly together kid, the parents are set to enjoy a peaceful life…until everything goes wrong.
As Leah's parents fight to save their daughter from a world of drugs, sex, and wild parties, their divided approach drives their daughter out of their home and a wedge into their marriage. Meanwhile, twelve-year-old Justine observes her sister's rebellion from the shadows of their fragmented family-leaving her to question whether anyone loves her and if God even knows she exists.
Can this family survive in Leah's wake? What happens when love just isn't enough?
***
Margot Livesey, award-winning author of The Flight of Gemma Hardy, calls In Leah's Wake, "A beautifully written and absorbing novel."
Amazon ~~ Amazon UK ~~ Barnes & Noble
Enter the competition
a Rafflecopter giveaway