What scares you the most about a book club?
Question from Lynn by email
I'm a closet nerd. On the outside, I appear cool and relaxed, but I'm actually very shy. To complicate matters, I'm uncomfortable talking about myself. Before a public appearance – a book club meeting or a chat – I'm anxious for days. I'm afraid I'll say something stupid and people won't like me. Yet -go figure – I do love talking and connecting with readers. Although I dread the moment, afterward, I'm always elated and happy I did it.
About In Leah's Wake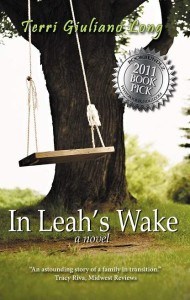 The Tylers have a perfect life-beautiful home, established careers, two sweet and talented daughters. Their eldest daughter, Leah, an exceptional soccer player, is on track for a prestigious scholarship. Their youngest, Justine, more responsible than seems possible for her 12 years, just wants her sister's approval. With Leah nearing the end of high school and Justine a seemingly together kid, the parents are set to enjoy a peaceful life…until everything goes wrong.
As Leah's parents fight to save their daughter from a world of drugs, sex, and wild parties, their divided approach drives their daughter out of their home and a wedge into their marriage. Meanwhile, twelve-year-old Justine observes her sister's rebellion from the shadows of their fragmented family-leaving her to question whether anyone loves her and if God even knows she exists.
Can this family survive in Leah's wake? What happens when love just isn't enough?
***
Margot Livesey, award-winning author of The Flight of Gemma Hardy, calls In Leah's Wake, "A beautifully written and absorbing novel."
Amazon ~~ Amazon UK ~~ Barnes & Noble
Enter the competition
a Rafflecopter giveaway