What are some tips to some upcoming writers?
Question from Brittany by email
Read
In terms of practical advice, simply this: read voraciously. Reading, hands down, is the most important tool we have at our disposal. Studies show that reading is the most effective way to learn grammar. We learn through osmosis, internalizing the various aspects of style and voice. We learn to use language and, as writers, we discover new ideas for integrating craft techniques into our work. To solve problems in my own writing, I always turn to a book. If I'm not sure how to tie a past and present story together, for instance, I'll read or reread a passage or a book, analyze the technique the writer uses, and incorporate it or, more often, adjust it to suit my own purposes.
Study
As you read, ask questions; notice the way the author uses language or solves problems such as shifts forward or backward in time. Pay attention to structure. Ask yourself why the author put the story together in that particular way. What were the effects? How might the book have been different if the structure were different? For instance, the novel Stones For Ibarra, about a husband and wife who move from the U.S. to Mexico, begins with the husband's death. By starting that way, the author, Harriet Doerr, shifts the focus from the husband's illness – we know he'll die so that's no longer a driving narrative question – to their journey together in this new country.
I've also found books on craft to be helpful. My favorites include: On Writing, Stephen King, What If? Ann Bernays and Pamela Painter, Writing Fiction, Janet Burroway, and The Art and Craft of Novel Writing, Oakley Hall. There's also a wonderful inspirational book, called If You Want to Write, by Brenda Ueland.
Work with Professionals
As for publishing, this is an exciting time, with more options than ever before: we can choose to self-publish or go the traditional route. Either way, we must produce quality books. Critique partners and professional editors can spot errors and inconsistencies and bring our writing to the next level. I'm working with an editor on my novel-in-progress, Nowhere to Run. I've taught writing at the university level for 16 years; still, I'm blown away by the errors I miss. We get too close to the work; another set of eyes can really help.
Believe in Yourself and Cherish Your Friendships
Finally, cherish your friendships. A community of supportive writer friends can encourage and sustain you when you're lonely or your confidence flags. Above all, believe in yourself. Don't ever give up. It takes work, but you can make your dreams come true!
About In Leah's Wake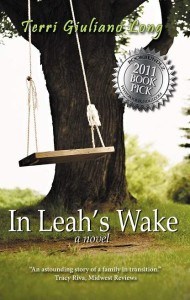 The Tylers have a perfect life-beautiful home, established careers, two sweet and talented daughters. Their eldest daughter, Leah, an exceptional soccer player, is on track for a prestigious scholarship. Their youngest, Justine, more responsible than seems possible for her 12 years, just wants her sister's approval. With Leah nearing the end of high school and Justine a seemingly together kid, the parents are set to enjoy a peaceful life…until everything goes wrong.
As Leah's parents fight to save their daughter from a world of drugs, sex, and wild parties, their divided approach drives their daughter out of their home and a wedge into their marriage. Meanwhile, twelve-year-old Justine observes her sister's rebellion from the shadows of their fragmented family-leaving her to question whether anyone loves her and if God even knows she exists.
Can this family survive in Leah's wake? What happens when love just isn't enough?
***
Margot Livesey, award-winning author of The Flight of Gemma Hardy, calls In Leah's Wake, "A beautifully written and absorbing novel."
Amazon ~~ Amazon UK ~~ Barnes & Noble
Enter the competition
a Rafflecopter giveaway