Read, Write, Give: Interview with A.B. Shepherd (Reinvented Reader)
 "I am American and I moved to Australia almost three years ago now. I have two grown kids, but no grandkids yet. I LOVE LOVE LOVE to read. I've been an avid reader since I was a preteen reading Harlequin Romances. I quickly graduated to whatever my mother was reading, which were typically bodice-rippers with an occasional Stephen King or crime novel thrown in."

The Art of Reading Like a Writer
"As a child, I spent countless hours in my attic bedroom, reading. My mom once told me she'd worried about me when I was a child, because I spent so much time alone in my room. The truth was, I was always lost in a book.
That love of reading has stayed with me through adulthood. Although my current schedule allows little free time, I read whenever I can. Last Christmas, my children gave me a Kindle. I love the look and feel of books, the weight and the smell. I didn't think I'd like the Kindle, but it's been a godsend. Instead of lugging 10 – 12 books in my suitcase whenever we travel, paying airline overweight fees, I carry my eReader."

Andy Gavin Talks Crash Bandicoot, Naughty Dog, and The Darkening Dream
"I started programming video games in 1980 and along with my partner, Jason Rubin, founded Naughty Dog, Inc. in 1985. We ran the company for almost twenty years and I designed/co-directed/produced thirteen games, including the best selling and award winning Crash Bandicoot and Jak & Daxter franchises."

Writing Prompt: Focus – The Key to Clear Coherent Writing
A precise focus gives writing its meaning.
Writing that lacks a clear focus feels unmoored, more like an extended anecdote than a complete story. Readers don't know what they are meant to notice. Even if the story is enjoyable, it probably won't be memorable.

Terri's Kitchen: Chicken and Peas – A Family Affair
This recipe, handed down from my grandmother, Pearl Giuliano, was a family favorite when I was growing up. Every Sunday, until I was 13 and my parents relocated to Massachusetts, we would gather at my grandmother's house in Lansdale, Pennsylvania. This tradition was sacred in our family. All my grandmother's children and grandchildren-my two single aunts who lived with her, my two uncles and their families, and our family-gathered every week for Sunday dinner.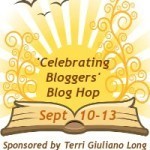 Sign Up for the Celebrating Bloggers Blog Hop
In September 2012 I'll be celebrating bloggers through this great event. Every blogger participating will be entered into a draw to win $100 Amazon gift card! Everyone who shares the event will also be able to enter a draw to win a $50 Amazon gift card plus $50 for their chosen charity!
Please note, the views of the post author - and indeed anyone who guest posts on Day by Day - are not necessarily indicative of the views of Terri Giuliano Long and comments are moderated to filter spam/profanity only.


"Censorship always defeats its own purpose, for it creates in the end the kind of society that is incapable of exercising real discretion."