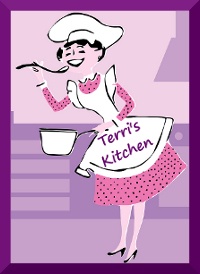 When people get to know me they realize I have four loves: my family, writing, travel and – of course! – food.
I hope you'll join me every week for Terri's Kitchen, and let me share some of the recipes that have been perfect for special times, family moments, or simply a quite rich treat!
This week's recipe is Chicken and Peas, a family favorite as you'll see below!
If you try this recipe, please do come back and let me know how you enjoyed it – maybe even send a picture for the Terri's Kitchen Hall of Fame! You can also follow the Terri's Kitchen Pinterest board.
Chicken and Peas: A Family Affair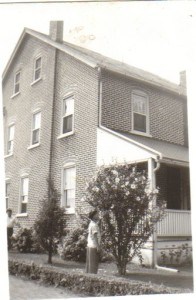 This recipe, handed down from my grandmother, Pearl Giuliano, was a family favorite when I was growing up. Every Sunday, until I was 13 and my parents relocated to Massachusetts, we would gather at my grandmother's house in Lansdale, Pennsylvania. This tradition was sacred in our family. All my grandmother's children and grandchildren-my two single aunts who lived with her, my two uncles and their families, and our family-gathered every week for Sunday dinner.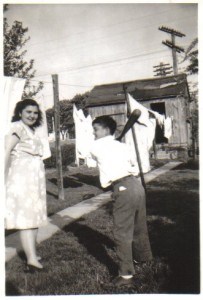 While the grownups did their thing-the women talking and cooking, the man playing bocce or cards, we kids would play in the basement or, in good weather, outdoors. Sometimes we all played together, games arranged by my eldest cousin, Marie; other times we separated by age, with my cousin Donna, two years my elder, in charge of our little pod. The games were always the same-tag, hide-and-seek, school-and they were never important. It was the time we spent together that counted; it was our connection to one another, the sense that both we and our nuclear families were part of something bigger and more important than we were on our own, that we had family to stand with and protect us.
My 4'10″ grandmother was the center of all the activity, the driving force that held our family together.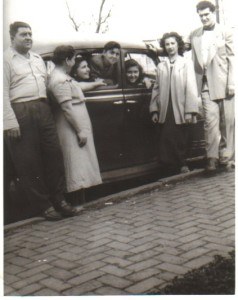 As we are Italian, the main event was, of course, food. My grandmother served dinner in the customary Italian manner-a bowl of spaghetti, usually with homemade pasta, followed by a meat or fish entree, and then a simple salad of greens with tomato and onion, tossed in Aunt Jill's special vinaigrette, and capped off by dessert. For a long time, I thought this odd arrangement of courses was a quirky family tradition-salad after the main course? When Dave and I visited Italy, in 2001, I finally realized this wasn't a quirk. It's the way Italians do it!
Of all the delicious entrees my grandmother served, her chicken and peas was my favorite. Years later, I served this simple but hearty dish to my own family and my daughters now serve it to theirs. This simple, easy-to-prepare dish is, in fact, so popular that my daughters' friends often ask for the recipe.
As with most dishes I serve, this is simple and fast-and uses only one pan! And the recipe is flexible. You really can't make a mistake, and the ingredients can be varied to suit your own taste.
I hope you enjoy it!
[gmc_recipe 6958]