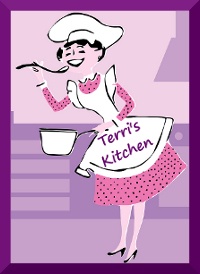 When people get to know me they realize I have four loves: my family, writing, travel and – of course! – food.
I hope you'll join me every week for Terri's Kitchen, and let me share some of the recipes that have been perfect for special times, family moments, or simply a quite rich treat!
This week's recipe is Oven-roasted Lemon-Pepper Chicken with Fennel and Blue-Cheese Mashed Sunrise Potatoes, a lovely twist on an otherwise quite simple – and easy to assemble – dish!
If you try this recipe, please do come back and let me know how you enjoyed it – maybe even send a picture for the Terri's Kitchen Hall of Fame! You can also follow the Terri's Kitchen Pinterest board.
Fennel: the trick – for me – is the roasting
About 10 years ago, restaurant chefs began to use fennel with abandon, some chefs using it, or so it seemed, in nearly every dish. When it comes to food, I'm fairly gutsy – in Beijing I ate frog! But, since I was a child, I've detested fennel. If you're never tried it, raw fennel tastes like a combination of celery, cabbage and licorice. I like celery and cabbage – but licorice in a main course? No thank you! Once, in a chi-chi Italian restaurant, I accidentally bit into a chunk and nearly gagged. I swallowed – the only polite thing to do – but, fairly or not, we've never returned to that restaurant. The taste memory is that strong.
A couple months ago, on a lark – aside from the fennel the dish sounded delish – I ordered a main course prepared with roasted fennel, thinking I'd pick it out. To my surprise, I enjoyed it! Roasting, it turns out, completely changes the taste. As posted on Simply Recipes, it's as if pine nuts decided to join the party. The taste is earthy and sweet. Since then, I've ordered fennel-laced dishes numerous times.
This week, I decided to try cooking fennel myself. It's very easy to roast fennel, and I bought the chicken already marinated, making this dish a snap to put together. Dave added the blue cheese to the mashed potatoes, a luscious combo that turned this simple chicken and veggie dish into a memorable entree!
Here is the luscious, earthy, easy to prepare result.
[gmc_recipe 7322]
Do you cook with fennel?
If so, please consider sharing your favorite recipe! Thank you!
Related posts