I'm delighted to be hosting #BlogFlash2012 – 30 Days, 30 Prompts 30 Posts.
If you'd like to jump on board, it's not too late! 
Don't forget to leave your "Day Six – Reading" post link in the comments below so I can stop by!
#BlogFlash2012: Day Six – Reading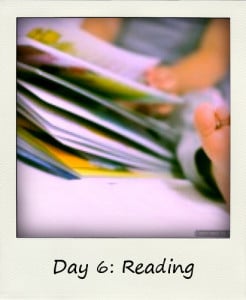 As a child, I spent countless hours in my attic bedroom, reading. My mom once told me she'd worried about me, because I spent so much time alone in my room. The truth was, I was happiest when I was lost in a book.
The love of reading accompanied me into adulthood. Reading entertains me, takes me on a journey, and transports me to new worlds. Reading helps me understand life, gives me an escape, and close, observant reading teaches me to write. I owe my passion for writing–and dedication to craft–to my lifelong habit of reading.
Word count: 99
Please do share your #BlogFlash2012 thoughts (and post links) in comments!