I'm delighted to be hosting #BlogFlash2012 – 30 Days, 30 Prompts 30 Posts.
If you'd like to jump on board, it's not too late! 
Don't forget to leave your "Day Two – A Furry Friend" post link in the comments below so I can stop by!
#BlogFlash2012: Day Two – A Furry Friend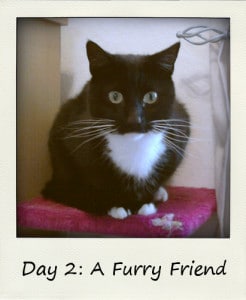 I sat there for a long time, savouring this rare moment of clarity and … its origin from emotion recollected in tranquility. – William Wordsworth.
Once, in Ireland, I conversed with sheep.
The flock, grazing on a meadow, must have been 200 strong. As I stood by the fence, I made eye contact with an elder. Feeling strangely rude, I said, "bahhh." He returned my greeting and-my husband and daughters watching, amused–I replied in kind. This time, a few others joined in. Soon, we were a chorus of hundreds of voices, high and low, young and old.
Wordsworth's 'moment of clarity' had always eluded me. Now, for a few brief moments, I felt it–in communion with nature, in communion, it felt, with God.
Word count: 101
Please do share your #BlogFlash2012 thoughts (and post links) in comments!