First, I'd like to thank all who've been participating in #BlogFlash2012. You make me laugh, you make me cry, and you inspire me! Thank you so very much for joining me! Write on!!
I had planned a post reflecting on my publishing journey in the year since my last birthday, sharing my thoughts about where I am today and dreams of where I hope to be a year from now. But tonight, after a long wonderful day throughout which I was, for once, entirely present, my brain stupefied, I cannot find the words to pull together a coherent post.
On Tuesday, a few days earlier than I'd anticipated, we traveled to DC to be with our eldest and her family when she gives birth to our newest granddaughter. We've been on baby watch since we arrived. This afternoon, we walked the dirt footpath along the Potomac River, 4 miles in oppressive heat and humidity, then spent the next three hours at the community pool, with Jen's three little ones, Sammy, 5, Matthew, 4, and Alexandra, 17 months. Tonight I am so exhausted I can hardly keep my eyes open. This is the best kind of exhaustion-bone-tired after a long, happy day spent laughing and playing with children.
For twenty-four hours, Jen has been showing signs of approaching labor. As I sit here, reflecting upon the years, I can think of only the children-our truest reflection of all we are, the rippling waves of our past flowing through them toward the waiting shores of tomorrow.
A 'Thank You' Gift
On my last birthday, August, 3, 2011, I was three months into my publishing journey, and my novel was just taking off. Countless bloggers and readers took a chance on me, a self-published author they'd never heard of, and read my book, a familiar story of a family unraveling. Now it's my turn to give back. On August 3 and 4, in honor of all who've blessed my life with your kindness and grace, I'm offering In Leah's Wake free of charge on Amazon.
For all you are and all you do, I am deeply grateful. Thank you so very, very much!!
About In Leah's Wake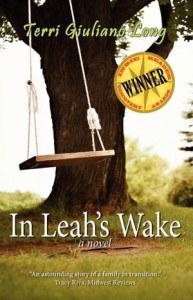 The Tylers have a perfect life–beautiful home, established careers, two sweet and talented daughters. Their eldest daughter, Leah, an exceptional soccer player, is on track for a prestigious scholarship. Their youngest, Justine, more responsible than seems possible for her 12 years, just wants her sister's approval. With Leah nearing the end of high school and Justine a seemingly together kid, the parents are set to enjoy a peaceful life…until Leah meets Todd, a high school dropout and former roadie for a rock band.
As Leah's parents fight to save their daughter from a world of drugs, sex, and wild parties, their divided approach drives their daughter out of their home and a wedge into their marriage. Meanwhile, twelve-year-old Justine observes her sister's rebellion from the shadows of their fragmented family-leaving her to question whether anyone loves her and if God even knows she exists. 
Can this family survive in Leah's wake? What happens when love just isn't enough?
Spread the word to win!
Help spread the word about In Leah's Wake's free days and you could win a $50 Amazon gift certificate!
a Rafflecopter giveaway