This week is a special Terri's Kitchen, so thank you so much to Pavarti K. Tyler for inviting me to participate in her wonderful Celebrating Community Blog Hop, taking place August 16-19! Today we're being invited to share a favorite recipe and I've chosen Flourless Chocolate Espresso Cake with Raspberry Sauce.
I love this recipe. To me, it encompasses family memories of celebrations, good times, love, warmth, and togetherness. Later in the week I will post about another community that is important to me – the writing community – but to me this recipe makes the think of the community that I turn to before any other: the community of family.
---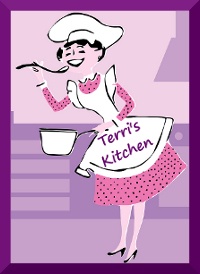 When people get to know me they realize I have four loves: my family, writing, travel and – of course! – food.
I hope you'll join me every week for Terri's Kitchen, and let me share some of the recipes that have been perfect for special times, family moments, or simply a quite rich treat!
This week's recipe is a wonderful treat, perfect for any celebration: Flourless Chocolate Espresso Cake with Raspberry Sauce
If you try this recipe, please do come back and let me know how you enjoyed it – maybe even send a picture for the Terri's Kitchen Hall of Fame! You can also follow the Terri's Kitchen Pinterest board.
[gmc_recipe 8169]
Related posts