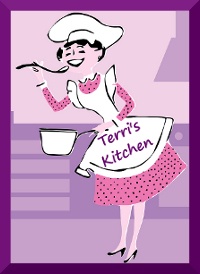 When people get to know me they realize I have four loves: my family, writing, travel and – of course! – food.
I hope you'll join me every week for Terri's Kitchen, and let me share some of the recipes that have been perfect for special times, family moments, or simply a quite rich treat!
This week's recipe is a wonderful summer dessert, easy to make, but impressive nonetheless: Angel Food and Strawberry Cake
If you try this recipe, please do come back and let me know how you enjoyed it – maybe even send a picture for the Terri's Kitchen Hall of Fame! You can also follow the Terri's Kitchen Pinterest board.
This is my favorite summer dessert. I'm Italian, so I'm always watching my weight. Without the whipped cream, the cake is light and airy and low in calories. Adding sliced berries and cream turns this tasty angel food cake into a special occasion dessert.
Although the recipe may look long and complicated, it's actually very simple and quick. If you're in a hurry, you can always use a store-bought angel cake.
[gmc_recipe 8472]
Related posts