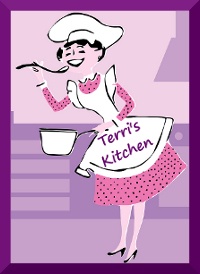 When people get to know me they realize I have four loves: my family, writing, travel and – of course! – food.
I hope you'll join me every week for Terri's Kitchen, and let me share some of the recipes that have been perfect for special times, family moments, or simply a quite rich treat!
This week's recipe is a wonderful summer dessert, easy to make, but impressive nonetheless: Angel Food and Strawberry Cake
If you try this recipe, please do come back and let me know how you enjoyed it – maybe even send a picture for the Terri's Kitchen Hall of Fame! You can also follow the Terri's Kitchen Pinterest board.
This is my favorite summer dessert. I'm Italian, so I'm always watching my weight. Without the whipped cream, the cake is light and airy and low in calories. Adding sliced berries and cream turns this tasty angel food cake into a special occasion dessert.
Although the recipe may look long and complicated, it's actually very simple and quick. If you're in a hurry, you can always use a store-bought angel cake.
Angel Food and Strawberry Cake
Print recipe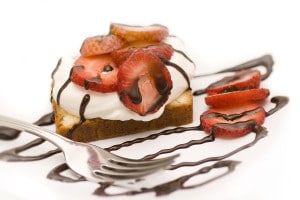 This Angel Food and Strawberry Cake makes for a delightful summer dessert.
Ingredients
1.5 cups powdered sugar
1 cup cake flour (Angel cake recipes usually tell you that, if you reduce the quantity by 2 TBSP, you can substitute all purpose flour for the cake flour in this recipe. I\'ve tried that and, although the results are not bad, the cake tends to be heavier. For that reason, I do not recommend substituting.)
12 extra large or jumbo eggs (whites only)
1.5 teaspoons cream of tartar
1 cup granulated sugar
1.5 teaspoons vanilla
0.5 teaspoon almond extract
0.25 teaspoon salt
1 quart strawberries (hulled and thinly sliced)
1 pint whipping cream (heavy cream will work but I find whipping cream easier to work with)
0.25 cup powdered sugar (or sweeten to taste)
Directions
Step 1
This cake uses an ungreased angel cake or tube pan. Move oven rack to lowest position. Preheat oven to 375 degrees.
Step 2
Mix flour and powdered sugar. Set aside.
Step 3
Separate egg yolks and whites; be sure you don\'t drip any of the yolk into the whites.
Step 4
Place egg whites in large mixing bowl. Using an electric mixture, beat whites and cream of tartar until foamy.
Step 5
On high speed, gradually beat in granulated sugar. With the final addition of sugar, add vanilla, almond and salt. Beat until glossy and stiff. Do not under- beat.
Step 6
Slowly sprinkle the flour-powdered sugar mixture over the meringue and stir gently, just until the flour disappears.
Step 7
Push batter into ungreased tube pan. With metal spatula or butter knife, gently slice through batter to eliminate air pockets.
Step 8
Bake for approximately 30 minutes. Test for doneness by lightly pressing top of the cake. The top should spring back and the cracks in the cake should look and feel dry.
Step 9
Turn the tube pan upside-down and place on a metal funnel or on the neck of a bottle and immediately invert the cake. Let the cake hang until it is completely cool.
Step 10
Place a large metal mixing bowl in the freezer to chill and then hull and slice the berries.
Step 11
When the cake is cool, remove from pan. With a serrated knife, remove the top of the cake: place the knife about 2 inches from the upper edge of the cake\'s side wall, and, using a sawing motion, slide all the way through. Set top portion of the cake aside.
Step 12
Place one pint of chilled whipping cream in large mixing bowl. Add ¼ cup powdered sugar-add 2 TBSP at a time, sweetening to taste-and beat until stiff. If you prefer sweeter cream, add extra sugar.
Step 13
Carefully, stir the sliced berries into the cream.
Step 14
Hollow the cake, pulling the soft center, and leaving only the bottom and side walls. (You won\'t need the cake you\'ve pulled, so feel free to eat it!) Spoon berries and cream into the angel cake shell. Replace top. Sprinkle with powdered sugar or frost with sweetened whipped cream.
Related posts
Please note, the views of the post author - and indeed anyone who guest posts on Day by Day - are not necessarily indicative of the views of Terri Giuliano Long and comments are moderated to filter spam/profanity only.


"Censorship always defeats its own purpose, for it creates in the end the kind of society that is incapable of exercising real discretion."