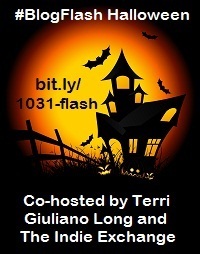 In August I hosted the first BlogFlash event (#BlogFlash2012) and was thrilled to meet some wonderful writers and bloggers through the endeavour. Although another BlogFlash event is currently being planned for 2013, I jumped at the chance to run a one-off special for Halloween, cohosted by The Indie Exchange.
I hope you enjoy all the posts you read for this spooky event. You can even vote on the post you enjoyed most (except the hosts' posts!) and one of the participants will be listed on The Indie Exchange sidebar for a month.
Enjoyed #BlogFlash? Follow the Facebook page!