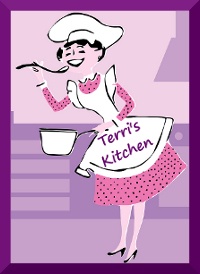 When people get to know me they realize I have four loves: my family, writing, travel and – of course! – food.
I hope you'll join me every week for Terri's Kitchen, and let me share some of the recipes that have been perfect for special times, family moments, or simply a quite rich treat!
This week's recipe is a wonderful recipe for vegetable soup. It's easy to make and a great winter warmer!
If you try this recipe, please do come back and let me know how you enjoyed it – maybe even send a picture for the Terri's Kitchen Hall of Fame! You can also follow the Terri's Kitchen Pinterest board.
Served with crusty French bread or corn muffins, this healthy vegetable soup makes for a hearty and delicious fall dinner. It's also quick and easy to make.
[gmc_recipe 9233]
Related posts