Today I'm taking part in the 'All Pets Want for Christmas' Blog Hop, hosted by David M. Brown and Vickie Johnstone.
All Pets Want for Christmas: 'Dog'
Dog is the 13 year old lab, living with the Tyler family in In Leah's Wake. Loyal to all the family, she is particularly devoted to the youngest Tyler, 12 year old Justine.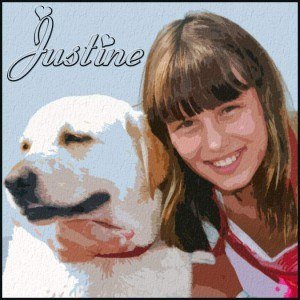 When I was a puppy I would have asked for many things. Treats and bones, toys (especially squeaky ones), countless squirrels to chase. When Leah was little, she was such fun to play with but she took up with soccer and had less time. Justine, though, has always been special.
She feeds me, walks me, plays with me, and gives me those liver treats. I try to call on my puppy energy – I even chased a squirrel yesterday – but there's no denying I'm an old girl now. I've had many years and the Tylers have given me a superb life.
Even so, I want a little more time. Justine has never needed a friend more. This house is fully of worry and tension since Leah began acting up. Justine needs her big sister but, if she can't have Leah's support, I can give her my love.
All I want for Christmas is to fix this loving family.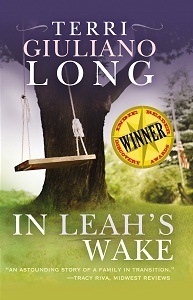 A Story of Love, Loss, Connection, and Grace
At the heart of the seemingly perfect Tyler family stands sixteen-year-old Leah. Her proud parents are happily married, successful professionals. Her adoring younger sister is wise and responsible beyond her years. And Leah herself is a talented athlete with a bright collegiate future. But living out her father's lost dreams, and living up to her sister's worshipful expectations, is no easy task for a teenager. And when temptation enters her life in the form of drugs, desire, and a dangerously exciting boy, Leah's world turns on a dime from idyllic to chaotic to nearly tragic. 
As Leah's conflicted emotions take their toll on those she loves-turning them against each other and pushing them to destructive extremes-In Leah's Wake powerfully explores one of fiction's most enduring themes: the struggle of teenagers coming of age, and coming to terms with the overwhelming feelings that rule them and the demanding world that challenges them. Terri Giuliano Long's skillfully styled and insightfully informed debut novel captures the intensely personal tragedies, victories, and revelations each new generation faces during those tumultuous transitional years. 
Recipient of multiple awards and honors, In Leah's Wake is a compelling and satisfying reading experience with important truths to share-by a new author with the voice of a natural storyteller and an unfailingly keen understanding of the human condition: at every age.
Rest of the All Pets Want for Christmas Hop – 8 Dec
Giveaway