I'm excited to be joining in with The Indie Exchange's #FlashFiveFriday event. The premise is very simple: flash blogging or flash fiction based on a prompt set by The Indie Exchange each week.  This week the prompt is Family.
The Guidelines
#FlashFiveFriday is a weekly flash fiction/flash blogging prompt.
The rules are very simple if you'd like to take part:
1) Write for no longer than five minutes OR write no more than 500 words (whichever challenge you prefer!)
2) You must write something new
3) You can prepare your post ahead of time but the time/word limit still applies (whichever you choose to follow)
4) If you add your blog post to the weekly linky (found at The Indie Exchange), then please visit some other blogs that week too to show your support
#FlashFiveFriday: Family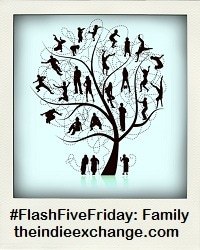 On November 16, my 30-year-old daughter Kimberly (KK) lost her boyfriend, Matt, the love of her life. They lived together, were planning to marry. Matt had epilepsy since the age of 15, but with medication he'd been seizure-free for over a year.
That day, KK received a big promotion, with a sizable raise. She lives in L.A. She called us at 8:30 PM EST to share her big news. She and Matt planned to eat dinner in-they'd picked up sushi to celebrate; afterward, she was headed out to babysit. They were saving for a house; she babysat to earn extra money. When they'd begun dating, Matt was starting a business and KK had just finished grad school, so they'd been broke a long time. They had a bright future, their life finally coming together.
When KK called five hours later, Dave and I were asleep. We were spending the night with our third daughter, Natalie. My cell was in the hallway, our bedroom door closed. KK tried four or five times, and she also tried to reach her sisters; finally, she connected with our son-in-law Chris, in D.C. interviewing for his medical residency.
Chris called Natalie, his wife, waking her, and Natalie ran upstairs and woke us.
The next few hours are a blur of phone calls and travel plans. At 3 AM, Dave booked our noon flight to Los Angeles, allowing enough time to drive home, pack, ride to the airport. Meanwhile, our three older daughters called one another, deciding together, in the interest of extended support, to take turns flying to L.A. to be with their sister.
For each, the trip was a sacrifice, not only because last-minute cross-country flights are expensive, because they lead busy lives. Natalie, who came first, has a fourteen-month-old son, Griffin. She's in grad school, attending class, working an internship. Luckily, the following week was Thanksgiving, with a few days off for the holiday. Jen has four little ones under the age of six, the youngest three months, a trip from D.C. to California requiring a mind-boggling array of daycare arrangements. Lib, who came the third week, is an attorney with a high-powered job; although her company generously granted the time, she always pays dearly for time away from the office.
Despite the cost, the inconvenience, the sacrifice, not one of KK's sisters considered not coming. Not for an instant. The minute their sister called, they went into high gear, making arrangements, doing all they possibly could to support her, to show her they care. They've done the same every time any one of the four was in need.
That's what it means to be a family.
In 1991, the literary magazine Granta published an anthology about family, Granta 37, the Family: They Fuck You Up.And sometimes they do. In huge ways-as to Mikal Gilmore, youngest brother of murderer Gary Gilmore, or the 14-year-old boy whose mother began having sex with him when he was 8, while his father gave him tips.
Or we do it in small ways, with nasty insults, fierce rivalries, harsh judgments, petty grievances drudged up year after year at the annual holiday party. Family knows us better than anyone, all too easy to pick the vulnerability scab, slice our Achilles' heel.
And therein lies the rub, the irony of the family-the ones we love most hurt us the worst. A psychologist once told me about a 6-year-old boy severely abused by his mom. On the way to the E.R., he begged for his mother, calling and calling for her.
I've been in Los Angeles for nearly 4 weeks. One-by-one, KK's sisters arrived. We cleaned her apartment, clearing the mess from the seizure, the 15 paramedics who worked on her boyfriend; we replaced the bedding, reorganized her apartment; we arranged grief counseling, helped her plan and make decorations for the memorial service. We kept her company. We held her, we cried with her, we loved her.
Her grandparents called, her aunt and cousins bought epilepsy bracelets and posted on Facebook; family sent cards and letters, flowers and candy. Friends, the family we create, did the same. They loved and supported me, so I could be strong for her.
In these moments we see and cherish the abiding strength of family ties; we catch a fleeting a glimpse of an inscrutable God. And in the eyes of family we see ourselves.
Facebook: Guitar for Peace
Yahoo News: Iranian Man Donates His Heart to 6 Americans