For the next few days, I'm hosting the Meet the Family Holiday Hop, a celebration of families (both real and fictional) at the holidays! If you'd like to join the hop, it's not too late. Simply post on your blog any date 10th-13th December and then add your post link to the linky at the bottom of the post.
Meet the Tylers: Justine Tyler
Although I love the holidays with my own family, I want to share the family traditions of the Tylers this week. The Tylers are the family featured in In Leah's Wake. On Monday, I shared an introduction to the book and the family. Tuesday, I shared Leah's favorite holiday tunes. Wednesday, I shared Zoe's favorite holiday recipes. Today is the final day and I'm sharing two posts: Justine's holiday wish list, and Will's favorite holiday memory.
Justine Tyler, 12, is an eighth grader at Cortland Middle School. A straight-A student, she has won town-wide awards in science and math. She's currently working on a project on planetary movement for her school's science fair. She loves karate, vampire slaying, chocolate chip cookies and Dog, her yellow Labrador Retriever.
Justine Tyler: Holiday Wish List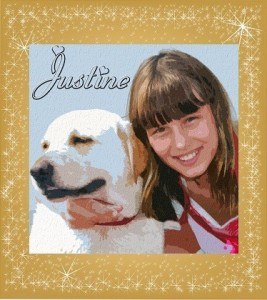 You probably think this is corny-my holiday wish used to be for world peace. Not that world peace is corny to wish for. Just, I didn't have any big personal wish, you know? In retrospect, it was pretty naive. I mean, families don't fall apart overnight.
This year, I have plenty to wish for. So my wish? That I didn't. Have a lot to wish for.
I know what you're thinking: how come you're so weird? Don't deny it. It's the question at the tip of your tongue: why can't you be a normal kid and wish for stuff?
Well, for starters, I have all the stuff I need. What good will a new sweater or an iPad Mini do me? Besides, in case you haven't noticed, I'm not exactly normal. If there is such a thing as normal. Which, if you consulted a shrink, they'd probably say there isn't. A different shrink from my mom, that is. My mom thinks everyone's normal.
Including Leah.
Including herself. And my dad.
Including me.
Ha!
What's so great about normal, anyhow? My friend Holly's the closest to normal of any person I know and, when you come right down to it, she's kind of messed up.
So here's my holiday letter.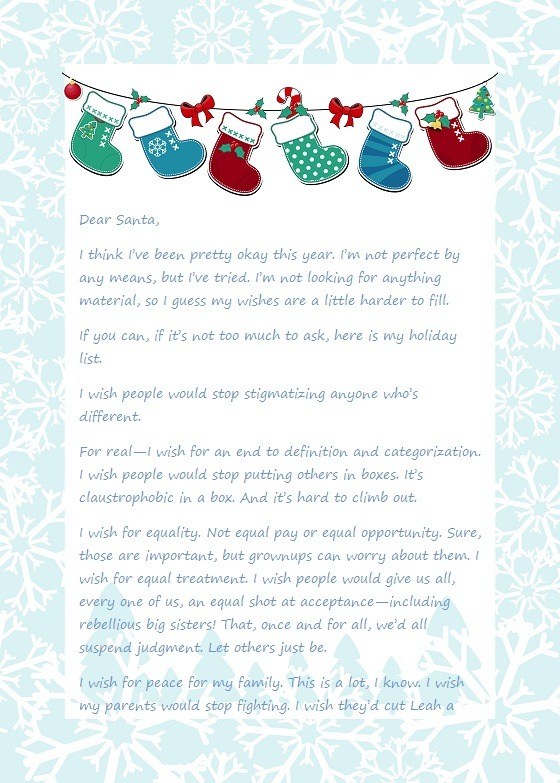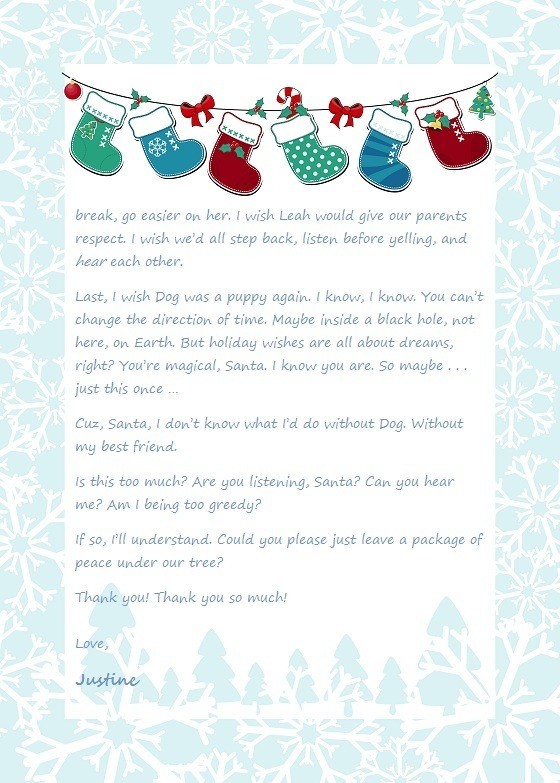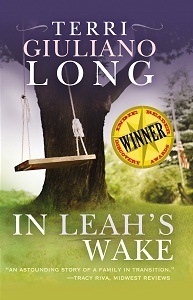 A Story of Love, Loss, Connection, and Grace
At the heart of the seemingly perfect Tyler family stands sixteen-year-old Leah. Her proud parents are happily married, successful professionals. Her adoring younger sister is wise and responsible beyond her years. And Leah herself is a talented athlete with a bright collegiate future. But living out her father's lost dreams, and living up to her sister's worshipful expectations, is no easy task for a teenager. And when temptation enters her life in the form of drugs, desire, and a dangerously exciting boy, Leah's world turns on a dime from idyllic to chaotic to nearly tragic.
As Leah's conflicted emotions take their toll on those she loves-turning them against each other and pushing them to destructive extremes-In Leah's Wake powerfully explores one of fiction's most enduring themes: the struggle of teenagers coming of age, and coming to terms with the overwhelming feelings that rule them and the demanding world that challenges them. Terri Giuliano Long's skillfully styled and insightfully informed debut novel captures the intensely personal tragedies, victories, and revelations each new generation faces during those tumultuous transitional years.
Recipient of multiple awards and honors, In Leah's Wake is a compelling and satisfying reading experience with important truths to share-by a new author with the voice of a natural storyteller and an unfailingly keen understanding of the human condition: at every age.
Would you like to know what the family pet, Dog, wants for Christmas? Check out this entry I did for the All Pets Want for Christmas hop.
Wondering which In Leah's Wake character you are? Take the character quiz to find out!
Giveaway