For the next few days, I'm hosting the Meet the Family Holiday Hop, a celebration of families (both real and fictional) at the holidays! If you'd like to join the hop, it's not too late. Simply post on your blog any date 10th-13th December and then add your post link to the linky at the bottom of the post.
Meet the Tylers: Leah Tyler
Although I love the holidays with my own family, I want to share the family traditions of the Tylers this week. The Tylers are the family featured in In Leah's Wake. Yesterday, I shared an introduction to the book and the family. Today, I'm sharing Leah's favorite holiday tunes.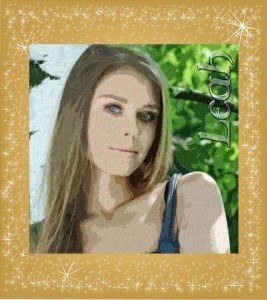 Some of these are contemporary, while others are ones she grew up listening to her Dad – Will – playing. A former musician, Will Tyler often played his guitar to the kids when they were young. Leah has an eclectic and fun taste in music – and great rhythm. She's all set to play professional soccer (at least until bad-boy boyfriend Todd Corbett comes along…) but definitely had the talent for dancing!
Leah Tyler was an All-Star soccer player, the MVP of her high school team, and a Boston Globe All-Scholastic Player of the Year. She's 16 years old and lives in Cortland, Massachusetts, with her parents and younger sister, Justine.
Leah Tyler: A Holiday Playlist
I love music! Always have. I guess that's what happens when you have a musician dad. Too bad he gave it up. He doesn't even get his guitar out these days. Too fixated on me and soccer I guess.  Figures I'd end up with Todd. He's so cool. He worked as a sound technician for Cobra, an alternative rock band when he was 19. His dad worked for Rounder Records, so I guess he's got it in the blood too.
I'd have loved to have been a dancer. Dancing is so much fun. Then again, maybe – like soccer – when you have to do it, it loses something. I wish mom and dad had bought me dancing lessons when I was a kid, though. It would have beat piano lessons hands down!
So anyway, these are some of my favorite songs for the holidays. I like the revamped modern tunes but I guess you can't beat the oldies either. Enjoy!
Leah's Holiday Playlist