For the next few days, I'm hosting the Meet the Family Holiday Hop, a celebration of families (both real and fictional) at the holidays! If you'd like to join the hop, it's not too late. Simply post on your blog any date 10th-13th December and then add your post link to the linky at the bottom of the post.
Meet the Tylers
Although I love the holidays with my own family, I want to share the family traditions of the Tylers this week. The Tylers are the family featured in In Leah's Wake. Today I'm sharing an introduction to the book and the family and a couple of holiday themed excerpts, but keep checking back. I'll be revealing more of their holiday loves as the week goes on!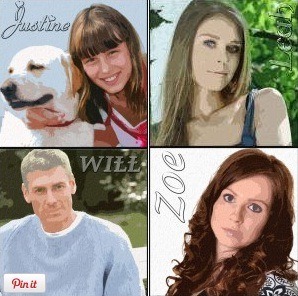 Leah Tyler was an All-Star soccer player, the MVP of her high school team, and a Boston Globe All-Scholastic Player of the Year. She's 16 years old and lives in Cortland, Massachusetts, with her parents and younger sister, Justine.
Justine Tyler, 12, is an eighth grader at Cortland Middle School. A straight-A student, she has won town-wide awards in science and math. She's currently working on a project on planetary movement for her school's science fair. She loves karate, vampire slaying, chocolate chip cookies and Dog, her yellow Labrador Retriever.
Will Tyler sells projects for North American Construction, the largest commercial contractor on the East Coast. Project oversight requires frequent travel throughout the U.S. He lives in Cortland, Massachusetts, with his wife, Zoe, and their adolescent daughters, Justine and Leah.
Zoe Tyler holds a master's degree in social work and is employed by Cortland Child Services. She is founder and executive director of 'Success Skills for Women on the Move,' a motivational workshop for women seeking life changes. She lives in Cortland, Massachusetts, with her husband, Will, and teenage daughters, Justine, 12, and Leah, 16.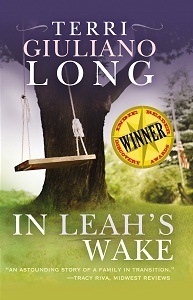 A Story of Love, Loss, Connection, and Grace
At the heart of the seemingly perfect Tyler family stands sixteen-year-old Leah. Her proud parents are happily married, successful professionals. Her adoring younger sister is wise and responsible beyond her years. And Leah herself is a talented athlete with a bright collegiate future. But living out her father's lost dreams, and living up to her sister's worshipful expectations, is no easy task for a teenager. And when temptation enters her life in the form of drugs, desire, and a dangerously exciting boy, Leah's world turns on a dime from idyllic to chaotic to nearly tragic.
As Leah's conflicted emotions take their toll on those she loves-turning them against each other and pushing them to destructive extremes-In Leah's Wake powerfully explores one of fiction's most enduring themes: the struggle of teenagers coming of age, and coming to terms with the overwhelming feelings that rule them and the demanding world that challenges them. Terri Giuliano Long's skillfully styled and insightfully informed debut novel captures the intensely personal tragedies, victories, and revelations each new generation faces during those tumultuous transitional years.
Recipient of multiple awards and honors, In Leah's Wake is a compelling and satisfying reading experience with important truths to share-by a new author with the voice of a natural storyteller and an unfailingly keen understanding of the human condition: at every age.
Despite upheaval and great family strains, the Tylers appreciate the importance of the holidays and try to embrace their traditions in these excerpts:
Family traditions
In the weeks leading to Christmas in the past, the entire Tyler family had pitched in with the holiday preparations. Justine and Leah helped their mother shop and bake cookies and address holiday cards. Their father, in charge of the tree, trekked from nursery to nursery, traveling as far as New Hampshire some years, in search of the biggest, fullest tree he could find. He'd haul the tree home, secured by a bungee cord to the roof of his car, and drag it up the back steps, across the deck, and into the family room. He'd eyeball the space, making faces until he'd found the perfect spot to erect it. Every year, he chose the same spot: three feet to the left of the fireplace, so you'd see the tree as soon as you entered, however you approached.
Christmas Day
The minutes dragged. Their parents insisted that Justine and Leah stay in their rooms on Christmas morning until they were called. Their parents liked to be the first downstairs, so they could see the girls' faces when they saw the tree, and their dad could videotape their reaction. Each year, while they were waiting for their parents to get up, Leah would sneak downstairs. Back in her room, she would describe for Justine what she had found. For Justine, the anticipation, imagining the brightly wrapped piles of gifts, was the best part of the day.
She knocked on Leah's wall. Leah wasn't budging today.
Justine curled up at the foot of her bed, under a blanket.
When she opened her eyes again, she heard someone in the kitchen. She hopped off the bed and hurried downstairs with her gifts.
'Merry Christmas, sunshine,' her father said, greeting her.
'Look who's up, Zo.'
The family room shimmered. Her father had lit a crackling fire. In the corner stood a magnificent tree, trimmed in purple and gold, white lights twinkling. The floor was a sea of exquisitely wrapped gifts, silver and purple and green. Her mother wore a new white robe and she'd fixed her hair in a French twist. She even wore makeup.
Justine laid her presents on the family room floor. While her father poured coffee, she raced upstairs to rouse Leah.
Check back over Tuesday to Thursday when I'll be sharing some of the family's favorite holiday food, music and memories! Would you like to know what the family pet, Dog, wants for Christmas? Check out this entry I did for the All Pets Want for Christmas hop.
Wondering which In Leah's Wake character you are? Take the character quiz to find out!
Giveaway