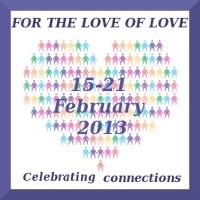 I'm so blessed to have many friends who are talented writers and are willing to share their work. This week and next, I've asked several to join me in the For the Love of Love event. They will be sharing both thoughts on love and a sample of their work. I'm so thrilled to have this opportunity to showcase them and hope you will enjoy getting to know them all a little better!
On this final day of For the Love of Love, A.K. Taylor – author of The Newbie Author's Survival Guide – joins us to talk about her love of nature and share an excerpt from her book.

Amanda's post
Amanda Taylor
The Newbie Author's Survival Guide excerpt
The Newbie Author's Survival Guide
My love of nature has been inside me as far back as I can remember. I was connected to nature even as a small child, even before I could walk. I was perfectly happy and content being outside. My parents could set me down on the ground, and I could entertain myself for hours and hours. We lived in the backwoods, and it was all I knew then. I even tried to taste rocks and dirt, but found eating them wasn't as satisfying as playing with them!
When I learned to walk, I began entering the woods. They would just beckon to me to be explored. Many adventures, both real and imaginary, waited. The wildlife didn't frighten me. The knowledge of snakes, bobcats, bears, bugs, and poisonous plants didn't frighten me-it fascinated me. To encounter something was the thrill of an adventure as well as an expounding curiosity!
As I grew, so did my imagination and my love of nature. My knowledge and understanding of it grew as well. I always seemed to have an inherent connection to nature. To be in a city was like being in another universe. I would go on these same imaginary and real adventures as me and my mind grew into more elaborate things. I could sit for hours by a creek and let my mind just wander and escape into other imaginary places. Nature inspired me. It was my teleport to other worlds.
However, most of my interactions with other humans were not as pleasant. In fact, they were outright painful. I was not accepted by others most of the time. What did I do? I went back into the woods after a hard day at school and reconnected with nature and went on my adventures–alone. Nature didn't judge me. It always accepted me for who I was and always awaited me with open arms.
Its sweet smells of water, wood, and detritus mixed together and reinvigorated my senses and my soul. Its wonderful sounds of the rustling of leaves and the songs of birds, mammals, and insects were like soft music to my ears.
Then one day my parents had to move to suburbia. Those were the hardest years of my life. People were mean. I was cut off from nature almost completely. My soul was in pain. I had to find another escape.
Then I discovered writing. I could return to my old adventures and into nature in my mind. Sometimes it still wasn't the same as actually being in the woods, but it was better than nothing at all. I hoped to have both writing and nature one day.
That is what I have today after I have returned to the backwoods-back to nature. I miss some conveniences and being close to my parents as they remained in suburbia, but I couldn't return and have anguish in my soul.
Nature is the main fiber of my being. It is a part of who I am, and it will always be that way. It influences my writing. It drives my interests. Why, it even has control of where I spend my vacation. I would rather spend time in the Alaskan or Canadian wilderness rather than Las Vegas. I'll pass on the Kremlin-I'd rather explore the Amazon.
Of my two loves, Nature influences my writing, not the other way around. All of my adventures and everything I have seen there or what I saw in my mind while teleporting there finds its way into my stories. When I need a creative recharge, where I do I go? The woods! When life's pressures weigh me down I go for a walk in nature and they seem to be lost beneath the tree roots and dead leaves. I exit the woods a renewed and refreshed person!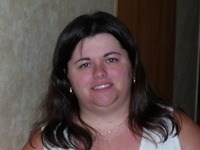 A.K. Taylor grew up in the backwoods of Georgia where she learned about nature. She enjoys hunting and fishing, beekeeping, gardening, archery, shooting, hiking, and has various collections. She also has interest in music, Native American history and heritage, Egyptian history, and the natural sciences. A.K. Taylor has been writing and drawing since the age of 16. A.K. Taylor has graduated from the University of Georgia with a biology degree, and she shares an interest in herpetology with her husband.
What to blog about? If you write nonfiction, then you can focus on your subject. For example, my blog related to this book would focus on helps for new authors. I might invite authors to send me questions, to which I respond in the bulk of the blog post. At the close, I would ask other authors (experienced or new) how they have handled this issue.
If you write fiction, then you might focus on your genre, say, suspense or sci-fi or fantasy, and perhaps even a particular aspect, such as how various authors create suspense or what new worlds have been created recently. The goal is to attract readers who read in the genre(s) in which you write. If you write variously on a singular topic, then your blog will move higher in search engine rankings whenever someone searches for your topic.
Some authors find the approaches above to be risky. They are just beginning in their genre, or they have done a lot of writing, but less reading of other authors in their area. So they focus on a subject they know more intimately, namely, themselves. Try this. Tell about why you like to write or how you got started or teachers and authors who have meant a great deal in your career. Start somewhere.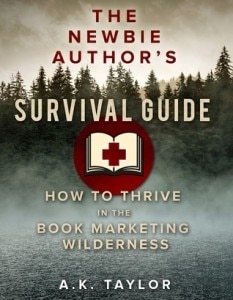 After crash landing into self publishing with nothing but the clothes she had on, author AK Taylor fought for survival with trying to market her books on a small budget. After two years of trial and error, reworking, refining, and reaching out, she has created the first survival guide for book marketing compiled of great tools and resources that can be used by any author during the rough times.
Comparing the book marketing wilderness with the real wilderness is how Taylor viewed the publishing world around her. Growing up in the woods and learning survival skills has given her this unique viewpoint for a different kind of world. When she started her search for information, a book marketing survival guide didn't exist-until now.
Stop by later for the final 'For the Love of Love' piece from David M. Brown!