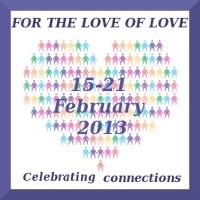 I'm so blessed to have many friends who are talented writers and are willing to share their work. This week and next, I've asked several to join me in the For the Love of Love event. They will be sharing both thoughts on love and a sample of their work. I'm so thrilled to have this opportunity to showcase them and hope you will enjoy getting to know them all a little better!
On this final day of For the Love of Love, Vickie Johnstone – author of multiple fiction and poetry titles – joins us to share some of her beautiful love-themed poetry and haiku!

Poem: I Don't Mind
Haiku on the theme of love
Life's Rhythms
Vickie Johnstone
I don't mind
If you stare
Or paint the room in blue
While I sleep
I don't mind
If you walk a while
Or smile in your style
And mimic your expression
I don't mind
If the urge to be is too much
Or the strength to see is gone
While I dream
She wakes with the morn,
Daisies woven in her hair;
So sprightly she laughs
In the glowing sun
She runs free, her arms outspread
Face tilted upward
Under sparkling stars
She laughs like water cascades
Rippling endlessly
Under twilight moons
In the shadows she dances
With amorous guile
He showers at night –
Rippling muscles of delight;
Water trickles down
In the aching heart
Sleep the locked passions untold,
Longing to escape
Chasing the dreamer,
My love drifts on the sea like
Petals in the wind
Some distant day she'll
Return when she sees beauty
In a rainbow sing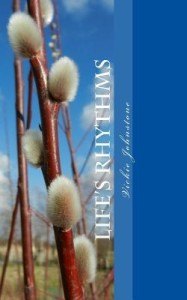 Ancient Japanese poetry with a modern twist. Old meets new in this collection of 316 haiku, composed in the traditional pattern of three lines with 5-7-5 syllables. Subjects include: nature, life, food, animals, loss, love, longing, hope, the seasons, dreams and time.
Stop by later for the final 'For the Love of Love' pieces from David M. Brown and Amanda Taylor