I'm delighted to host the wonderful Kathy Lynn Harris today! Kathy is the author of the bestselling Blue Straggler, and the newly released, award-winning novel, A Good Kind of Knowing! She's here today to share a great piece on literary fiction.
Literary Fiction: Why We Need It
by Kathy Lynn Harris
Let me begin this post by saying I love, love, love to read a good romance novel and have been known to devour a legal thriller. And as a writer, I'm pretty sure I learned the very basics of exciting storytelling from authors like Kathleen E. Woodiwiss, Sandra Brown and James Patterson. And while I'm not into vampires and fantasy, I have friends who live for those stories, too.
All of these types of books are deemed 'genre' fiction by the book industry, and they are engaging and fun and can fulfill a reader's need to escape into a story. They're good for writers, too: All the experts tell us that genre fiction is THE way for indie authors like me to break out of the clutter in today's publishing arena. After all, genre fiction readers have been the leading force in switching to ebooks (indie authors' bread and butter) and they seem willing to try out new indie authors with the click of a Send a Sample button.
'Literary fiction,' on the other hand, is a tougher sell all around. This type of fiction, like Terri's In Leah's Wake, Jonathan Franzen's Corrections or Ann Patchett's State of Wonder, is not easily placed into bookstore sections and Amazon categories. Modern readers don't clamor for literary fiction in the way they do for their favorite genre authors' work. And because literary fiction is less plot-driven and more focused on deeper character development and use of language, it doesn't often jump off the page with a bang, leaving some readers, expecting something different, a little frustrated.
Or, as a graduate school professor of mine once said, literary fiction makes readers work harder.
So why on earth would I choose to write and market a novel that is considered literary fiction? Am I crazy?
Maybe a little. But the truth is, I believe we need more literary fiction in the world, and we need indie authors who produce it. (I promise it had NOTHING to do with the fact that I couldn't plot my way out of a paper bag.)
Literary fiction, when done well, provides a slower encounter with language. It pushes boundaries. It deals in symbolism and metaphors. In many cases, it disrupts the story-arc formula that modern literature has evolved around. It tests the author's and the reader's sensibilities. It is laden with purpose and theme and pathos.
Here's how I like to describe it: While good genre fiction can make you catch your breath during an action-packed climax scene, good literary fiction can make you catch your breath because you've just read one beautifully written phrase that speaks some universal, powerful truth that even the writer may not be able to articulate afterward.
Perhaps most importantly, good literary fiction leaves readers with questions – about themselves and about humanity, in all its goodness and ugliness. Those questions can then provoke curiosity, open discussions, and personal and societal growth – things so often pushed to the back burner in our so-busy-we-can't-think-straight lives.
Literary fiction is a different kind of reading experience, and one I think we all need every now and then. Like so much of life, doesn't boredom set in pretty quickly if all of your experiences are similar? Sure, you may love roller coasters. After all, they get your heart beating and leave you feeling exhilarated. But if you rode them every summer weekend and never visited an art museum, wouldn't you be missing out on something valuable?
So, keep this in mind when you're browsing the bookstore or searching online for your next great read: Literary fiction can feed the soul. And that's why I write it.
About Kathy Lynn Harris
Kathy Lynn Harris is the author of two novels: Blue Straggler, a former Amazon #1 bestseller, and the award-winning A Good Kind of Knowing. In addition, Kathy has written children's books, magazine articles, short fiction, essays and really bad poetry. Her work has also appeared in numerous published anthologies. Kathy grew up in a South Texas ranching family, but made the move from Texas to the Colorado Rockies in 2001 to focus on her writing and soak up All Things Mountain. Kathy's blog, You Can Take the Girl Out of Texas, But.., can be found on her website. She lives west of Denver in a haunted 1920s cabin with her husband, son and two fairly untrainable golden retriever mixes.
Website ~~ Amazon: Blue Straggler ~~ Twitter ~~ Facebook ~~ Pinterest ~~ Goodreads
About A Good Kind of Knowing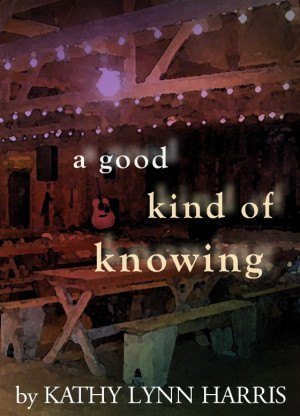 Sera Taylor's store is the one place in Lakeville, Texas, where individuals from all walks of life share a universal love for music and a respect for the gypsy-like woman behind the antique glass counter. Readers get a taste of the unorthodox connection between Sera and Mack, a young local cowboy and musician, and Sera's previously untested devotion to her husband Bill. They learn of her relationship with Ruby D., the vibrant but misguided mother of five; with Louie, the shy high school band director; with Beverly, the religious, upper-class socialite; with Antonio, a local bar owner striving to make a life for himself; with Tommy Lee, a rich and directionless gigolo; and with Wes, the only out-of-the closet gay man for miles. As Sera battles a serious illness, the characters must overcome long-held stereotypes to save Sera's store, and in the end, large parts of themselves.