I am proud and honored to introduce a new series by my immensely talented father, Jerry R. Giuliano. In my earliest memories of a writer, my dad, a salesman, is writing the newsletter for the corporation that employees him. Over the years, he wrote many articles and technical pieces. As a writer, a parent, and a human being, my father is and has been my role model, my mentor, my inspiration, and my abiding supporter. With this poignant story about the old neighbor, we begin. Please enjoy!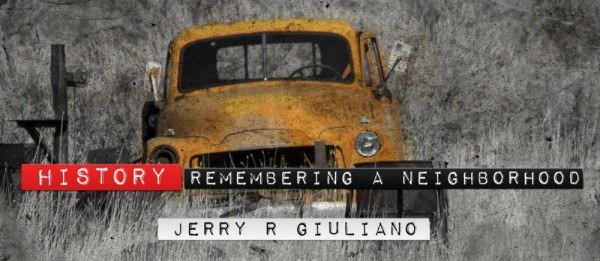 History: Remembering a Neighborhood Pt I: As It Should Be
by Jerry R. Giuliano
Before the town of Lansdale, PA, came to be, the land was just fields and forests inhabited by Lenni Lenape Indians. I picture the Lenapes enjoying the land with clear water, fresh air, plenty to gather and satisfy their hunger, and enough nothing for them to feel comfort and peace. In the 1850's, people and progress ushered in the railroads, and with that,  more people came, more hotels, more general stores, and more things the subsequent settlers required to find comfort and peace in their new land. In the 1870's the little village was incorporated, given the middle name of a railroad engineer, and the roads paved with gold began to multiply.
The town I found was populated by generations of German, Quaker, or Pennsylvania Dutch people who settled there long before the wave of immigration that brought my parents in 1920.
The area I was raised in was shaped like a diamond, formed by two streets and two sets of railroad tracks, in a section of town where smoke stacks, soot, factories, foundries, and rows of crowded homes dominated the landscape. We lived in the triangle at the bottom half of the diamond, where we "belonged." My parents were Italian immigrants living among their families, friends, and descendants all of whom were bound tightly inside the squeeze of narrowing railroad tracks, and further bound by the attitudes of local gentry towards Italian immigrants. There was a smattering of Poles and, perhaps, a Hungarian or two, but not as many as a few. The occasional non-Italians that lived in my neighborhood seemed like fresh basil chips garnishing the outside edge of a heaping bowl of gnocchi.
If my neighborhood were the heart, then West Fifth Street would be the main artery. There were more Italians per green yard on that one street than on any other ten streets combined. Unlike Kevin Bacon's six, there were no degrees of separation between Italians and Fifth Street. Everyone started out there, and then crawled their way away to the next available home or connected street that kept them together.
It must have been the combination of industry, railroad tracks, dense population and Italians that earned my neighborhood the dubious distinction of being on the "wrong" side of Main Street, the "wrong" side of Broad, and the "wrong" side of everything else that someone else perceived to be right. From my perspective, families were closer, friendships were deeper; the ties that bound were bound more tightly, and the food was home grown, homemade, home cooked, and infinitely better smelling and better tasting, in my neighborhood, on the wrong side of town.
Not everyone who lived there looks back on life in my neighborhood as fondly as I. Like everyplace else, there were naughty kids, bad mothers, fathers who drank too much and got nasty when they did. Besides having to prove their worth to the outside world, the frustrations of daily life sometimes steered good people in a bad direction.  That happened in my neighborhood, then, just as it does now in the forgotten ghettos of cities and in the famous, glamorous suburbs around the world. Nonetheless, the end does not depend upon the beginning; by our choices, life unfolds as it should.
There were obstacles to overcome for any of us who ventured outside our neighborhood. Maybe it was a snicker, a finger point, a "no, you can't," or "you're not allowed here." It wasn't a feel good but, it wasn't the end of the world, either. Once, my good friend "D" and I wandered onto a public golf course; I was about twelve, he was two years older. We didn't know anything about golf, but we figured we could easily master hitting golf balls off a mat and onto the range. D walked up to the counter and asked, "How much?" The guy at the counter said, "You boys look Eye-Talian' Are ya? Go on, scram! You don't belong here."
Several years later, D got drafted into the Army, was stationed in Germany, and became very good friends with Elvis. Over the years, Elvis pleaded with my friend to join his entourage and to reap, with him, the benefits of Hollywood glamor and Rock and Roll fame.  I asked my friend why he denied that opportunity. D said he didn't think it was good for him to live in someone else's shadow; he needed to create his own, even if it were just a small one.
Instead, D went back to the neighborhood, joined a pharmaceutical company as a shipping clerk; he went to night school while working his way into a technical writing department; and he continued to rise through the company. He and Elvis maintained their friendship and D often visited Elvis on his movie sets, or back stage at some concert somewhere. When he was in his late fifties, D retired from the pharmaceutical company; a shipping clerk when he joined the company, he was a Director when he left.
With his newfound retirement free time, he secured a law degree, started his own drug naming firm, consulted with major pharmaceutical companies around the globe, and named some of the most popular drugs on the market today.
They were two friends; one was born to sing. The other was born to overcome the obstacles of West Fifth Street, and to overcome the wrong side of everything. Drugs played a significant role in both their lives. Both of them made choices which caused their lives to unfold exactly as they did. I will always remember them both—the one who only needed a first name and, more fondly and easily, the other who needed only a single letter.
The Montgomeryville-LansdalePatch has some amazing "Then and Now" pictures of Lansdale at the links below:

Also on the blog: Names by Jerry R. Giuliano