It took me a long time to build up a list of the publications and blogs I felt I could really rely on for good, honest and clear reviews. It wasn't just about finding good bloggers – there are many many amazing ones – but also about finding people who looked at books from the same perspective as me, valued certain approaches by the authors for example, or addressed certain things in their reviews.
That's why I was so excited about Rabble, a Kickstarter project from Amy Edelman. And why I was so very disappointed when it didn't reach funding. Unsurprisingly, Amy didn't allow this setback to end her dream of a collaborative review site. Instead, she forged ahead and found someone to share her vision.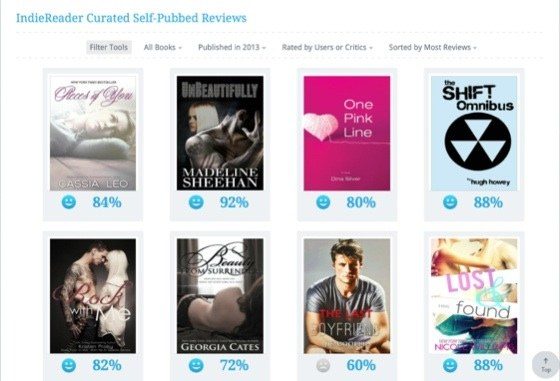 This comes straight from the press release confirming IndieReader's exciting new reviewer list on iDreamBooks:
iDreamBooks, a year-old book discoverability site that aggregates professional reviews from over 3,000 sources, has added a list of self-published book reviews to their database, curated by IndieReader. IR's list will join those of The New York Times and NPR.

IndieReader, the essential consumer guide to self published books and the people who write them, was launched in 2007 with the idea that—were they curated—indie books could inspire the same type of devoted following as indie movies and music.

Says Rahul Simha, one of iDreamBooks' founders, "A lot has been written recently about the difficulty of finding an authentic and trustworthy rating system for books. Like themovie reviews at Rotten Tomatoes, idreambooks ratings system can't be gamed. It's a great tool and we've tried to create something similar and useful."

Amy Edelman, founder of IR, says the problem of manipulated reviews is especially virulent with self-published titles, compounded by the fact that most mainstream publications decline to review self-published titles. Adds Edelman, "Rushing in to fill that void are credible review and blogger sites (including Kirkus Indie, Dear Author, BlueInk and Compulsion Reads) that, while not as well-known as The New York Times,still have a lot of influence when it comes to purchasing."
Titles on the iDreamBooks site get two percentage ratings, one from professional or vetted book critics and one from readers. This will enable potential book buyers to get a reader and critic rating overview, similar to Metacritic. In addition, the vetted reviews allow readers to be sure that they are avoiding sock puppets, vendetta reviews or unwarranted quid-pro-quo reviews.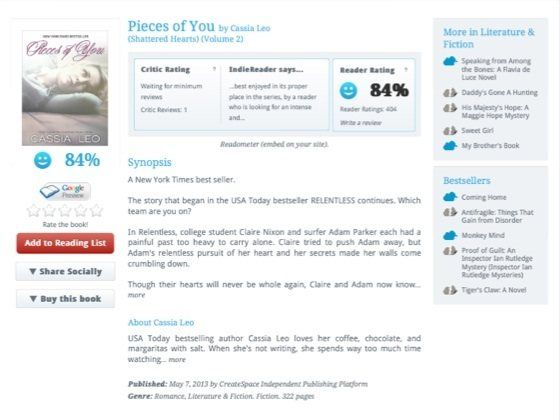 Word of mouth is still a key factor in book sales. Reviews are personal and subjective. One person's five star much-loved read is another's three star novel. Throw in glowing five star reviews from sock puppets or damning one star knockdowns from disingenuous competitors and it's easy for book reviews to become unhelpful to potential readers, creating even more confusion. That's why I love this service. As much as I love Goodreads and Librarything, along with my list of much-trusted blogs, it can easily become a time drain to track down a range of trustworthy reviews on one particular book. Having smart and savvy reviews pooled together in this way will save a great deal of time, not to mention offering an opportunity to find new bloggers to follow.
So, unlike me, you may never have to spend hours and hours sourcing your trusted reviewers. Instead, head on over to IndieReader's reviewer section on iDreamBooks to find amalgamated reviews worth reading.