This week sees the continuation of the 'History: Remembering a Neighborhood' series by my immensely talented father, Jerry R. Giuliano. Please enjoy this wonderful piece, and – if you missed it – catch the rest of the series.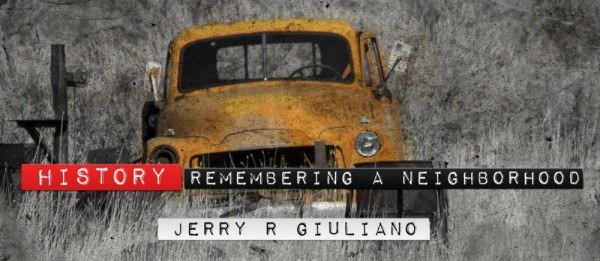 History: Remembering a Neighborhood Pt III: Property and Provisions
by Jerry R. Giuliano
In 1926, on EAST Fifth Street, property deeds were conveyed with provisions: ""It is expressly understood and agreed by and between the parties hereto, their respective heirs and assigns, that the land hereinabove described, or any part therof, shall never be conveyed, leased, occupied,  or possessed by an Italian, Hungarian, Polander, or Negro, and that the remedy for the grantors, their heirs and assigns, for any violation therof shall be restricted to an equity proceeding for an injunction, or the revocation of the deed to such Italian, Hungarian, Polander, or Negro."
I'm not sure what other types of people were not allowed in the town when I was little. I remember playing "Cowboys and Indians, but I don't recall meeting, or even seeing, a Native American Indian anytime, anywhere, in the town. In fairness, I never saw a white hatted, scarf wearing, gun toting, horse riding cowboy in the prairies of our town, either.
During a recent visit to the old home town, I decided take a stroll along the fond memories and happy streets of my childhood. I was alone except for the echoes of long ago sounds, sights, smells, and calls from places and faces I have carried with me, everywhere, throughout my lifetime. I couldn't wait to cross the railroad tracks, stop at the coal yard, smell the bakery, see the old men playing bocce, hear the kids kicking the can, watch anyone pitching pennies against The Sons of Italy club steps, touch the water at B A B, and say "hey" to Joe at the Junkyard.
My first stop was at the home where I was born. Actually, I was the only one of five children, who was not born at home. Our home was a small, brick, three bedroom, two stories, plus attic, plus cellar, "twin Style", with our half on the corner of 7th Street, and Maple Avenue. My parents had a bedroom; my sisters shared a second; often, a boarder used the third, and the attic was a bedroom for my two older brothers and me. One toilet, a small sink, and a tub, were crowded inside a bathroom that served all of us. In this context, "pinching cheeks" means the other entendre.
We used coal for the furnace to heat the house, and to keep the kitchen stove fired up. The coal was delivered by the coal man extending a chute from his truck to an open window above the coal bin located in the cellar. I thought from there, the coal was handled automatically. It was like magic. I learned differently on the day I was chosen to shovel coal into, and scoop ash out of those giant cast iron conveniences which enabled the joy of warmth and the comfort of great food.
In those days, lots of things were delivered from the store to your door. Maybe, it was because very few people had refrigerators or cars or, maybe, we were just much weaker then. It used to take two arms, plus a struggle, to carry $10.00 worth of groceries. These days, I am easily able to carry $200.00 worth in one arm.
Big box stores didn't exist, and no massive amounts of anything moved across the country, much less across continents to local distribution points, as rapidly as now. Everything was local, everything was fresh, and everything was truck-delivered to the door.  There was a coal man, a milk man, an ice man, a man who delivered baked goods, a man who delivered fresh eggs, a man who delivered fish, a man who delivered non-perishable groceries; a man who delivered dry cleaning (but not to our house because only rich people sent their clothes out to be cleaned and besides who would want their clothes mixed in with clothes worn by someone you don't even know). Most of the delivery men drove small panel trucks except for the man who delivered bibles; he walked.
The other man who delivered without a truck was Zio Bosico. (Zio means uncle which he wasn't but we had to call him uncle because he was old and Italian and calling him uncle was a sign of respect). Zio Bosico lived, and worked his farm, on the edge of town.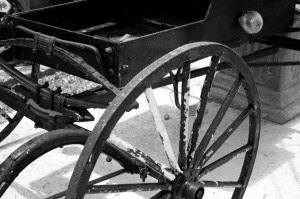 Nearly everyone in the neighborhood had a small vegetable garden in their back yards where, at the very least, they grew their own tomatoes, zucchini, and onions.  To satisfy most other vegetable needs, Zio Bosico was the "come to" guy. When the harvest season began, he would appear every Saturday morning, on the streets of my neighborhood, selling fruit and vegetables from the back of his horse drawn buggy thereby, and albeit unwittingly, pioneering the effort to stave off global warming.
The field across from us created our unique opportunity for a huge garden with lots of variety. We did not grow an abundance of corn, so we bought that from Zio Bosico … thirteen ears of sweet, succulent, yellow, corn, for ten cents.  The field which took up a whole square block, was cut in half by the railroad tracks, and quartered by 7th Street. We used about a third of the field, on our side of the tracks, for our family garden. That's where fruits, vegetables, and life lessons, were carefully planted, consistently nurtured, sometimes resented, and, ever hopefully, harvested.
The other two thirds of the field were covered with dandelions, chicory, field greens, and wild flowers, trampled to expose a clay colored, diamond shaped, path, created by the mini-likes of Babe Ruth, Joe DiMaggio, Ted Williams, Stan Musial, Richie Ashburn, and others, depending on the day, the mood, and that player's current  team standing in the "majors".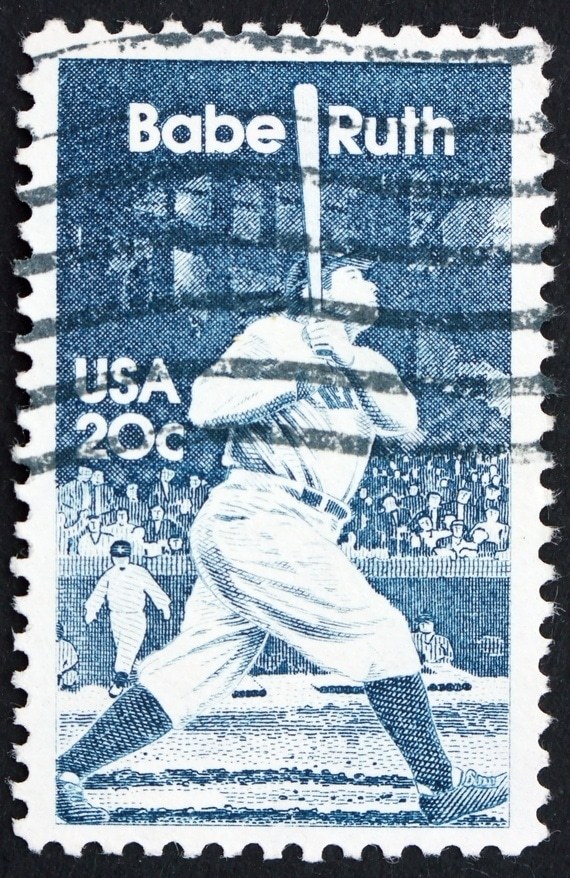 The Montgomeryville-LansdalePatch has some amazing "Then and Now" pictures of Lansdale at the links below:
Also on the blog: Names by Jerry R. Giuliano