Food in Fiction: Introduction


During the month of July, I invited authors, bloggers and readers to join me on a virtual literary world trip, celebrating all manner of places and spaces featured in books. Now we're planning Food in Fiction, a similar style of event but celebrating food, rather than geography, featured in books.


Every weekday in September a new post will be published featuring food in fiction submissions from authors and readers. I want to hear from you about the food featured in your favorite reads, books you think should be featured so we can build the ultimate menu! These don't have to be incredible banquets or elaborate dishes. A burger on a first date, or a hastily grabbed pizza after a crazy shift, all these things can be included.
Want a *Food in Fiction* badge?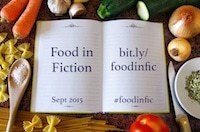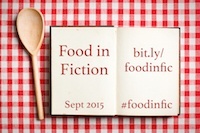 Taking part is easy!
Bloggers/Readers
Authors
Submit (until 20 August)
FAQs
Send us:
Details of a food/drink mentioned in a book you love and a short (1-2 sentence) summary of who is eating and why/what the occasion is (e.g. a first date, after work, breakfast before the school run).
The book title and author.
(Optional) Your blog and/or twitter details, a quote about you so we can promote you
You can submit entries until 20 August 2015

Send us:
Details of a food/drink mentioned in your book and a short (1-2 sentence) summary of who is eating and why/what the occasion is (e.g. a first date, after work, breakfast before the school run).
A short excerpt from your novel (up to 200 words)
A brief bio (up to 200 words)
Your book title
You can submit entries until 20 August 2015
Due to time constraints, we will not be able to reproduce/show recipes for every food/drink listed (sorry!) but if you have a link to an existing recipe on your own blog or elsewhere, we will happily share the link!
Form not loading correctly? Click here
Can I submit multiple entries? Yes, up to 2 – please send one at once though.
When will I know if my entry will be featured? We'll email you or tag you on Twitter when it is posted. If there are any problems we'll let you know in advance.
When will the posting schedule be shared? We'll be working on the schedule between 21 August and 30 August and will post it by 31 August on the blog.
Do I need to do anything else once I've submitted my entry? Will I need to write a blog post? Once we have your entry, we'll build the Food in Fiction post from that, contacting you if we need to clarify anything. All you need to do is wait for it to be posted (and spread the word a little if you'd like to!).
Is this a blog hop? It isn't a blog hop as everything is posted on this one blog over a month period. Links to books and blogs and Twitter profiles are shared with every post to offer exposure.
Has this run previously? Food in Fiction is a new event, but you might want to check out the Literary World Trip, which ran in July 2015.
What we'll do:
Collect all the entries between 20 July and 20 August
Put together a posting schedule between 21 August and 30 August
Post the schedule on the blog on 31 August
Post every weekday during September
Please spread the word using the #foodinfic hashtag!
Authors/Bloggers Taking Part in 2015
Updated 24 August 2015
Click here for the schedule
Aihebholo-oria Okonoboh, @ aihebholooria
Becky Lyn Rickman, @BeckyLynRickman
Claudette Melanson, @Bella623
Crystal Marcos, @CrystalMarcos
David Lee Summers, @davidleesummers
David M. Brown, @elenchera
Donna Brown, @_mrs_b
Donna Everhart, @wordstogobuy
Dougie McHale, @dougiemchale
Effrosyni Moschoudi, @FrostieMoss
Fiona Skye, @FionaSkyeWriter
Heather Hiestand, @heatherhiestand
Ichabod Temperance, @IckyTemperance
Java Davis, @javadavis
Joanne Guidoccio, @joanneguidoccio
Jonathan Gould, @jonno_go
Joyce Hertzoff, @JoyceHertzoff
Julie Elizabeth Powell, @starjewelz
Linda Poitevin, @lindapoitevin
Lois M., @OV_099
Mae Clair, @maeclair1
Rebecca E. Neely, @RebeccaNeely1
Robin Murphy, @murfett
Susan Salluce
Tonya Kinzer, @TonyaKinzer
Tracy Falbe, @tracyfalbe
Giveaway
Spread the word, submit your locations and keep stopping by each day to Tweet about Food in Fiction – each of these will give you a chance to win.
Check out the Twitter chatter, plus Instagram and Pinterest pics using #foodinfic. You can easily follow the #foodinfic Twitter feed here.
a Rafflecopter giveaway
Please note, the views of the post author - and indeed anyone who guest posts on Day by Day - are not necessarily indicative of the views of Terri Giuliano Long and comments are moderated to filter spam/profanity only.


"Censorship always defeats its own purpose, for it creates in the end the kind of society that is incapable of exercising real discretion."