Dragon's Web by Lynne Cantwell
Mapping the Book
About the Book
About Lynne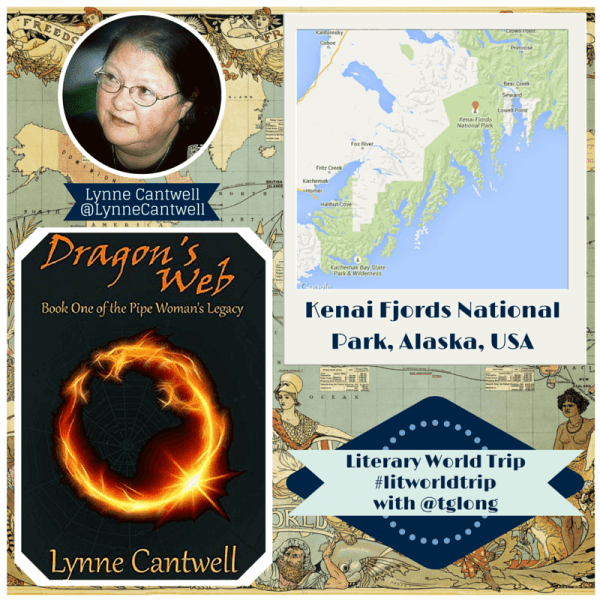 Book/Scene Location: Kenai Fjords National Park, Alaska, USA
What happens there? Sage and Rafe travel to Alaska to track down Rafe's brother, who is allied with Perun, the Slavic god of thunder. They hope Perun will help them find Veles, the Slavic god of the underworld, who they believe is hoarding the Earth's water.
Excerpt
Rafe the Raven flew up and out of the clearing, until he was just a speck against the blue of the sky.

"Wait!" I cried, and moved my arms faster. I shot up so fast that I nearly collided with him where he'd paused to let me catch up.

"Hey now," he said, cartwheeling away from me. "Slow down. Take your time to get used to it."

Treading air again, I looked down – and forgot my anger. "Holy shit." The blue-white glaciers of the Kenai Peninsula, and their ever-widening rim of jagged cliffs, stretched out before me. I could even see the Aleutian Islands curving away from us in the far distance.

"Beautiful, huh?" said the proud native son, as he flew slow circles around me. "Is it worth the subterfuge?"

"I'm reserving judgment." I tried to glare at him, but I couldn't tell if he got it. I wasn't sure whether I could glare effectively in this form without shooting sparks from my eyes.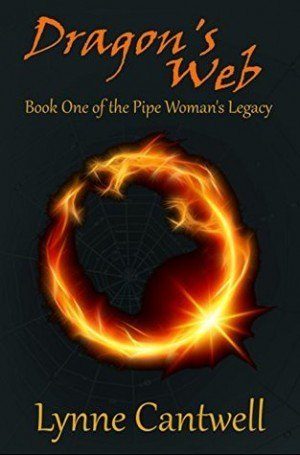 Can a god go crazy?
Sage Curtis, reluctant Savior of the Earth, has been yanked around by the gods her whole life. Even though the Native American spirit Thunderbird has given her certain magical gifts, all she wants to do is finish her engineering degree so she can fix Earth's climate with science. Not with laser eyes. And definitely not by flying.
Then Veles, the god of the Slavic underworld, invades her dreams. He intends to battle her until the Earth is no more, in the belief that it's the only way to reboot the planet – never mind the collateral damage.
Even avoiding this battle will require the use of magic, and Sage is woefully unprepared. But a lot of people have her back: her parents, whose interactions with the gods are the stuff of legend; her brother Webb, who knows the future, mostly; and Rafe Orloff, transfer student and Trickster in his own right. Together, they have a chance of saving Earth from this crazy dragon god. But their success rests on one thing: whether she wants to or not, Sage is going to have to fly.
Amazon
Goodreads
Lynne Cantwell grew up on the shores of Lake Michigan. She worked as a broadcast journalist for many years; she has written for CNN, the late lamented Mutual/NBC Radio News, and a bunch of radio and TV news outlets you have probably never heard of, including a defunct wire service called Zapnews. In addition to writing fantasy, Lynne is a contributing author at Indies Unlimited. Lynne's vast overeducation includes a journalism degree from Indiana University, a master's degree in fiction writing from Johns Hopkins University, and a paralegal certificate. She currently lives near Washington, DC.
Website
Twitter
Waiting for the Storm by Marie Landry
Mapping the Book
About the Book
About Marie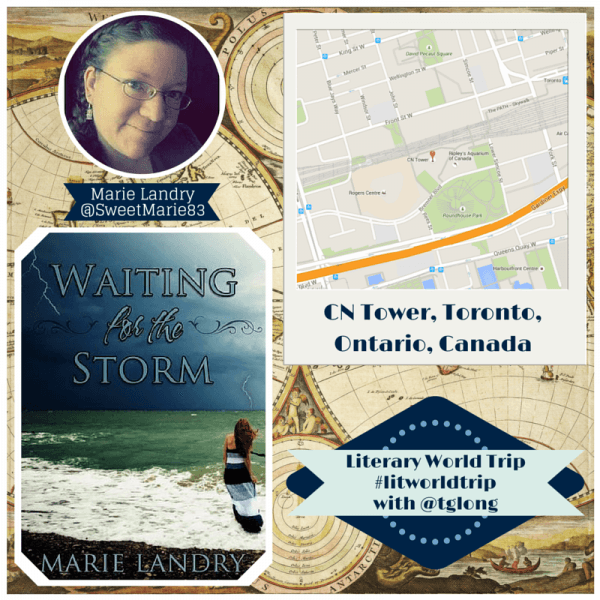 Book/Scene Location: CN Tower, Toronto, Ontario, Canada
What happens there? Charlotte goes home to Toronto for the first time since her mother died, and after an emotional weekend, her boyfriend Ezra wants to do something fun and memorable, so they visit the CN Tower and go to the top.
Excerpt
"Hop on my back and I'll carry you."

"But then we'll be even heavier," I said, backing away from him.

"Charlotte." His lips twitched with the effort not to laugh. "You heard what the guide in the elevator said. It's, like, five times stronger than the required weight-bearing laws." He turned around again. "Now hop on."

I sucked in a breath, and before I could lose my nerve I jumped onto his back. He grabbed the backs of my legs and stood up straight, adjusting us so I wouldn't fall. "Ready?"

"No," I squeaked, but he stepped forward anyway. I closed my eyes and buried my face in his shoulder. His body was tense as he took a few steps, then stopped, letting out a low laugh.

I opened my eyes and tentatively looked over his shoulder. My stomach dropped and my heart leapt into my mouth as I looked 1,122 feet down to the ground below. "Holy crap."

"That's pretty much what I was thinking," Ezra said. "This is amazing."

I wrapped my arms tighter around him, hugging him awkwardly from behind. He squeezed my legs, and the two of us stood there and looked down in awe.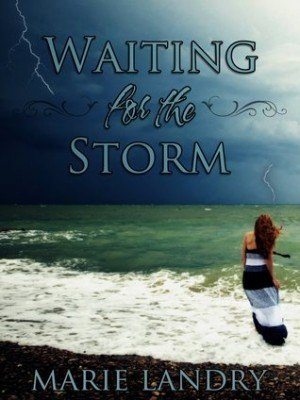 After the death of her mother, the last thing seventeen-year-old Charlotte O'Dell wants to do is spend the summer on Angel Island with her family. Her younger sister hates her, and her dad is in his own little world. It's a recipe for a disastrous summer on the island, until Ezra Rhodes walks into her life.
The boy next door makes Charlotte forget her almost paralyzing fear of really living her life. Stunted from taking care of her mother in her last months, Charlotte is drowning. With Ezra, she feels something again, and as he repairs her family's summer home, she dares to think he might actually be fixing her, too. Ezra challenges Charlotte to leave her comfort zone, and as their friendship slowly blossoms into more, Charlotte begins to come alive again.
But Ezra has secrets…secrets he isn't sharing with Charlotte. Despite her new-found happiness in Ezra's arms, Charlotte can't help but feel there's a storm on the horizon. And she isn't sure if she and Ezra can weather it unscathed.
Amazon
Goodreads
Marie has the best job in the world—one where she gets to make stuff up for a living and shamelessly eavesdrop on everyone around her. She writes happily ever afters while dreaming about the day she'll have her own epic love story to tell. Most days you can find her writing, reading, fantasizing about traveling the world, listening to U2, watching copious amounts of TV on DVD, or having grand adventures with her nephews and niece.
Website
Twitter
Click here for the rest of the schedule



Have you enjoyed either of these books or any other titles set in Alaska, USA or Toronto, Canada? Let us know in comments!
#litworldtrip on Pinterest
Follow Terri Giuliano Long's board Literary World Trip #litworldtrip on Pinterest.
Literary World Trip: Giveaway

Spread the word, submit your locations and keep stopping by each day to Tweet about the world trip – each of these will give you a chance to win.
Check out the Twitter chatter, plus Instagram and Pinterest pics using #litworldtrip. You can easily follow the #litworldtrip Twitter feed here.