The Calling by Louise G. White
Mapping the Book
About the Book
About Louise G. White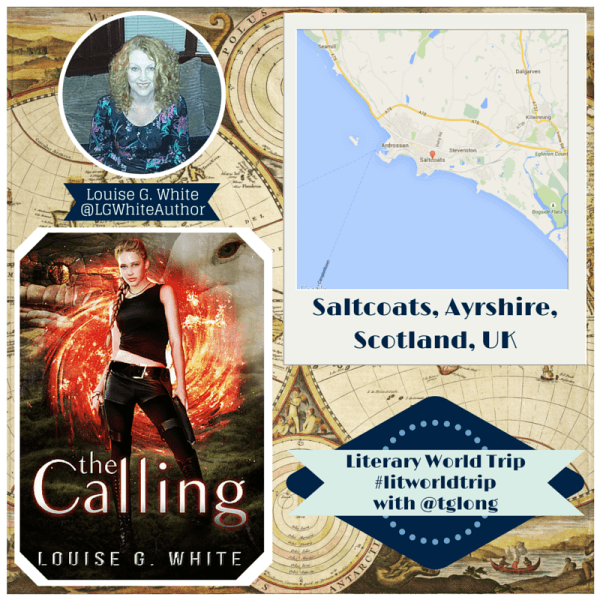 Book/Scene Location: Saltcoats, Ayrshire, Scotland, UK
What happens there? Demons are dealing through the gateways and a young girl needs to trade her school books for weapons and fight to survive. Discovered and recruited by the sanctioned 'hunters', her world is about to get a lot more complicated.
Excerpt
Ethan couldn't bring himself to feel guilty at the thought of killing the demon, even if the girl had appeared to be more than willing. It had ended well enough, now the girl had returned through the gateway with the destroyer. Not the most satisfying of rescues, granted. It tended to take the shine off the success a little when the victim was a willing participant in the demon's games. Takes all sorts, he supposed.

Notechis sank to where Carolyn had reached into the dirt and there sat with an unlikely grace, like a yogi about to meditate. His calm demeanour raised an irrational annoyance in Ethan.

"You're only a pacifist when it suits." Ethan said, feeling compelled to bait the demon. Why was he not bargaining to save his sorry tail from the Protectorate?

Notechis didn't rise to the bait. "You are right, Ethanasius," and he fixed Ethan with a bright stare. "The destroyer is…" and Ethan expected 'horrific', 'mad', or even 'a bitch', "…glorious," he concluded, to Ethan's surprise.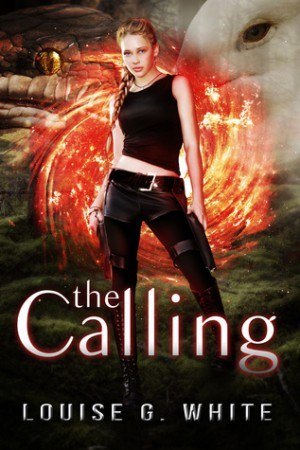 On the run and hiding from 'the suits', Carolyn's life is far from straightforward. After her mother and brother go missing in a most extraordinary way, (through a hole to another world which appears in the kitchen wall!), she is determined to track them down and bring them home. But life is never that easy! Rescued and protected by a group of unusual and likeminded 'people', Carolyn hones her magic and fighting skills. Whilst answering a 'call' to retrieve a human from another world she's faced with a quick decision and ends up bringing a demon back with her. Little did she know what effect this demon would have on her. As each day passes her strengths grow and her magic develops to assist her in her quest to track down her family, but there are decisions to make that will affect the rest of her life.
Swallows and Amazons by Arthur Ransome
Submitted by Katie Fitzgerald
Mapping the Book
About the Book
About Katie Fitzgerald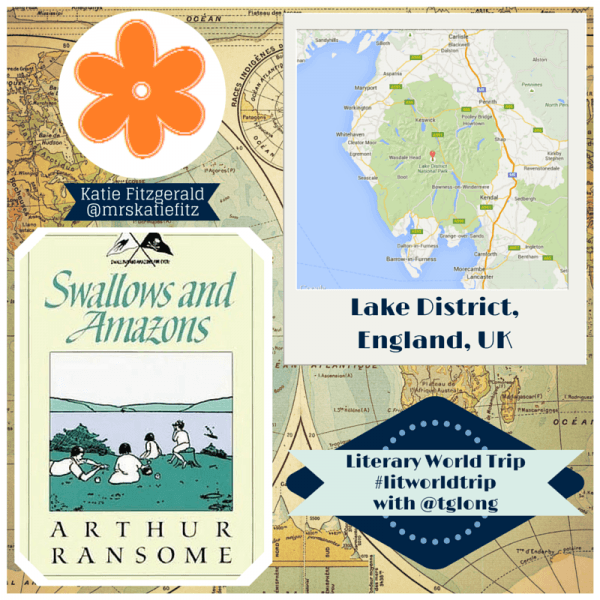 Book/Scene Location: Lake District of Northwest England, UK
What happens there? In a vintage British children's story from 1930, the Walker children – John, Susan, Titty, and Roger – take up sailing during their summer holidays in Northwest England's Lake District and set off to explore an island in the middle of a lake. There, with minimal adult intervention, they take care of their own needs and befriend two other children who fancy themselves to be pirates.
Excerpt
"Look out, Roger," said Mate Susan, and she too looked anxiously over the bows.

"Rock on the starboard bow," she shouted.

John shifted the tiller a very little. The Swallow, in quite smooth water, slipped on and on.

"Now," said Susan, and scrambled to the stern again over the top of Titty, who had just pushed her head out from under the sail. Susan had gone to the stern to lighten the bows of the boat, and just as she got there, there was a gentle grumble and scrunch, and Swallow's nose was on the pebbly beach. She had hardly touched before Roger had jumped ashore with the painter.
The first title in Arthur Ransome's classic series, originally published in 1930: for children, for grownups, for anyone captivated by the world of adventure and imagination. Swallows and Amazons introduces the lovable Walker family, the camp on Wild Cat island, the able-bodied catboat Swallow, and the two intrepid Amazons, Nancy and Peggy Blackett.
Story Time Secrets, written by former children's librarian Katie Fitzgerald, is a collection of children's book reviews and book lists, practical suggestions for incorporating early literacy into daily life, literacy activities for pre-readers and beginning readers, and personal reflections on reading with young children, including story time plans and advice for fellow parents. Katie Fitzgerald lives in the Maryland suburbs of Washington, DC, with her librarian husband and toddler daughter, who will become a big sister at the end of September 2015.
One Hot Summer by Ian Barker
Mapping the Book
About the Book
About Ian Barker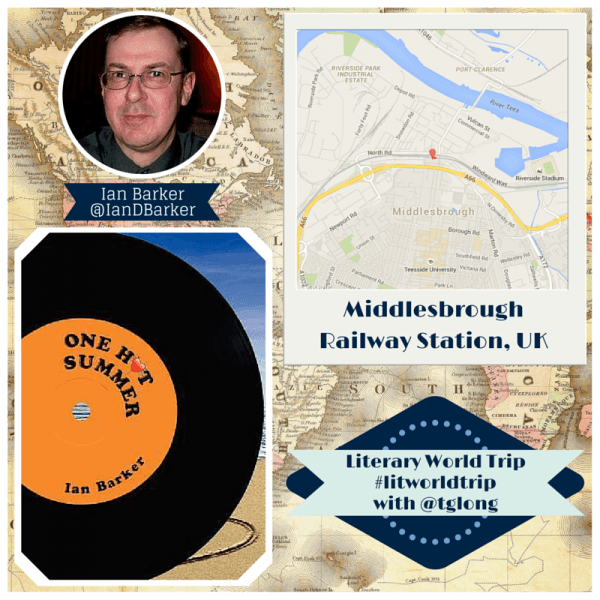 Book/Scene Location: Middlesbrough Railway Station, England, UK
What happens there? Returning from a shopping trip John and Penny encounter a tramp and share some chocolate.
Excerpt
The passage's graffiti advertised the exploits of the 'Boro Boot Boys', in red spray paint on the white brick, stark and bright under the harsh fluorescent lighting. An old tramp was huddled at the base of the steps.

'Spare the price of a cup o' tea?' he rasped as we went by. I dropped a five pence coin into his outstretched hand. 'God bless you, son. I hope you and the young miss will be very happy.'

'He'll most likely spend that on meths,' said Penny as we walked on, our footsteps echoing on the hard floor.

'That's not very charitable, young miss.' I tried to imitate the old man's rusty voice. 'I thought I was supposed to be the cynical one?'

'It was very noble of you.' She squeezed my arm and I grew a few inches taller on the spot.

Once on the platform I found I had just enough money to buy a bar of Nestle's milk chocolate from a machine, and still have the train fare home. Since childhood I had always associated Nestle's chocolate with trains and only ever ate it on railway stations; we sat on a bench and shared the bar.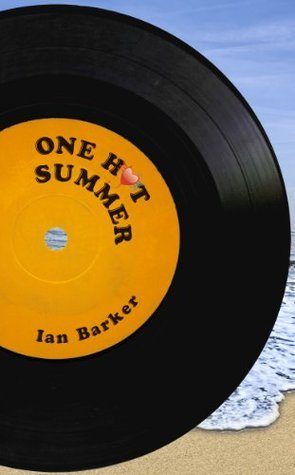 For a boy to learn of the pleasures and pains of adult life, all it takes is One Hot Summer…
John Burton is seventeen, it's the long hot British summer of 1976 and his life is about to change, in ways he has carefully planned, and ways he cannot yet know, as he embarks on a roller-coaster journey to maturity by way of music, cars, love, sex, friendship, rivalry, guilt and death.
John's world is populated by those who have helped mould his character. His parents, proof that opposites attract; Penny, his girlfriend, evidence that persistence can sometimes pay off; his grandmother, incorrigible and unshockable; Craig, his best friend, confidant, and sounding board; Alan, who holds a secret only John knows; Katie, object of John's pubescent fantasies; Deborah, who collects underpants; Graham, the first local to embrace punk; Dino, John's rival in love; Sandy, the dog; and other bit part players.
Having always dabbled in writing since leaving school, Ian Barker spent around 20 years working in IT before making the discovery that writing about computers was easier than fixing them. He is a former editor of PC Utilities magazine and now works as a freelance technology writer based in Greater Manchester, UK. His first literary efforts were contributions to radio shows and he now has two published novels and a number of non-fiction eBooks.



Have you enjoyed any of these books or any other titles set in Ayrshire, Scotland, Lake District, England, or Middlesbrough, England? Let us know in comments!
Literary World Trip: Giveaway

Spread the word, submit your locations and keep stopping by each day to Tweet about the world trip – each of these will give you a chance to win.