Click here for Day 7 of the Literary World Trip
Life After Perfect by Nancy Naigle
Submitted by Suzie W.
Mapping the Book
About the Book
About Suzie W.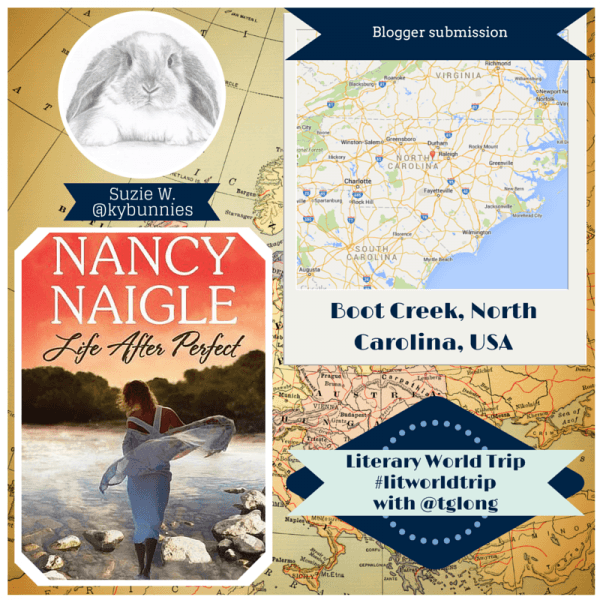 Book/Scene Location: Fictional town of Boot Creek, North Carolina, USA
What happens there? A woman finds out her husband of 10 years has cheated on her. She leaves Atlanta and arrives at Boot Creek for gas. She is invited to a street fair and finds out true is better than she ever believed.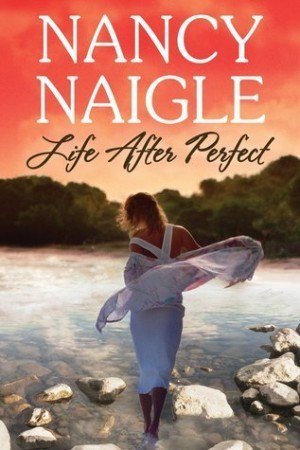 Katherine Barclift had it all: the perfect job, the perfect car, and what she thought was the perfect marriage. But when her entire world collapses in one stomach-churning instant, she hits the road and keeps driving until that so-called "perfect life" is just a dot in her rearview mirror.
A chance encounter leads her to make a pit stop in Boot Creek, a drowsy little North Carolina town where she can call herself Katy, soak up the peace and quiet…and drink in the bluer-than-blue eyes of Derek Hansen, a local doctor still wrestling with his own painful past. Both Katy and Derek are wary about giving romance another shot, but they can't deny the intense attraction between them. And if being in Boot Creek has taught them anything, it's to take life as it comes and never pass up a chance at true love…no matter how wounded your heart may be.
KyBunnies is an avid reader, book blogger, rabbit lover, and promoter of established and up-and-coming authors. She cannot make it through one day without her sweet tea. She lives on a farm in Kentucky with two bunnies, three dogs, and two cats. It's a bad day when the cows get loose. If you visit, you're likely to see her on the porch reading a book and sippin' some shine.
Secret of Coffin Island (Marie Bartek and the SIPS Team, Book 4) by Robin Murphy
Mapping the Book
About the Book
About Robin Murphy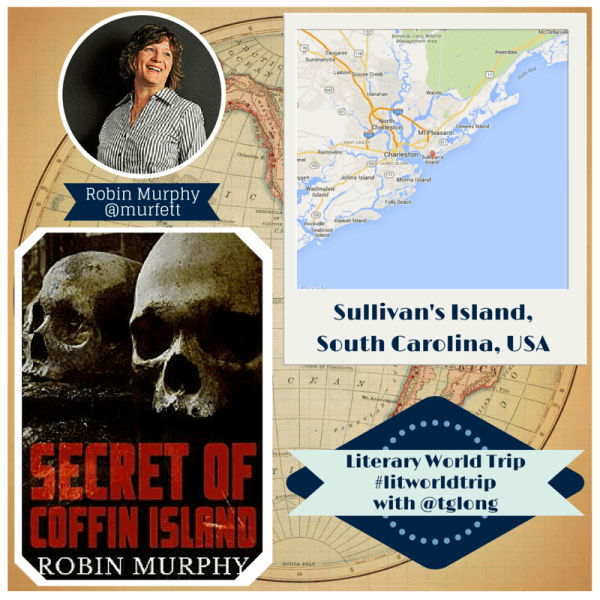 Book/Scene Location: A morgue at Sullivan's Island, South Carolina, USA
What happens there? The local ME, Sally Brasher, removes a counterfeit hundred dollar bill from the mouth of a decapitated head that was found in a dumpster in an apartment complex.
Excerpt
"The ocean waves pounded out a rhythm that soothed your soul as its spray danced in the air with the sea-gulls. Crystal-like sands glistened in the sun as the sea slowly melted away the shore. With each ripple of water the sand eroded away the remains of the coffins revealing headless skeletons facing west. Tiny sand crabs scurried in and out of the chest cavities and nibbled on century old plankton and bacteria. The smell of decay mixed with salt gave out a sulfur-like odor even too putrid for the beach animals to ignore, while the sound of a sword sliced through the air…"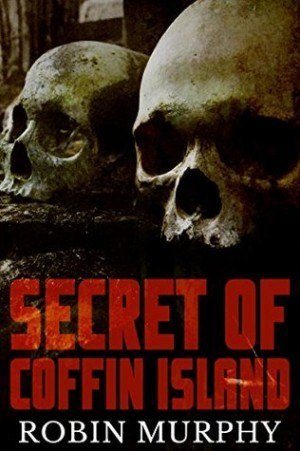 Dr. Marie Bartek and her fiancé, Police Chief Cory Miller, have finally tied the knot. Their wedding festivities are interrupted, however, by the discovery of a headless corpse.
While criminal investigations are Cory's milieu, Marie and her team of psychic researchers have been instrumental in solving mysteries in the past, and she has already received visions that seem to pertain to the mystery at hand. After suffering a fatal heart attack, her mentor and friend Myra has continued her mentorship from the other side, and Marie takes comfort in her presence and guidance.
Once again, Marie uses her psychic ability to lead the police in the right direction. Are there pirates amiss killing those who betray them by decapitation? And is Captain Kidd's treasure really buried on Sullivan's Island?
Robin Murphy, of Sharpsburg, Maryland, serves as the Administrative Associate assisting with student admissions, registration, financial aid, and business processes for the Masters programs in the Graduate Studies and Continuing Education departments.
Robin attended Penn Highlands Community College and is a graduate of Long Ridge Writers Group. She was inducted as a member of Phi Theta Kappa Society, an International Scholastic Order of the Two-Year College in 1997, was nominated to The National Dean's List in 1998, and received the honor of "New Executives 2000" by the Greater Johnstown/Cambria County Chamber of Commerce.
Robin is an Amazon best-selling author and a paranormal mystery and travel writer. She is a speaker on author platforms, self-publishing, and marketing, and recently became the sole-proprietor of Rookie Writers Solutions. Robin has over thirty year's experience in the administrative, graphic design, desktop publishing, writing, and self-publishing fields.
The Equinox (The Summer Solstice Series Book 2) by K.K. Allen
Mapping the Book
About the Book
About K.K. Allen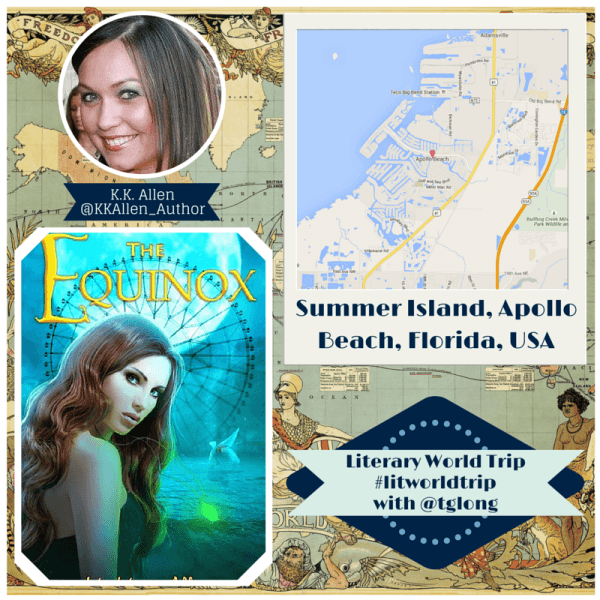 Book/Scene Location: Summer Island in Apollo Beach, Florida, USA
What happens there? Summer Island, once protected by Enchanter's magic, acts as a haven for Solstice descendants to unite and conspire against the dark evil of their world, known as the Equinox. In Book Two of the series, The Equinox, Katrina gets a job at the Island Grille, where she meets the mysterious and excruciatingly handsome Johnny Pierce.
Excerpt
I'm about to ask Roy how he wants me to dress but I'm distracted by a figure that appears through the entrance. It's Broody—at least that's my nickname for him. I think Trisha called him Johnny.

I've had two uncomfortable encounters with Johnny. He took an immediate and obvious disliking to me, for whatever reason. It doesn't help that when I was here a few weeks ago playing pool with Alec I struck Johnny's face with my elbow by accident. It happened while I was celebrating a lucky shot, but he was less than forgiving about it.

Maybe working here isn't the best idea. I quickly scan Johnny's face for any damage. My eyes fix on his perfect nose and then flicker to his eyes. When I catch him staring back at me with an intensity that could cause the earth to shake, I feel heat rise in my neck.

Johnny's eyes move toward Roy now, probably assessing the situation. When he looks back at me his expression dims.

"Hey Johnny." Roy calls him over and I immediately tense up, locking my knees together to help steady myself from whatever the firing squad is going to shoot my way.

Johnny saunters over without taking his eyes off me. For the first time since gaining my powers, I feel weak and insignificant compared to the guy now standing tall in front of me.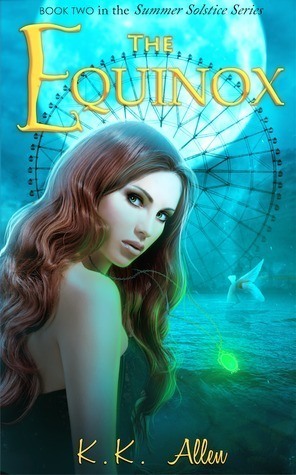 BOOK TWO of the Summer Solstice Series (A Contemporary Fantasy / Romance)
* * * * * *
Katrina Summer finally comes to terms with her enchanted skin as she is challenged with an evil that threatens the Solstice settlement of Apollo Beach…
At a private gathering on Summer Island Kat meets an entire secret society of Enchanters – and other mythological descendants of a different breed. The gorgeous Valli sisters appear forcing Kat to take a deeper look into her new existence. And when Arabella, the youngest of the sisters, befriends Kat, she learns the most disturbing Summer family secret of all.
To escape the lurking dangers of the Equinox, which brings outrage and heartbreak to the entire town, Kat accepts a job at the Island Grille where more trouble brews as her handsome, yet brooding co-worker, Johnny, makes life even more challenging. Meanwhile, Kat struggles between her lingering and undeniable attraction for Alec, the secrets that she is forced to keep from him, and a betrayal that sends them on separate paths.
Mysterious deaths, signs of pollution rising in the Bay, and discoveries of the Equinox's motives stir up an entirely new and frightening adventure as Kat finally discovers that being an Enchanter holds a responsibility worth killing for…
My name is K.K. Allen and I write the Summer Solstice series which revolves around a young protagonist desperately learning to find herself in a world of Ancient Greek magic and a heritage she can't escape. I've been writing since the age of 12 and will never stop! The Summer Solstice series is just the beginning.
I currently reside in sunny Florida, not so far from Apollo Beach, the inter coastal town I'm fond to write about. My passion for everything nature inspires me and provides great scenery to write and set my stories in.
Connecting with my readers is my favorite! I will always respond to you, so feel free to drop me an email or Facebook message.
Much Love,
K.K. Allen



Have you enjoyed any of these books or any other titles set in North Carolina, South Carolina or Florida, USA? Let us know in comments!
Literary World Trip: Giveaway

Spread the word, submit your locations and keep stopping by each day to Tweet about the world trip – each of these will give you a chance to win.