Indiscretion by Hannah Fielding
Mapping the Book
About the Book
About Hannah Fielding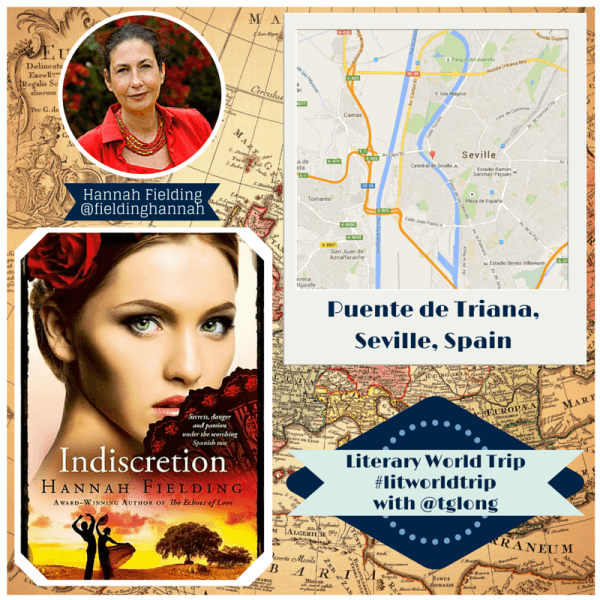 Book/Scene Location: Puente de Triana (Triana Bridge), Seville, Spain
What happens there? Alexandra and Salvador give into their desire and kiss, but they are torn apart by a Romani fortune-teller eager to tell that their future together is doomed.
Excerpt
As they approached the bridge, the chorus of voices became almost deafening, some shrill, others boisterous, punctuated by the shaky rattling of carts, the tintinnabulation of tram bells, the flat, repeated cries of street vendors. And over in the distance, on Seville's waterfront, the dismal shadow of the Golden Tower, the old prison watchtower of the Guadalquivir, rose like some baleful omen of misfortune, casting its fiery reflection on the shimmering surface of the river in the light of the setting sun.

Alexandra stepped off the pavement and looked up at the tower, drawn by its threatening beauty. Suddenly a horn blared. She turned her head to see a moped speeding towards her. Frozen, she stared at the oncoming bike. The next moment she felt strong arms around her waist, lifting her up and jerking her back to safety.

Salvador caught her as she stumbled against him, her hands gripping his muscled arms to steady herself. Salvador's embrace tightened, straining her to him. Her heart was hammering. Trembling as much by sudden conflicting thoughts as by her stumbling, she lifted her face to say something and found herself looking directly into Salvador's intense silvery gaze, so close to her own.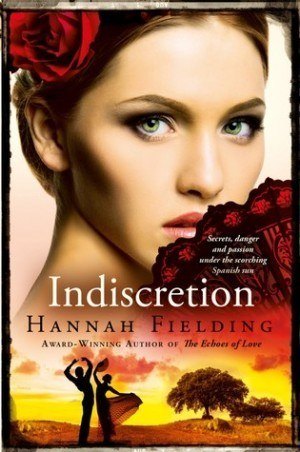 A young woman's journey of discovery takes her to a world of forbidden passion, savage beauty – and revenge.
Spring, 1950. Alexandra de Falla, a half-English, half-Spanish youngwriter abandons her privileged but suffocating life in London andtravels to Spain to be reunited with her long-estranged family.
Instead of providing the sense of belonging she yearns for, the de Fallas are riven by seething emotions, and in the grip of the wild customs and traditions of Andalucía, all of which are alien to Alexandra.
Among the strange characters and sultry heat of this country, she meets the man who awakens emotions she hardly knew existed. But their path is strewn with obstacles: dangerous rivals, unpredictable events, and inevitable indiscretions. What does Alexandra's destiny hold for her in this flamboyant land of drama and all-consuming passions, where blood is ritually poured on to the sands of sun-drenched bullfighting arenas, mysterious gypsies are embroiled in magic and revenge, and beautiful dark-eyed dancers hide their secrets behind elegant lacy fans?
Indiscretion is a story of love and identity, and the clash of ideals in the pursuit of happiness. But can love survive in a world where scandal and danger are never far away?
My name is Hannah, and I am an incurable romantic, which comes in very useful in my day job: writing romance novels. Since childhood I've had one foot in reality and the other in the world of romantic fantasy; and from an early age I've been putting pen to paper in an effort to bring to life the handsome, dreamy heroes in my head.
The mystery, heat and passion of Kenya's landscapes inspired me to use them as the setting for my first novel, Burning Embers, a passionate love story set against the backdrop of the country in 1970. My later travels through Europe provided rich fodder for more stories, including my novels The Echoes of Love, set in Venice and Tuscany, Italy, and Indiscretion, set in the smouldering heat of Andalucía, Spain.
I write full time, splitting my time between my homes in Kent and in the South of France, where I dream up romances overlooking breathtaking views of the Mediterranean.
Wolfsangel by Liza Perrat
Mapping the Book
About the Book
About Liza Perrat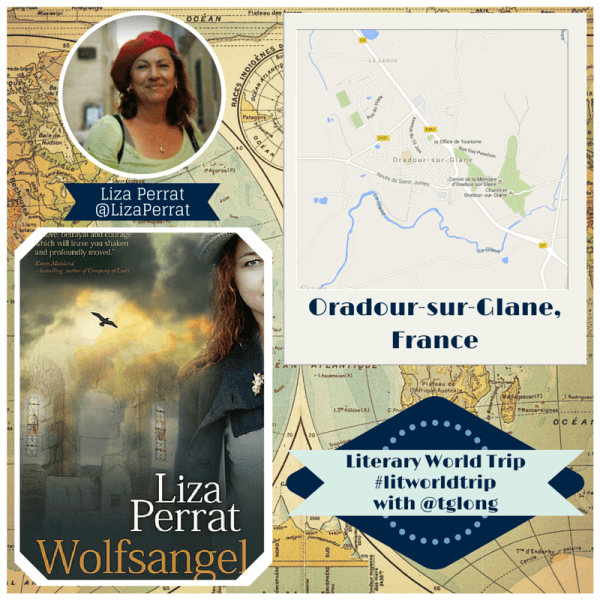 Book/Scene Location: Oradour-sur-Glane, France
What happens there? The French village where my book is set, Lucie-sur-Vionne, is fictional, but is based on the village of Oradour-sur-Glane, where a true, WW2 war-crime took place. In Nazi-occupied France, on 10th June, 1944, the German Waffen-SS company massacred 642 inhabitants (almost the entire population).
A new village was built after the war on a nearby site, but on the orders of the then French president, Charles de Gaulle, the original has been maintained as a permanent memorial and museum.
Excerpt
'All into the church!' an officer snapped, and the troops began herding the women and children into Saint Antoine's. We all fell quiet, and my heartbeat quickened as I trudged into the house of God. Mothers carried their babies and small children, neighbours and friends helping when there were too many to carry. I felt not a breath of air.

I'd always loved the inside of Saint Antoine's — the rainbow of colours that danced on the walls in the sun, the smell of the candles and the cool, flagstone floor. But all I felt now was a creeping fear.

As the Germans continued herding us into the church, I glanced up at my favourite painting –– the long-bearded man in brown robes holding a stick, a pig sitting at his feet — and said a silent prayer; a few desperate words from a non-believer to a monk who had driven out a demon.

Though I'd never listened to much of Père Emmanuel's Mass, I did find the church instilled a kind of peace inside me and I tried to focus on that, to relieve my ever-growing apprehension.

Crammed inside the church, we bunched together –– a huddled, expectant knot of women and children.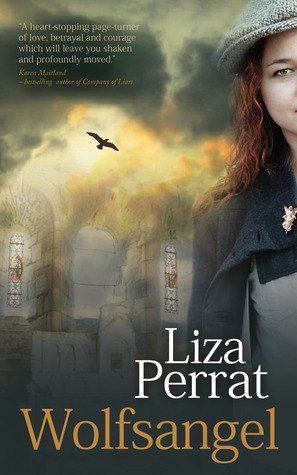 Seven decades after German troops march into her village, Céleste Roussel is still unable to assuage her guilt. 1943. German soldiers occupy provincial Lucie-sur-Vionne, and as the villagers pursue treacherous schemes to deceive and swindle the enemy, Céleste embarks on her own perilous mission as her passion for a Reich officer flourishes. When her loved ones are deported to concentration camps, Céleste is drawn into the vortex of this monumental conflict, and the adventure and danger of French Resistance collaboration. As she confronts the harrowing truths of the Second World War's darkest years, Céleste is forced to choose: pursue her love for the German officer, or answer General de Gaulle's call to fight for France. Her fate suspended on the fraying thread of her will, Celeste gains strength from the angel talisman bequeathed to her through her lineage of healer kinswomen. But the decision she makes will shadow the remainder of her days. A woman's unforgettable journey to help liberate Occupied France, Wolfsangel is a stirring portrayal of the courage and resilience of the human mind, body and spirit.
iza grew up in Wollongong, Australia, where she worked as a general nurse and midwife for fifteen years.
When she met her French husband on a Bangkok bus, she moved to France, where she has been living with her husband and three children for twenty years. She works part-time as a French-English medical translator, and as a novelist.
Since completing a creative writing course twelve years ago, several of her short stories have won awards, notably the Writers Bureau annual competition of 2004 and her stories have been published widely in anthologies and small press magazines. Her articles on French culture and tradition have been published in international magazines such as France Magazine and France Today.
Spirit of Lost Angels is the first in an historical trilogy set against a backdrop of rural France. The second in the series – Wolfsangel – was published in October, 2013, and Liza is busy working on the third novel in the series – Midwife Héloïse – Blood Rose Angel, to be published in summer, 2015.
She is a founding member of the author collective, Triskele Books, whose logo, "Time and Place" seems a good fit for this Location blog tour.
For Such a Time by Kate Breslin
Mapping the Book
About the Book
About Kate Breslin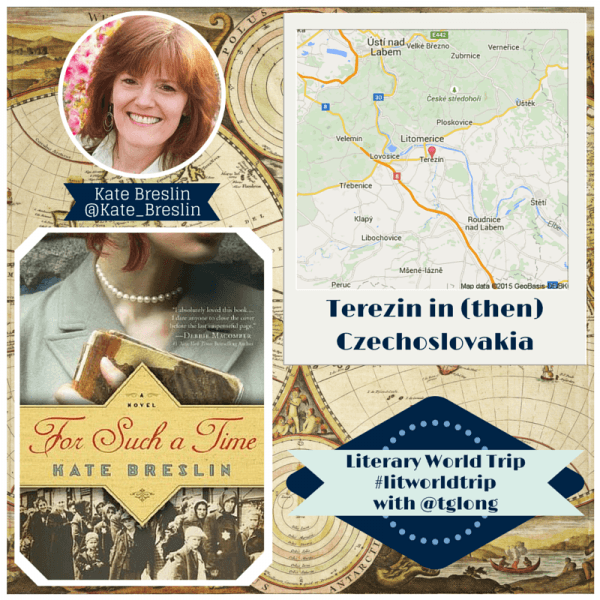 Book/Scene Location: The fortress city of Terezin in (then) Czechoslovakia
What happens there? Terezin (Theresienstadt in German) is where my novel, For Such A Time, takes place. In 1944, Hadassah Benjamin, a Jewess-in-hiding, works for the Nazis in this makeshift concentration camp and is forced to send her own people to Auschwitz.
Excerpt
"Wake up, Suesse."

A deep voice beckoned her toward consciousness. My sweet…

Stella's lashes fluttered open. Moonlight flooded the back seat of the car. She blinked and turned her head to stare out the window.
Nightfall replaced the day's dingy sun; the sky now seemed as dark and unfathomable as her future. Only the moon animated the Ceaseless White, bringing into sharp focus the barbed wire and searchlights of Dachau…

"Nein!" she screamed and launched forward in the seat. Blood pounded in her ears as dark spots crowded her vision. It had all been a cruel trick—

"Breathe!"

Rough hands forced her head down between her knees. Voices buzzed against the roaring pulse in her brain.

"…you're safe!" The colonel's words finally penetrated her fear. "We've arrived at Theresienstadt."

Not Dachau. Stella's breathing slowed. The pain in her chest eased. He released her and she eased back against the seat, returning her gaze to the barbed wire and glaring searchlights. Beyond the cordoned-off section rose a fortress, high and formidable. Were the prisoners inside? The stronghold didn't look like a concentration camp; no sentries marching, no barking dogs. Still, she had an inkling of what lay inside: deprivation and incarceration…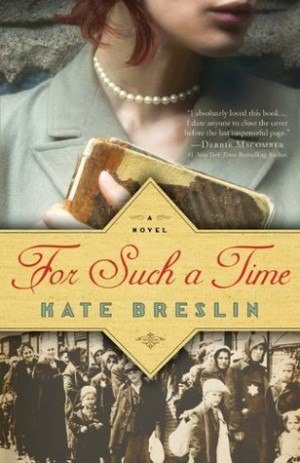 Powerful Retelling of the Story of Esther
In 1944, blonde and blue-eyed Jewess Hadassah Benjamin feels abandoned by God when she is saved from a firing squad only to be handed over to a new enemy. Pressed into service by SS-Kommandant Colonel Aric von Schmidt at the transit camp of Theresienstadt in Czechoslovakia, she is able to hide behind the false identity of Stella Muller. However, in order to survive and maintain her cover as Aric's secretary, she is forced to stand by as her own people are sent to Auschwitz.
Suspecting her employer is a man of hidden depths and sympathies, Stella cautiously appeals to him on behalf of those in the camp. Aric's compassion gives her hope, and she finds herself battling a growing attraction for this man she knows she should despise as an enemy.
Stella pours herself into her efforts to keep even some of the camp's prisoners safe, but she risks the revelation of her true identity with every attempt. When her bravery brings her to the point of the ultimate sacrifice, she has only her faith to lean upon. Perhaps God has placed her there for such a time as this, but how can she save her people when she is unable to save herself?
A Florida girl who migrated to the beautiful Pacific Northwest, Kate Breslin lives with her guitarist husband, John, and a very spoiled cat named Coco. Kate's written several travel articles, published award-winning poetry, and her first manuscript, a Scottish historical romance, was finalist in RWA's Golden Heart Contest. FOR SUCH A TIME is her debut novel. When she's not writing inspirational fiction or spending time with author friends, she's reading books, watching anything Jane Austen on BBC, or following John's musical career as his #1 fan. An avid "tree-hugger" she often enjoys long walks in the forests or playing in the garden. A traveler as well, she and John have toured most of Washington state and many places in the U.S. Kate's also been abroad–Paris, Munich, Rome, Pompeii, Athens, even a day trip to Turkey. She's always looking for the next story idea!
Click here for the rest of the schedule



Have you enjoyed any of these books or any other titles set in France, Spain or the Czech Republic? Let us know in comments!
Literary World Trip: Giveaway

Spread the word and keep stopping by each day to Tweet about the world trip for extra chances to win.