Food in Fiction (#foodinfic) is a month long celebration of food featured in books. Authors and bloggers have shared their favorite books or their own work, helping to build a fantastic menu. On Day One, I shared some excerpts from In Leah's Wake, giving a glimpse of the role food plays in the book. From here on, authors and bloggers will take center stage and I hope you'll stop by throughout the month to see their submissions, share the posts and enter the giveaway.
Food in Fiction: Day Twenty
CHOCOLATE CAKE (from Figments by Julie Elizabeth Powell)
On the Menu
About the Book
About Julie Elizabeth Powell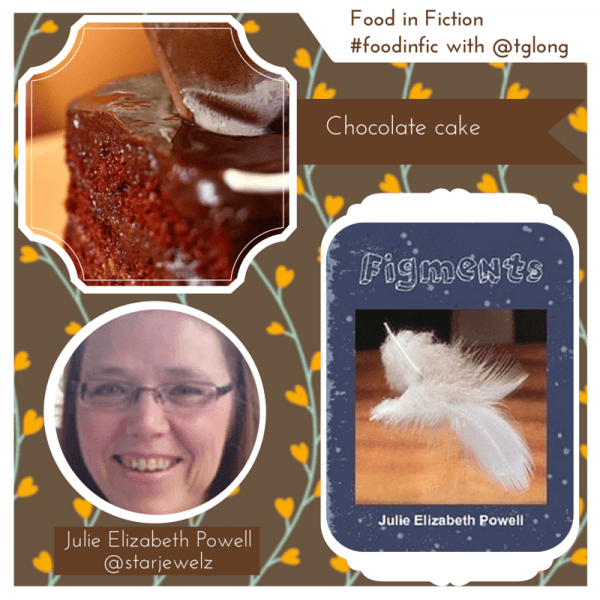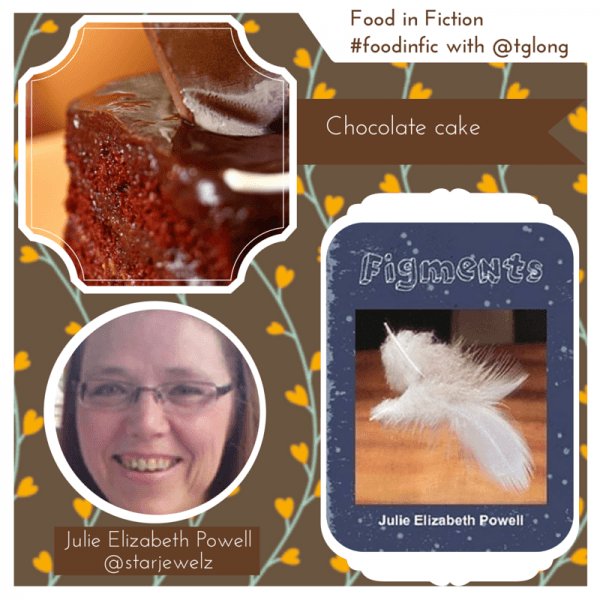 Food/drink mentioned:
Chocolate cake
Excerpt
It oozed from the sides
And the middle
And the top,
As the knife tipped
In the middle
Then bore down,
Smoothing its way to the edge.
800 hundred calories at least
A slice
Depending on the filling, the frosting
The size.
It can be adorned with strawberries if it likes
That's at least one portion of fruit!
But what is the measure
Of pleasure
As it melts and mingles
Away all the worries of the day?
Piles on more
Some might say
But have they ever
Tasted its sensuous enchantment
Its crumbling, slumbering
Sumptuousness?
I have
And it's mine while I'm
Alive
And after that…
Well, there must be chocolate cake in
Heaven,
Otherwise what would be the point?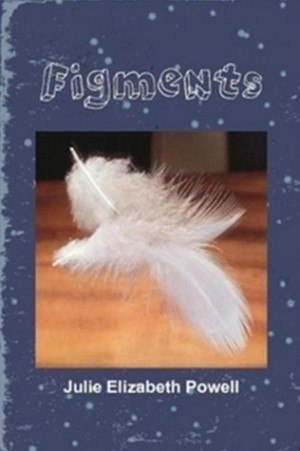 I couldn't resist putting together all those little ideas that have popped into my mind then out onto paper as the years have flown. Most have fallen by the wayside into the bin of 'oh my' but some stayed and here they are.
These pieces have also tested my abilities and certainly stretched my brain towards a variety of genres, styles and ways of looking at the world and the people in it.
From comedy to a touch of horror, romance, fantasy and fun to solemn, and maybe some things in between – I've had a go.
Hope you like this collection – how could I help but indulge; like that first piece of dark chocolate and sip of rich, steaming coffee, while snuggling with my soul mate on a freezing winter's night?
Enjoy.
Amazon
Goodreads
I cannot ignore my dreams, so many of them, with names and places and ideas that spark my imagination and compel me to write; to create stories, whether fantasy or horror, or mystery or psychological thriller or murder or even humour and adventure. So, my garden is sown, flourishing, with all manner of growth, and still the dreams come.
Julie Elizabeth Powell, my soul lingering within my imagination; maybe you'll join me?
Website
Twitter
PFLUGBERRY PIE (from Magnus Opum by Jonathan Gould)
On the Menu
About the Book
About Jonathan Gould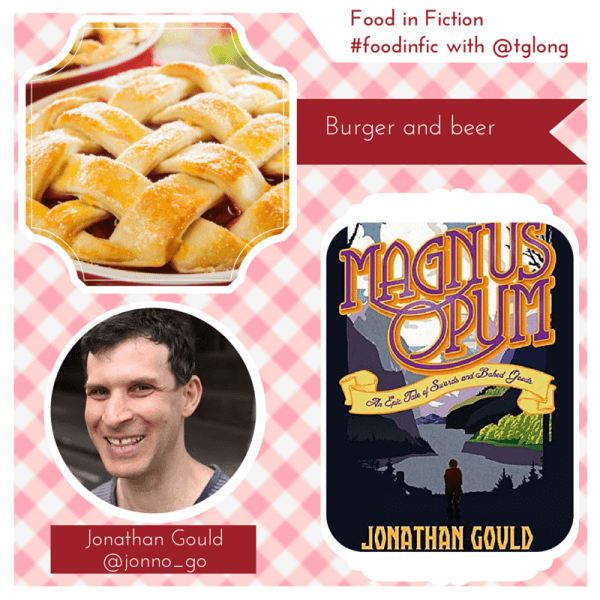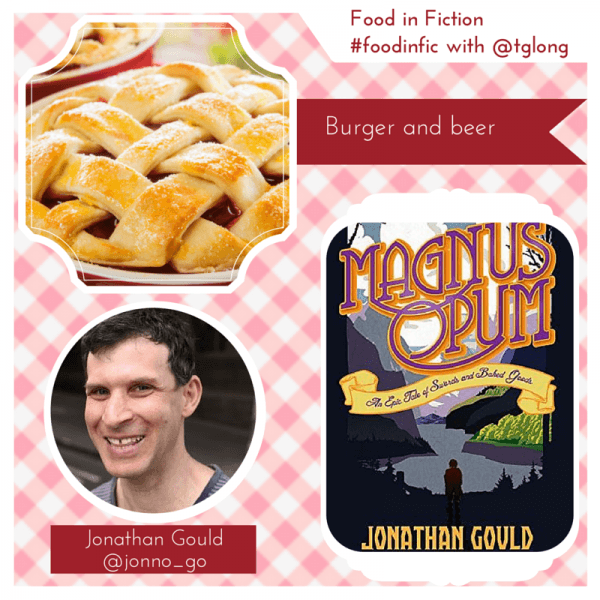 Food/drink mentioned:
Pflugberry pie
Who is eating? Why? What is the occasion? It is the staple food for the Kertoobis – the central race in the story. Eaten for breakfast lunch and dinner, and also at a special feast known as Barglefest which usually culminates in a big pflugberry pie fight.
Excerpt
Magnus paused for a moment, scanning the colourful stalls and trying to decide which one to buy from. Klinkor Grepula had a stall, and his pies were always especially fruity, but Magnus had bought a pie from him three days ago. Gretla Pazuko also had a stall, and her pies had that crust that melted in your mouth, but Magnus had purchased two pies from her in the last four weeks. He noticed that Osllo Yakuli had just finished setting up a stall right in front of him. Osllo's pies were a bit dry, and the crust was usually somewhat flaky. Then again, Magnus hadn't bought a pie from Osllo in nearly a month. It was definitely his turn.

Magnus walked up to Osllo's stand.

"Afternoon, Magnus," said Osllo quietly. "What will you have?"

This was a blatantly unnecessary question as there was only one item on the menu, but the Kertoobis being a polite race, it was one that was always asked.

"Pflugberry pie, thank you," replied Magnus…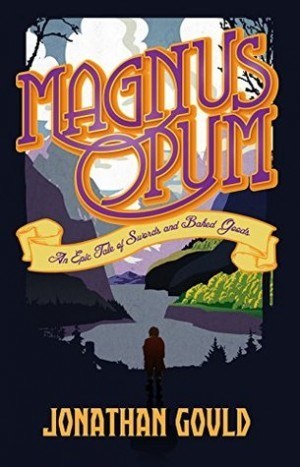 Magnus Mandalora never planned to go out into the big, wide world. He thought he'd live out his life in his homely little village, happily cooking and eating pflugberry pies. But fate had other ideas.
Before he knows it, Magnus has embarked on an incredible adventure. He discovers a world full of marvels and wonder, surprises and delights. But it's also a world of perils and danger. As Magnus finds himself right in the middle of a long-running war between the fair and noble Cherines and the vile and despicable Glurgs, he faces challenges beyond anything he could have imagined.
Amazon
Goodreads
Jonathan Gould has lived in Melbourne, Australia all his life, except when he hasn't. He has written comedy sketches for both the theatre and radio, as well as several published children's books for the educational market.
He likes to refer to his stories as dag-lit because they don't easily fit into recognisable genres (dag is Australian slang for a person who is unfashionable and doesn't follow the crowd – but in an amusing and fun way). You might think of them as comic fantasies, or modern fairytales for the young and the young-at-heart.
Over the years, his writing has been compared to Douglas Adams, Monty Python, A.A. Milne, Lewis Carroll, the Goons, Dr Seuss, Terry Pratchett, and even Enid Blyton (in a good way).
Website
Twitter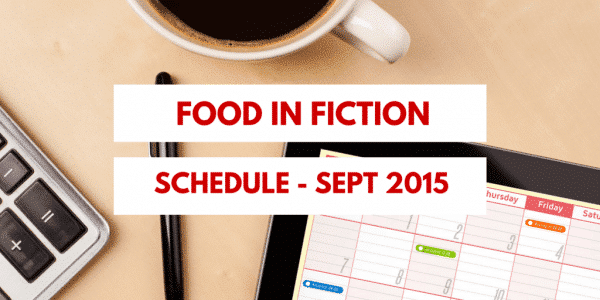 Click here for the rest of the schedule/menu
Food in Fiction: Giveaway
Pin, follow, visit or share and keep stopping by each day to Tweet about Food in Fiction – each of these will give you a chance to win.
Check out the Twitter chatter, plus Instagram and Pinterest pics using #foodinfic. You can easily follow the #foodinfic Twitter feed here.
a Rafflecopter giveaway