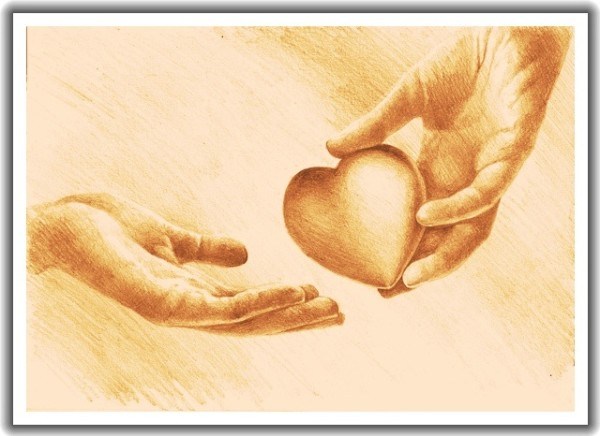 Following the tragic shootings in Newtown, Connecticut last week you would be forgiven for feeling like there isn't much kindness in the world. Thankfully, you'd be wrong. In fact, since Ann Curry was inspired to come up with #26Acts, she's had an overwhelming response.
During January, we're running 26 Days of Kindness. Not because we only want to be nice for one month of the year! Instead, we want to begin 2013 with all the kindness we hope will continue throughout the year.

What do/don't you have to do?
Well, the DON'Ts are easy:
– You don't have to complete an act every day – start small if you like and aim for 1-2. Any act of kindness brings a little something extra to someone's life.
– You don't have to plan out your acts or sign up in advance.
– You don't have to save up your kindness until January! It's a great time of year to be kind!
The DOs?
– It'd be great if you could bookmark this page so you can share your acts. If you don't want to share what you did that's fine. Just let us know you did an act.
– The linky below will open in January. Try and add each act you do so we can celebrate how much kindness is being shared.
– You can tweet your acts on the original tag of #26Acts – or maybe get some inspiration from others!
– Spread the word if you can. I'm sure kindness is catching!

The Acts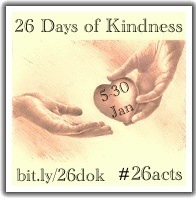 The acts are completely your choice and can range from the big to the small. Why not…
– Buy someone a coffee
– Leave a $10 bill in a library book. Better make it a popular one…
– Clean someone's windows
– Donate something to a charity, school or library
– Give someone a hug
– Leave a cheery note for your postman
There are so many possibilities, requiring a small amount of time and money. It's a tough time of year so we're absolutely not asking for pledges or donations. Sometimes a smile or a kind word is kindness enough.

The Inspiration
My daughter sent this article and I wanted to be involved somehow. I asked my assistant Donna Brown if she had any ideas to involve the writing community and we came up with 26 Days of Kindness. Originally we talked about authors donating books or giving readings in schools but realised there didn't have to be set acts. Kindness is open to everyone!
Ann Curry on #26Acts

After the experience in Newtown. I thought, 'What if? Imagine if everyone could commit to doing one act of kindness for every one of those children killed in Newtown. So that's what I tweeted. And guess what? People committed. I said in my tweet, 'I'm in. RT if you're in. Not only did they commit to 20 acts of kindness, they wanted to up it to 26 acts of kindness for every child and adult who was lost at the school. Some even debated maybe we should include the mother, who died, at 27 acts. Some debated maybe we should include the killer as well as he was struggling and in pain.

What's really remarkable to me is how many people responded. They are the ones who carried the ball. They are the ones who chose what to do. People would tweet back, 'I've done two!' 'I bought coffee for a guy in line!' 'I bought toys for homeless children!' 'I've got 18 more to go!' or '24 more to go!' – whatever number they were trying to reach.

I was inspired by them. So I started tweeting about what people were doing. Some people thought it was boasting when they would say 'I've done this' or 'I've done that.' I don't think so. I think that whenever you show by example an act of kindness – big or small – something that spends a lot of money, or because you don't have the money, something that doesn't, all of it is welcome.

[Read Ann's article in full]
Badges