I'm delighted to kick off the Novel Publicity blog tour for Martha Carr's terrific thriller Wired. Martha is a wonderfully talented writer and a truly lovely & impressive person. She graciously took the time to answer my questions. I hope you enjoy her interview!
Interview with Martha Carr
I believe that things are constantly unfolding in front of me for the better and I'm willing to pass that along to anyone who comes to me who's worried or anxious. If someone has something on their heart that they're hoping for I'm willing to believe it with them without an attachment to the outcome or what it'll look like. It's the best gift I've ever gotten from someone else. That simple belief that all is well no matter what things look like around me or how I've judged them.
You're a three-time cancer survivor. That's very impressive! How has cancer affected your life? Your career? Choices you've made?
Hearing a doctor say you only have a year left has a permanent and profound impact on everything even though two years later it looks like he was a little early. My reset button goes back to gratitude a lot more easily and I'm more likely to roll with whatever comes up next. It's made me a better listener and I understand on a deeper level that I'm just here to be of service to others and have fun along the way. As someone in the arts that's great because I don't think any of its about me. It makes it easier to do my best, listen to my agent and editors and then let it go. Did anything I write benefit someone today? Then it was a good day. And I've been very blessed to hear back from readers who tell me that something changed their life for the better or gave them hope.
You're a nationally syndicated columnist. Would you please tell us about the column? How long have you been doing this? How did you get started?
I write about politics and world events every week for the Cagle Syndicate and it reaches about 4 million readers a month. It's a profound responsibility to try and be balanced and get the facts straight. I also see myself as a middle class American, which I am and it helps because I'm never writing about you, I'm writing about us. Then it all flows into my novels because I write thrillers full of intrigue that center around a family trying to figure out what went wrong and how much control they really have over anything.
Was Wired your first book? Did it take off immediately?
Wired is my first thriller and it took off right away because of great reviews in Library Journal that said it was a fast paced tour of murder and steamy romance and different newspapers that said, 'I had to lock my front door for the first time in years'.
About Wired – can you tell us something we wouldn't know from reading the synopsis?
I've gotten about a thousand emails from readers telling me they've kept a secret about abuse for years that has shrunk their lives and caused them a lot of pain and because of reading Wired they're able to share it with me. Someone always comes up to me at a book signing clutching Wired and leans in and I know they're about to entrust me with something that marred their life but they're about to set themselves free. It's an enormous honor to be a part of their awakening and see what comes next and all because of a thriller. I also love being at dinners in honor of Wired at libraries or when I'm giving a speech and hear people arguing about the characters as if they really exist. There's also usually a favorite character that readers want to know what happened next. Maybe some day there will have to be a sequel to Wired to answer their questions.
You have a top agent and you're traditionally published. Why go indie with Wired?
It was my agent, Rachelle Gardner's idea. She suggested that we use all the resources we have and since the original publishing house was gone and the rights had reverted to me that made Wired a great opportunity to combine the two worlds.
How involved is your agent in promoting Wired? Do you feel that being traditionally published makes promoting your indie-published book easier?
I'm guest blogging on my agent's award-winning site about Wired being optioned for film on three different occasions and what that's like and Rachelle has also gotten her clients together to form our own cooperative blog, the Word Serve Water Cooler. Plus, I've taken a lot of direction from Rachelle about my own web site and created a blog that's new short thrillers every week. She's been a big help and resource for me.
The publishing industry is in flux. How do you view these changes? Good or bad? For whom? What do you forecast for the future?
The publishing industry is always in flux and always will be. Do what you love and let go of expectations and you'll be alright. It's a great ride with some great people and I'm grateful that I've gotten to be on the ride at all and with as much success as I've found so far. I don't try to forecast anything because the future's not here and I'd rather be enjoying the day that I'm in.
You write thrillers. Would you please tell us a bit about your process? How do you come up with ideas?
I love twisted stories that you don't see coming and see that as a unique art form where we invite the reader into a mental glass house where you think you see something but can't be sure. It takes a lot of planning and being able to lay out a story so that the reader remembers something but without a lot of fanfare. If I can get someone to use their own imagination to scare themselves, that's a great work day. I also have experts I consult with on the details so that I get it right when I bump someone off or blow something up.
Do you plot before you start a new book? Why or why not?
I plot before and during so that all of the pieces flow together all along. I also write down endless details about each character, most of which the reader will never know so that each character sounds like an actual person and so that their motivation for doing something is well-rounded and true. I also always know the ending and all of that plotting works toward that ending. As the author I'm the driver so I have to be sure that something like Wired will end up with a satisfying ending.
I love the weekly cliffhangers on your blog! Would you please tell about them? Are they all excerpts from Wired? How did you come up with this idea? Have readers responded?
The weekly cliffhangers is something new. I was looking for a way to engage readers and do something different. They're different short, short thrillers that start on Monday and end on Friday with a cliffhanger every night. Some are true and some are fiction and can be read on your phone. It's a tiny bit of entertainment to read on the train or waiting in a doctor's office and lets a reader get to know me better. They remind me of those cartoon strips in the newspaper when I was a kid that were ongoing thrillers and you had to wait till the next day to find out what happened to the characters.
I understand that you have a new book coming out soon. Would you like to tell us about it?
The new book is called The List and it's the first in a series centered around an attorney, Wallis Jones and her family, set in Richmond, Virginia. Right now I'm working on the sequel called, The Keeper. The List is a thriller about a happy American family caught between two old political powers that have always existed behind the scenes, invisible to most of the public. The sides have battled over control for hundreds of years, actively recruiting new members at a young age to groom them for politics, Wall Street, corporate corner offices and the military. However, families find out a little too late that once they've joined, there's no 'out' clause.
Wallis Jones is the wife of Norman, mother to Ned and a successful attorney living the good life but she's about to find out that she's also a pawn in the deadly games of two powerful global secret societies at war with each other and her loved ones are the ultimate prize.
What, if any, overlap do you anticipate in publishing and promoting two books?
I hope that readers grow to love my style and want to see more of that combination of intrigue on a bigger scale and a loving family in a normal neighborhood that gets caught up in something bigger than they can handle.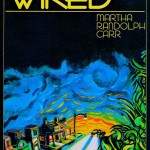 Last question – you've been thrust into the Wired world for a day. What is the day like? Would you please describe it? What happens? How does being inside your book change the characters or events?
I'd be living in a small town where I know way too much about everyone but maybe not the details that count. Given my personality I'm probably more the Lucy character and doing my best to be there for others while having a good time. Most of what's in Wired, the details, comes from my life at the time. I was living in a neighborhood that locals referred to as 'nearly dead or newlywed' and loved it! I love having people knock on the door or sit in my kitchen and everyone in Chicago knows they're always welcome here.
About Martha Carr
Learn more about this author by visiting her website, Facebook or Goodreads pages or by connecting with her on Twitter. You'll definitely want to check out Martha's Mystery Blog–each week a new short thriller is serialized Monday through Friday. The entries are nice and short, easy to read via smart phone or tablet.