It's an enormous honor to host Chelsea Fine, author of the terrific YA novel Sophie & Carter. I met Chelsea during the IBC Bestseller For A Day promotion in August. Sophie & Carter had just come out and had already made it to the top 300 on Amazon – a truly amazing feat! Despite her success, Chelsea was, and is, one of the most gracious, down-to-earth writers I have ever met. Welcome, Chelsea!
Interview with Chelsea Fine
Haha. Okay-um-I can't type without looking at the keys. Haha! I'm a writer, but I have to look at my keyboard while typing. Isn't that ridiculous?
You're married with two young children. Plus, in addition to writing, you're a visual artist. How do you fit it all in? How do you find balance?
I don't. I try, but it's really, really hard. Generally, I write while my kids are in school, spend time with my family in the late afternoon/early evening, and paint at night-but it doesn't always work out that way. Sometimes I spend an entire day writing…sometimes I spend the whole day with my family. And sometimes I watch reruns of How I Met Your Mother all day. It just depends.
You're a visual artist. Can you tell us about your work? How, for you, are writing and visual arts alike? How are they different?
I mostly paint murals on the walls of pediatrician offices, or preschools, or kids bedrooms. I've been painting professionally for six years and I LOVE it. It's messy and wonderful! Writing and painting are similar in the way that I start with an idea and create a 'picture' around it. They both require my complete focus and a serious commitment. But both painting and writing are heavy passions for me, so I'm always energized and happy when I'm in the midst of a project.  They differ in time, though. I can paint an elementary school hallway in a week. It's takes me quite a bit longer to write a novel.
When and how did you begin writing?
I didn't take writing seriously until I was in college. I took a creative writing course and discovered that writing fiction felt natural for me. My professor encouraged me to pursue writing as a potential career and, from that moment on, I just sorta went with it.
Sophie & Carter is a wonderful novel! Congratulations on your success!! Can you tell us a little bit about the novel – something we won't pick up by reading the description or blurbs?
It's heavy. It's not bubbly and superficial. It's deep and emotional-but it's not dark. The running theme throughout the story is HOPE. I want readers to finish Sophie & Carter and feel hopeful.
What inspired you to write Sophie & Carter?
Sophie & Carter actually started out as a writing exercise. I had writer's block while working on another book of mine, so I opened a new document and decided to write something light and easy–just to clear my thoughts. But after a few pages I realized my story was taking on a powerful voice and it was no longer 'light and easy.' It was REAL. And I felt connected to it. The characters, the plot, the narratives just sorta fell out of me.
What's it like to write YA fiction? Can you describe some of the differences between writing for teens and adults?
I LOVE writing for teens! It's magical and tense and full of endless possibilities. When I write for teenagers, I tend to word things dramatically. But when I write for adults, I try to be more realistic. Why? I have no idea.
Can you give us some insider info – a scene behind the scenes? About Sophie & Carter?
Hmm-Sophie's character was originally named Miley. I changed it, though, because I didn't want readers to envision Miley Cyrus while reading Sophie & Carter.
What were the hardest and most fun aspects of writing this book? Why?
The hardest part was how emotionally draining it was for me. There were a few scenes where I just balled my eyes out while I was writing them. Not because they were tragic, but because (at least in my head) they were beautiful. The most fun part was writing the scene where Sophie sneaks out of her bedroom window. I don't know why, but I was smiling the entire chapter.
How did you find your publisher? How long did it take?
I looked up publishers online until I made a list of small publishers I felt comfortable with. And then I tracked them down, one by one–it took months! But it was absolutely worth it.
I'm truly awed by your success. Your book has been a bestseller since the launch! Congratulations again!! What did you do to prepare for your successful launch?
I primarily used Facebook. All my friends and family were really supportive, so I had a fabulous network from the start. A few weeks after Sophie & Carter was released I started using Twitter and that, too, was super helpful.
What are doing now to market your book?
I'm getting ready to launch a new book series, so I've been pretty low-key lately when it comes to promoting. I mainly just try and develop good relationships with my readers and my writer friends. Word-of-mouth is a very powerful marketing tool.
Would you be willing to share some book marketing advice? What's worked best for you? Why? Have you tried anything that hasn't worked? What would you change?
I think Twitter has been the most effective marketing tool. It also allows me to interact and learn from my readers and fellow authors. I don't think I've tried anything that HASN'T worked-but I think for my next book I'll probably focus on reaching out to more book bloggers. Bloggers are amazing!!
FINAL WORDS
You have two little ones. Do you have any tips for writers with young children?
I always like to tell my children (5yrs and 6 yrs) what I'm writing about. That way they know that I'm creating a story and they aren't as confused when I spend all day in my office, haha. I also try to write things, here and there, just for them. Little bedtime stories or whatever so they feel like they're a part of my writing world, ya know?
If you were to give one tip to aspiring writers, what would it be?
Write everything you feel. Our feelings are the most honest part of us, so write them down-put them into a character of yours-use them to describe a scene. Make it REAL. And NEVER give up!
What are you working on now?
I'm currently starting a new Young Adult series called THE ARCHERS OF AVALON. It's a about a girl who's been cursed to die and the two brothers who try to save her (and, of course, there's a love triangle). The first book, ANEW should be out this winter.
Could you please tell your fans how to connect with you?
Twitter is great! Otherwise I love to get email!
About Chelsea Fine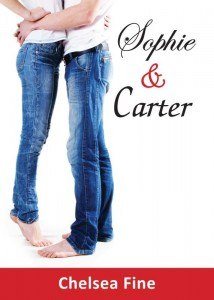 Chelsea lives in Phoenix, AZ where she spends most of her time writing young adult fiction, painting murals, and avoiding housework at all costs. Her obsessions include: superheroes, coffee, sleeping-in, and crazy socks. She lives with her husband and two children, who graciously tolerate her inability to resist teenage drama on TV and her complete lack of skill in the kitchen. Follow her: Blog, Twitter, Facebook, Goodreads.
Related posts