I'm pleased and honored to host the lovely and talented Jennie Coughlin, author of Thrown Out: Stories From Exeter, a wonderful book of linked stories. The title story, "Thrown Out," in particular has stayed with me, so I asked Jennie to join us today to tell us more about herself and the book.
Interview with Jennie Coughlin
Welcome, Jennie! First, could you tell us something about yourself? Tell us a secret.
Hmm… I feel like I don't really have any secrets – except for the big ones that I only share with somebody very close to me. I guess the biggest might be I still bring my 33-year-old teddy bear with me when I travel. My brother was trying to calculate how old that made Bearfoot in bear years last week – I think he settled on 165. He's a much-loved bear, and he's always been there when I needed him.
How, when and why did you begin writing? What inspires you?
I don't ever remember a time I wasn't writing – I won my first writing contest in second grade, and completed my first short story in seventh grade for my English teacher's annual unit on local history.
As for what inspires me, it's the characters. I'll be driving in the car and short story and novel ideas will start bubbling up as I think about the various Exeter residents. It's one reason I like writing a series, because we can revisit these people at various points in their lives. I enjoy telling their stories and entertaining people in the process.
What are you passionate about? What keeps you awake at night?
Usually it's scenes or story ideas. I'll start working them out in my head while I'm trying to fall asleep – which isn't always great for actually *getting* to sleep. Instead of counting sheep, I'm herding plot bunnies.
If a magic carpet would take you anyplace in the world, where would you go? Why?
Ireland. I'd love to see Rome and Pompeii some day, but Ireland's definitely first on the list. I'm of Irish descent on both sides of my family, and Celtic lore and tradition – especially their storytelling heritage and culture – have always appealed to me.
You're a journalist by trade. How has that experience shaped you as a writer?
It's been a tremendous help to me in terms of dialogue. As a reporter, I developed an ear for various people on my beats – how they sounded, ways of phrasing sentences, verbal habits… Two people can say the same thing, but do it in very different ways. In fiction, my biggest concern is always figuring out the voice of new characters that come on scene. Once I have that voice, the writing flows so much more smoothly.
From a more pragmatic perspective, it taught me to draft quickly. When I'm drafting, especially the first draft, it's not unusual to find notes in all caps – a holdover from my reporting days when I would use that as a placeholder for quotes, ledes, whatever I didn't have at hand as I drafted. Then I'd go back through my notes and add that information. By doing it that way, I could hammer out a rough draft fairly quickly – I think my record was the story from the regional cheerleading championships one year. I got back to the office eight minutes before the page had to be sent for the press to start on time and wrote an eight-inch story. We made deadline.
It's also taught me a lot of skills I use as an indie author – everything from cover design and formatting to copy editing and social media promotion. Being the newsroom's utility infielder is what made the indie route possible for me.
If you could change one thing in your life, what would it be?
I love the town I live in – Staunton's a great place to live – except that it's more than 600 miles from my family, who all live in Massachusetts, mostly in the South Shore and Cape regions. I wish I could find a way to stay here and still live close to my family. I was just up there for Thanksgiving and realized it was the first major holiday celebration at my gram's house that I'd been to in 10 years. The last time I'd been to one, my brother and cousins all were little enough that they ate at a kids table in the kitchen, and now most are college-age or older.
EXETER
Could you please tell us about Stories From Exeter – something we won't pick up by reading the description or blurbs?
Thrown Out – the book, not the story – is a chance to really step into this small town and eavesdrop on the residents at key points in their lives. Some of the stories are inherently dramatic – tough not to be with the Irish mob in town – but this is really a collection of people most of us feel like we know or could know. It's an introduction of sorts to both the town and the residents.
What would you like readers to take away from this book? Is there a message? Can you give us some insider info – a scene behind the scenes?
First, I hope after reading the collection, people want to get to know more about these characters, because I have a lot more stories to tell. I did a book signing and sat in on a book club discussion in my hometown last week and one of the first questions everybody wanted to know was what happened to Tim, a character in two of the stories. (You'll see him again, but he doesn't get his big moment for a few books.)
I don't know that there's a message in the whole collection, though each story ended up having a bigger theme. But the themes emerged as I started telling the stories of these characters – they didn't drive the telling.
The title story – "Thrown Out," which is also the longest story – went through probably 12 rounds of revisions. I'm blessed to have a fabulous editor who's become one of my best friends in the 10-plus years she's been editing my work. One reason she's so good is because she will push and push until I give her a satisfactory answer to issues bugging her about a piece. It was about 10 p.m. one night and she tagged me on Google chat, which is normally where we do our discussion. She had one question: "I know what Chris sees in Dan, but what the heck does Dan see in Chris?" Two hours and several back-and-forths later I finally had an answer that satisfied her and the story was much, much stronger. She's great at making me figure out what's in my brain that I haven't really stated to myself.
Place is very important to these stories. Why, for you, does place matter?
Exeter was probably the second character in this series after Ellie – she's been in my head for more than 10 years, and Exeter wasn't far behind. I never really considered *not* writing in small-town New England. It's where I grew up, it's what I covered as a reporter. It's a phenomenal canvas for storytelling. Small towns allow for such richness because everybody's connected in a million ways so it's the perfect setting for a series.
Did you begin with story or place? What drew you to this locale?
Well, if we're talking *these* stories or place, the place was there first. But the story I first dreamed up when I created Ellie back in 1999 or 2000 pre-dated Exeter. That original story – much modified – will show up later in the series. There are a few stories I need to tell first…
Exeter isn't a real town, though I've had people tell me they didn't know that until they looked it up on a map. The name is a nod to my hometown of Franklin, which was supposed to be named Exeter. By the time the town fathers made it to Boston to file the incorporation papers in 1778, news had come over from Paris that Ben Franklin had negotiated a treaty with the French. The ever-frugal Yankees decided to honor Franklin by naming the town after him in the hopes he would donate a bell for the meetinghouse steeple. Instead, he donated 116 books, "Sense being more important than sound," for the entire town's use. In 1790, Town Meeting voted to make them available for lending to all in town, creating the nation's first free, public library. Hardly surprising I grew up to be a bookworm. :)
At any rate, there are some things so unique to small New England towns, such as Town Meeting, that I wanted to be able to explore that canvas in a way I couldn't as a reporter.
What were the hardest and most enjoyable aspects of writing Exeter? Why?
The hardest was probably the revision process, mostly because Kyrie and I had trouble getting our schedules synced. We ended up with a couple of very late editing nights the week before it published. The most enjoyable part was taking these characters, who I know in present day, and going back in time to see how they were at these points before those key moments. It was a complete delight to dig into their pasts and see how they came to be who they are today.
Who is your favorite Exeter character? If you were to give him or her a piece of advice, what would it be?
I have to pick only one? That's tough, because I like all of them for different reasons. Right now, I think my favorite has to be Dan because I've been living in his head the past few weeks as I work on the first novel in the series. But I get into a mood and will really feel drawn to one character or another at various times, so it isn't always Dan.
As for advice, I think what I'd tell Dan at 13 is to trust his instincts and own his decisions. But you'll have to wait for the next book to find out if he does.
The title story, "Thrown Out," about a young man's struggles with his gay identity, is such a powerful piece. Would you tell us about the story? How did it come to be?
Awwww, thanks! That makes those 12 rounds of revisions worth it.
"Thrown Out" actually grew out of another story, "Enough Rope," that's posted in the Story Cubes Challenge section of my website. In that story, Chris is offering advice to Becca, and when I was writing, he ran his fingers over a scar on his arm. That was the first I knew of that scar, and I wondered where it came from. "Thrown Out" was the answer to that question.
Although Chris is the one struggling in that story, I think the power in the story comes from the way Dan and Joe are two sides of the same fact of life – we accept things more easily in people we know than we otherwise would. That's one reason attitudes in general toward LGBT people and issues are changing – the more people who know somebody who's gay, over time the more accepting they are in general of people who are gay. In a small town, Dan is first a son, a former football star, a brother, the guy who fixed your deck when the wood rotted, the kid down the street… And Joe is first the local insurance agent, the guy who rang you up at his dad's store, father of your child's friend, member of Parish Council… You might not approve of Dan being gay, but he's Dan. You might not approve of Joe's homophobia, but he's Joe. Chris learning to accept that and what it means for his life if he can accept that drives the story.
I love the interconnected stories. Why did you decide to go that route? How did it affect your telling of the story? Did it shape your perceptions in any way?
I didn't really decide on interconnected ones so much as everything in the series is interconnected, much like small town life. I think the one thing it affected was which stories went into the book. I always knew"Bones Of The Past" would open the collection, and "Thrown Out" naturally followed because Bones had introduced Dan. That then led me to Joe as the focus for the third story. We decided to end with "Intricate Dance" because Becca and Riordan had appeared, but not been featured. And they're key characters in the series.
WRITING & PUBLISHING
Would you please share some tips on revision? How do you go about revising? How long does this process take? Do you enjoy it?
This varies some for short stories – I can condense some steps then. But for novels, my first draft is usually quick and dirty. It's often very short and has those caps lock notes sprinkled liberally throughout. I heavily use Write or Die during the drafting to just get the words out and see where my brain goes.
Once I have enough of a story told and know the overall shape of the book, I let that draft sit for a week or two. During that time, I'll do my first true outline of the book. I turn that into something Kyrie can look at and let me know if it generally makes sense. Once I'm dying to dive back into the book, I sit down and start a rewrite through, generally adding several scenes and deepening the existing ones. Once that pass is done, I send it to Kyrie and she does her first read and gives me feedback. At this stage, it's usually big-picture stuff. I'll also be making notes. My mom often reads during this stage as well, and another writer friend. Thanksgiving night, my mom and I came up with more than a page of notes for things to change on revisions of my next book while standing outside Kohl's waiting for it to open for Black Friday. Once I've let it sit and Kyrie's given me her notes, I'll let everything simmer.. The time varies based on how much Kyrie has flagged in addition to what I've noted. If the lists basically are the same, I can start revisions pretty quickly. If she picked up different things, or if she has suggestions I don't agree with, it can take longer while I figure out what to do and we hash out differences.
It can be tough to put a timeline on the process because I have a full-time job at my paper and I teach group fitness classes at my gym, and those schedules can really affect how much free time I have for writing. Kyrie's schedule also plays a role. If neither one of us hits major time snags, it's 3-4 months from beginning until it's ready to publish.
I do enjoy the revisions, in a different way from the drafting. There are lots of threads in this series – breadcrumbs in one book that won't become obvious until a later book. The revision process lets me work with those so they interweave smoothly to both the story they're in and the bigger picture.
Why did you decide to go indie? Are you glad you did? Why or why not?
I went indie mostly because I've been through this digital shakeout in newspapers and I can tell publishing is still several years from reaching any sort of new equilibrium. Until it does, there are too many chances for authors to get stuck with bad contract terms or untenable situations with agents or publishing houses, if they can even attract attention from either.
Also, Exeter is basically a literary series with different protagonists book to book. I think people will like it and buy it. I don't think a publisher's marketing department wants to take that risk. So I am. And when publishing has figured out what the future looks like, I might decide to go a more traditional route. But for now, I'm happy to stay in my little sailboat. I can maneuver a lot more quickly than their big battleships.
What did you do to prepare for your launch?
I didn't do a lot of things I should have, frankly. Fortunately, I made those mistakes on a short story collection within the series, not the debut novel. The collection was always intended to whet people's appetites for Exeter and its residents before the novels came out, and I think it has done that.
I was already on Twitter thanks to the NCIS folks on there, but I did start talking more with publishing and writing people. The other thing I did, both there and on some other NCIS fan sites, was promote my book to people who had enjoyed my NCIS fan fiction. I honed my writing skills on fanfic, and picked up several readers from there, including many of the early reviewers of the collection. I also set up an author page on Facebook. I was already on Google Plus as one of the beta users – I'm such a McGeek – but I also used that to help spread the word.
I have several short Exeter pieces on my website from the Story Cubes Challenge, so I would promote those to get people interested in the characters and series. I also ran a giveaway on Goodreads for the paperback edition. That got me some visibility, but I haven't heard from any of the winners about whether or not they liked the book.
Oh, and word has spread in my hometown, so I've sold several paperback copies there. That's been fun to see people who've known me since I was little read the book.
What are doing now to market your book?
I did the Blog Tour de Troops for Veterans Day, and I'm participating in IBC's 12 Days of Christmas book Blowout. I've actually pulled back from pitching book bloggers and reviewers because I'm hoping the next book will be out in March and if I had to pick, I'd rather they review that one.
What's worked best for you, marketing-wise? Why? Have you tried anything that hasn't worked? What would you change?
The blog tour has definitely been the most successful, as well as promoting the book among the fans of my fan fiction. Those have generated the most visibility that translates to sales. The Goodreads giveaway got a lot of people to enter, but most haven't read it or added it to their shelves, so I'm not sure I'd count that as a success.
I did a lengthy blog post a few weeks back on what I'm going to change next time, but the biggest thing is that once the book is done, I'm setting a pub date several weeks out so I have time to set up a blog tour and pitch reviewers with ARCs. I'd love to be able to swing for publicity services from Novel Publicity, but I don't know if that's going to be feasible financially for the release. I'll know that better after the holiday season.
Kyrie and I also have a special promotion planned for the six weeks before the book release, but we're not sharing yet. I'll be sending out an email to my mailing list subscribers with the news in a few weeks, then later announce it publicly.
If you were to give one tip to aspiring writers, what would it be?
Write. A lot. I've read several places that you have to write about 200 hours/1M words/etc. to get to be a good writer, and I agree. I honed my skills on fan fiction, with a side helping of journalism and a failed mystery novel some years back. We each will take a different path, but without that writing apprenticeship to find our voice and learn the fundamentals through practice, we're unlikely to reach the craft level we need to succeed as writers.
FUN FACTS
Lefty or righty? Righty, but I'm close to being ambidextrous. My handwriting's actually more legible when I write left-handed, but 10 times slower. And to be fair, my handwriting's atrocious.
Introvert or extrovert? Extroverted introvert, though I was painfully shy up through much of high school. I've come out of my shell a lot over the years.
Plane, train or automobile? Train. I'd love to do a cross-country train trip someday and write while watching America go by out the window.
Beer or wine? I like both, but I'm more apt to have beer – Sam Adams, often one of their specialty brews.
Water: ice or no ice? No ice. Unless it's the middle of summer and 90 degrees outside.
Light or dark? Light.
Winter or summer? Winter. But fall's my favorite season.
Walking or running? My knees and ankles prefer walking, but I miss running. Used to run cross country, indoor track and outdoor track. I wasn't any good, but I loved it.
Sit on a beach or sit by a fire? Tough one, but since I hate putting sunscreen on every 15 minutes, I'll say fire. But walking on a beach in the fall is amazing.
Book or audiotape? Book. Audiotapes take way too long, and I'm not in the car enough for that to make sense.
Read or write? I have to choose? Write, I guess. But I can't imagine living without either.
Draft or revise? Depends on my mood.
Writer's group or editor? I love my writer's group, but I'd be lost without Kyrie.
FAVES
Book: To Kill A Mockingbird
Movie: Clue
Story: The Tortoise and the Hare
Fairytale: Beauty and the Beast
Song: Fear by Stop Making Friends
Artist: Monet
Writer: Jesse Stern
Singer: Peter, Paul and Mary – I love their harmonies
Actor: Sean Murray, who plays McGee on NCIS
Place: The coffee shop near my apartment
Airline: None. I'd rather drive or take the train
Destination: Visiting family in Massachusetts
Activity: tie between knitting and yoga
FINAL WORDS
What are you working on now?
I'm revising All That Is Necessary, the first Exeter novel. It starts from that story Riordan tells in Bones of the Past and continues through all of the fallout of that one exploration and into the present as some old scabs are ripped off when somebody returns to Exeter after many years away. Kyrie and I are hoping for a March 19 release, but there are a couple of things we need to get sorted first before we make that official.
About Jennie Coughlin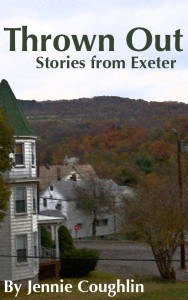 Jennie Coughlin has worked as a reporter and editor for community newspapers in her Massachusetts hometown and rural Virginia, the perfect spot to observe the twists and turns in the community. A life of living in small college towns with lots of history and strong arts communities comes through in her stories about Exeter, a small mill town in the Blackstone Valley of Massachusetts. The name is a nod to her hometown's history, but Exeter isn't based on Franklin or any of the other small towns she's lived in reality in those places is far too unbelievable to make good fiction. Read other Exeter short stories on her website. Contact her on Twitter @jenniecoughlin or her Facebook author page, or e-mail at [email protected]
Thrown Out: Stories From Exeter Travel to Exeter, Massachusetts, where old grudges, buried secrets and lifetime regrets haunt the residents of this small town – and sometimes trip up unwary newcomers.