Over the next nine days over forty guests will be joining me to share their thoughts on love in many of its different forms: family love, friendship, passionate and contented love, compassionate love and love of food, music, animals, language and writing. What makes each post unique is that the feelings expressed are individual to every author. What brings these posts together is the underlying theme that love is one of the most powerful forces on earth.
This second day ties in neatly with the first: though the first flush of passionate love may not last forever, if we're lucky a deeper, long-lasting, contended love will develop. Our guests yesterday touched on this and today I welcome CC Cole, Elysa Hendricks, Candy Little, Talina Perkins and Michele Strangis Stefanides to expand on the theme of contented love – in life and in fiction.
Don't forget to register your vote on the posts – just scroll down to the end of the post to leave your vote once you've finished reading. You can vote daily and one winning voter will get a character named after them in my next book, a signed copy of the new paperback edition, plus a $50 Amazon gift card. Two runners up will receive signed copies of the new paperback edition of In Leah's Wake, plus a $25 gift card each.
And the guest authors can win too! The author who receives the most votes in one day during the event will receive an Orangeberry Social Butterfly package and a 5-day 'Tweet Me a Storm' package from Orangeberry Book Tours.
Contented love in In Leah's Wake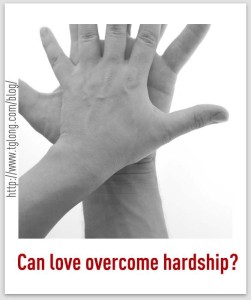 Zoe reached for her drink. The quiet music had settled her. For the first time all day, her heart beat normally. 'About the 'love letters'-she was lying, you know. I can show you.'
'You don't have to show me.'
'Jerry's a friend. That's it, Will. Nothing more.'
'I believe you.'
Zoe set her glass on the floor and held her husband's hand. 'Him being here,' she said tentatively, hoping to clear the air. He did stop by one day. That's true.'
'Shh.' He kissed her knuckles, her fingers, the palm of her hand.
'We…' Her heart quickened. 'Went for coffee…'
He pushed her hair back, massaging her neck, and she bowed her head, accepting his kiss. Pulling her into his arms, he kissed her forehead, her chin, the tip of her nose. Supporting her back, he lowered her to the floor. His warm breath, the musky smell of his body and hers erased the years, and he was the man she'd fallen in love with so long ago.
A newly edited edition of In Leah's Wake has recently been released with a paperback version due for release next week. The newly edited novel features a new chapter and several new scenes, adding new connections and insights, and tightens the book, cutting 60 pages – all while maintaining the integrity of the original edition.
For more information visit Amazon or Barnes & Noble.
CONTENTED LOVE
CC Cole: On Dark Fantasy Love
As I ponder 'Dark Fantasy' and 'Love' here goes a torrent of examples one cannot hope to address in brevity. We can go from Vampire love to Frankenstein love and not even begin to approach Ghost love, Werewolf love, or even Zombie love (is there zombie love?).
A psychologist told me many years ago that 'the opposite of love is not hate. It's indifference.' When I think of my relationships in the past, I couldn't agree more. We want to hurt people we hate. We actually hurt people we love. We ignore people we feel nothing for.
On further analysis on how love can be used in dark fantasy, there's little variation on how one would use romantic love in any other setting. A teenage girl falls in love with a sparkly vampire like she could fall in love with the star quarterback. A nurse could fall in love with a doctor she works for even if he's building a monster instead of treating patients. Swamp monsters fall for beautiful blondes in old monster films.
Romantic settings move our characters in ways few other emotions can; from love hate, jealousy, charm, and narcissism. Any character, be it animal, monster, vampire, werewolf, ghost, or human is vulnerable and there are few defenses. By developing love interests we develop the characters and show the reader what lies behind the motivations of his/her deeds, human or not.
Flipping the coin on the other side, the lack of love, meaning the amoral character, also can stand out as clear as the presence of love. The prototype is a serial killer, but any monster that lives off the lives of others, for example, in many vampire stories (Dracula) the lack of love develops a character to the same depth when crafted against those who value life and feel love.
I've been criticized for not having enough love interest in my first novella of my four-part series. But sometimes love takes time, and may arise from places unexpected to the reader. As a writer, speaking for the joy of writing, it's sometimes pleasantly unexpected to authors as well.
C.C.Cole is a dark fantasy writer from rural Mississippi. Schooled in medicine, she lives in the suburbs with her family. Interests other than writing include medieval and 20th century history, martial arts, and adopted greyhounds.
Elysa Hendricks: First Love versus Real Love
What is it about first love that turns normally rational human beings into crazy people? Is it emotion? Or is it hormones? Because I've always been a sucker for a happy ending, I'm a big reader of romance novels. But as I read about people – who seem to be getting younger than me every day – falling in love, I find myself more amused than aroused by some of their antics. So many of their problems stem from not seeing or hearing the person they're supposedly madly in love with.
I met my husband when we were mere children. I was sixteen and he was nineteen. After our first date we then spent four hours talking on the phone. We were not only attracted to each other we quickly discovered we liked each other and enjoyed each other's company. Now after several decades of marriage my husband and I are more in love than we were back when we were hormonally challenged teenagers.
First love is only the beginning. It takes time and work to build a relationship. Hormones might attract one person to another, but it's conversation and shared experiences that create a love to last a lifetime.
Elysa Hendricks is 5'6″ tall. She has curly hair and brown eyes. She's an author, a wife, a mother and a daughter. Everything else is subject to change without notice.
Candy Ann Little: Contented Love
As the years pass, I've found that the passionate, all consuming love, we had as newlyweds has faded. Does that mean that I don't love my husband? Do I love him less? On the contrary, I've never loved him more, but I do feel I love him in a different way.
My husband isn't a romantic guy, and I am a romance writer. See a problem? When we first married, I thought it would be like the movies and novels. He'd romance me with flowers, candle lit dinners, and whisper that he couldn't live without me. Boy did I have a rude awakening!! I settled into married life with a most practical and, shall I say, thrifty man. This caused a lot of problems in the early years.
What held our marriage together was love, learning how to read my spouse, and looking for signs, no matter how small. So our dinners come from the dollar menu at fast food joints, at least it gives me a night off from cooking. He says, 'I love you' every time he loads the dishwasher, and he does buy me a dozen roses every anniversary.
I find romance in every day actions like, holding my hand while he's driving, or drawing a heart on the steamy mirror so I'll find it the next time I shower. He's also started washing and drying the clothes so I don't have to carry the baskets up and down the stairs because of my bad back.
Over the twenty-two years, our marriage has transformed from a physically, passionate, and unstable relationship into a committed, contented and tender one.
Candy Ann Little grew up in a small town in Ohio, but now resides in Michigan with her husband, two kids and four cats. When she's not busy writing, you'll find her helping with church activities, cooking, baking or reading.
Talina Perkins: My Contented Love
Contented love. It's the long deep sigh shared together when a long day comes to a close. A look across the dinner table filled with love and a note of safety, knowing I'll never be alone. The strong loving arms that wrap around me when it seems there is no one in the world that can reach me from my far away thoughts. The warm embrace my soul feels when the words I love you is whispered softly to me while I sleep. The euphoria of knowing my heart shares her every beat and my mind need not worry of anything.
It's the strength freely given to me, guiding me, so that I may soar high above. The continuous encouragement to go further than my dreams could ever imagine, to reach the stars I thought to high. The promise to always catch me and help me rise yet again.
The sweet and gentle caress of lips that feed my passion for a love long shared. The breathless moments shared between two lovers, two friends. The warm smiles so easily given when sadness tries to intrude. The laughter only we share and understand. This-yes, this is my contented love.
Talina says: "Paranormal Romance author, cookbook author, reviewer for Night Owl Reviews and mother of four children. I am also owner and author of Bookin' It Reviews. I love writing fast paced plots with unique characters filled with passion and grit. From sheriffs to military men to shape shifters and vampires, there is no hot blooded hero I don't love to write – and read- about."
Michele Strangis Stefanides: Contented Love
To everything there is a season. At this point in my life, 'tis the season for contented love.
I have been through the seasons of infatuation, passion, and long lonely nights without him.
We have shared the excitement of getting to know each other, making life-altering decisions, and sharing long nights with sick children.
Our many years together have included candlelight and roses, walks on the beach, and weekend getaways.
Now, we have bought our last house, retired from our careers, and become grandparents. We're not quite in the sunset of our lives, but it's past five o'clock and we're ready for our evening cocktails.
As young people looking ahead, the thought of our passionate love affair becoming comfortable, perhaps even mundane, seemed sad. But as we now live it, the contentment and peace of our love is our rock and our foundation.
Late nights of dinner and drinks after a concert have given way to Thursday date days. We deliver Meals on Wheels, stop for lunch, and shop for our groceries. Even though we are retired and have all our days together, we look forward to Thursday as our special day.
We finish each others' sentences, and share inside jokes that no other people among the seven billion that populate this planet could ever understand. It's more than a fair trade for our younger passion.
Our lives and our loves have seasons; ebbs and flows; give and take. We have given and we have taken, to and from, back and forth. The fruit of our labors of love is the knowledge that we have each other's backs, and hearts, forever and always. Amen.
Michele has traded life in the city for the slow, quiet pace of the mountains in rural northern Pennsylvania. Living in a town reminiscent of a Norman Rockwell painting, surrounded by the stunning beauty of the mountains and canyons, provides a perfect backdrop for reading, writing, and gardening to her heart's content.