I'm delighted to introduce Terri Morgan, author of the terrific new novel Playing the Genetic Lottery. Here, Terri discusses fiction and autobiography and the strange, often unexpected, ways they overlap. Enjoy!
Novel Writing – Blurring the Lines Between Fiction & Truth
by Terri Morgan
Writing and self-publishing my first novel has been a tremendous learning experience for me. As a longtime freelance journalist and the author or co-author of eight non-fiction books, the biggest and most obvious thing I've learned is how completely different the two genres are. One of the more interesting things I've discovered, however, is that many people have the same preconceived notions about novelists.
My book, Playing the Genetic Lottery, is a fictional memoir-style novel about a 32-year-old wife and mother who grew up in Oregon with two schizophrenic parents. When I tell people about the book that's generally how I describe it. Then I brace myself because, more often than not, the first words out of their mouth are "is your novel autobiographical?" That response used to make me laugh. Then I started finding myself getting annoyed, especially when the question was asked by people who know me well. Why? A: I'm 56 not 32, and I have the gray hair to prove it. B: I don't have children, unless you count my dog. C: I've never lived in Oregon. despite having resided in 10 different states during my first 20 years of life. And D: My parents were quite sane while I was growing up. (Well, my father was a registered Republican at the time, but that's another story.) It seemed obvious to me that the answer to that question was a resounding NO.
I've been thinking about my response lately, and realize I need to adjust my attitude for several reasons. First of all, I'm grateful when anyone asks me about my novel, because I put my heart and soul into writing it. I love talking about the book, and I sincerely appreciate the interest of anyone willing to hear about it. Secondly, I understand where that question comes from, because one of the first things budding authors hear from instructors is to "write about what you know." Thirdly, as much as I hate to admit it, I might actually be wrong.
No, I'm nothing like Caitlin, my protagonist, and my story isn't hers. But yes, some of the minor incidents I included in the book, along with a couple of scenarios, jokes, and character and place names did come from my life and my experiences. My husband and I had a private, running joke that the president was always Calvin Coolidge, just like Caitlin and her husband do. I smile and think about Gary, who passed away shortly after I finished writing the book, when I re-read any of the references to Cal in the novel. Including that personal bit of humor was fun for me. So was including family references in the book in subtle ways, like using the birthdays of my brother, mother and father for key dates. I was fortunate enough to have some excellent, inspiring teachers when I was in elementary school, so I used the names of my two favorites as characters and locations in their honor. (Thank you Mrs. Kane and Mrs. Van Buskirk wherever you are.)
A couple of the minor characters I based on the combination of two, and sometimes three people I've known, but don't ask me who. I'll feign senility to keep people guessing, and remind them that Playing the Genetic Lottery is a work of fiction.
Since the novel is fiction, I took a lot of liberties with dates. For example, I used the names of two main characters from Jean Auel's wonderful novels as the birth names of Caitlin and her brother. Yes, I know the birth of my fictional characters preceded the publication of the novels I borrowed them from; that's one of the advantages of writing fiction instead of non-fiction. Another advantage is creating the main setting for the book. Cumberland, Oregon, isn't on any maps. That's because it's a figment of my imagination. However, residents of Santa Cruz County, where I've lived for the past 36 years, might feel like they know the layout of the town because I had the geography of my home community in my mind when I was creating the fictional town of Cumberland. While there are obvious differences—Cumberland is in a central valley in Oregon and Santa Cruz is along California's Central Coast—there are some similarities. There is a coffee shop a short stroll away from the local hospital here, like in the book, although the names of all those businesses have been changed.
So, I guess I'm going to have to start answering the autobiographical question a little differently. No, I'm not Caitlin, but yes, there is a lot of my experiences and life in the novel. Whether that makes the book autobiographical is up for debate, but it does prove at least one thing. I took the advice of writing instructors everywhere and wrote about what I knew.
About Terri Morgan
Terri Morgan is a freelance journalist who's work has appeared in dozens of different magazines and newspapers. She is the author of four sports biographies for young adults, and the co-author of two others. She is the co-author of two books on photography: Photography, Take Your Best Shot, and Capturing Childhood Memories, The Complete Photography Guide for Parents. Playing the Genetic Lottery is her first novel. She lives in Soquel, California.
Playing the Genetic Lottery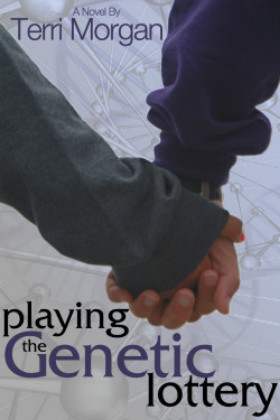 Caitlin Kane knows more about the impact of schizophrenia than most people could imagine. Both her parents were afflicted with the devastating mental illness, a disease that tends to run in families, and Caitlin and her brother grew up trying to navigate the chaos of living with two schizophrenics. Her tumultuous childhood left Caitlin determined to forge a peaceful and serene life for herself. Now 32, she is living her dream. Married to her best friend, she and her husband are raising two bright young children in the suburbs of Seattle. While her unusual upbringing has left Caitlin with emotional scars, she enjoys the love and support of her extended family and her challenging career as a pediatric nurse. But no matter how hard she tries, she can't shake the obsessive fear that the family illness will strike again, robbing her of her mind or stealing away the sanity of one or both of her children.