Today I'm thrilled to share an exciting news release from the iWriteReadRate team. iWriteReadRate director Adam Charles has visited the blog previously on several occasions and has some amazing ideas.
Introducing iWriteReadRate.com – A New Open Community for Writers and Readers of Fiction
iWriteReadRate.com is an open community for writers and readers of fiction. Harnessing the power of ebooks, the objective is to support writers – making what becomes a successful story or novel more democratic, more personal and more social. iWriteReadRate is also here to help readers discover great new writers and stories.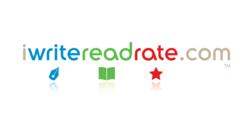 iWriteReadRate is an open community for writers and readers of fiction.
Literature inspires, entertains and educates. The eBook Revolution is enabling people who love literature to come together in exciting ways. Both creators and consumers have a new freedom and opportunity to connect. If there ever was a time to be enthralled with and by literature, this is it.
The social potential of ebooks is opening up new possibilities for writers to build their platform and reach an audience. For readers there are new ways of discovering ebooks, connecting directly with writers, discovering new stories and voices, and becoming a part of the writing process itself.
These continuing developments are extremely positive. They hint at a new dynamic between writers and readers across all genres.
iWriteReadRate is a community for these groups of literary people to meet, communicate, and share their love for the written word. The objective is to support writers and inspire readers – making what becomes a successful story or novel more democratic, more personal and more social.
The Community
The iWriteReadRate iStream is the social glue that binds together the community. Integrated with social networks, it is designed to enable conversation and interaction among members.
Write
Writers submit their work to iWriteReadRate easily and instantly. It is immediately available online for free sampling and purchase as an ebook. Writers can upload any length of work, and the ebooks are categorised into six size bands.
With the iWriteReadRate Writer Profile members have a personalised writing homepage that links to activity outside of the site, including their blog, Twitter and Facebook. In addition, writers will have a personalised URL – a one-stop location to showcase their ebooks and social activity.
Feedback for writers is important; writers will receive feedback from readers at a number of levels: first thoughts, Facebook comments, full ratings and reviews of their work.
Writers will earn up to 70% of the ebook cover price (they choose what to charge from a range of options) and can set the currency as $USD, £GBP, €Euros or $AUS. Commission payments to writers are paid securely, automatically and instantly into their PayPal accounts.
Members will also have an opportunity to participate in the Writer Spotlight blog and ebook series.
Read
Readers who love to find new stories and discover new voices can view the synopsis and a preview of the ebook before choosing whether to download the full work.
For readers on the move, the iWriteReadRate App enables them to browse and download samples and full ebooks instantly, wherever they are, directly into the ebook reading app on their device.
When downloading a paid-for ebook, members do so with 100% security through PayPal.
Rate
Becoming part of the journey in a writer's development of an ebook is an exciting proposition. iWriteReadRate enables various levels of interaction, rating and reviews.
In addition, as a rater, they will earn Reader Points for feeding back.
The rating process is designed to support writers irrespective of what stage of development their ebook and writing is. It will provide thoughts for the current work on the site, but also give writers ideas about how they can develop their voices on their next writing project.
Support and encouragement is vital in the writing process. This is why the iWriteReadRate blog aims to offer useful advice throughout the ebook writing, editing, design and marketing processes.
Collaboration
iWriteReadRate believes in community, and as such are always looking to collaborate and network with like-minded people and groups. The Friends of Ours programme is there for anyone who would like to connect for the benefit of writers and readers.
Final Thought
The iWriteReadRate team are just like the members of the community. Everything within the site has been developed to support, connect and interact with broadminded, inquisitive, and passionate writers and readers.
Visit today to become a member of the growing community.
iWriteReadRate: do you?