Today I'd like to introduce the wonderful and talented Christine Nolfi, author of Treasure Me and The Tree of Everlasting Knowledge.
Could you please tell us about yourself? Would you be willing to share a secret?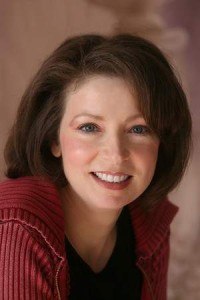 Hi, Terri. I'm the adoptive mother of four young adults and a recent transplant to gorgeous Charleston, South Carolina. A secret: I take after my Italian grandmother and cook virtually everything from scratch. I don't think I've ever used a boxed-anything mix in my life.
Before you began writing fulltime you ran a PR firm. Can you tell us about that? How has your work influenced your writing? 
Managing a PR firm taught a respect of deadlines. I take novel writing seriously and show up for work five or six days every week. Of course, I do take vacations.
When and how did you begin writing fiction? You now write fulltime. What drove that decision? 
Honestly, I can't recall a time when I didn't write. Poems. Short stories. I wrote my first novel at age 19; the 600-page tome sits dusty and unloved in a file cabinet. I was always moving toward the day when I'd become a novelist.
In 2004 my marriage suddenly fell apart, the kids were still in elementary school and junior high, and I had the resources to remain a stay-at-home Mom. The conversation about putting off my dreams until my husband finished building his company no longer mattered. I knew if I didn't jump into writing fiction full-time immediately, I might not ever get the chance.
If you could change any one thing in your life, what would it be? Why?
I'd wave a magic wand and quickly earn enough to pay for my children's college expenses. Adopt a sibling group, and there simply isn't time enough to save for college. Add in divorce, and it's easy to see how any young adult ends up carrying a mountain of debt.
THE TREE OF EVERLASTING KNOWEDGE
Could you please take us behind the scenes? Tell us something about The Tree of Everlasting Knowledge that we couldn't pick up by reading the description or blurbs.
The novel grew out of the hard work of healing four children who had suffered abuse and neglect. I tried hard to instill in my kids the knowledge that any of us, if put in the most dire situation, is capable of resorting to the basest human behavior. In the novel, I explain it this way: 'Sociopaths weren't born into the world; they were beaten into existence.'
As time passed and my children grew into young adulthood, I couldn't help but wonder, 'Why are they so decent, so good?' Given all they'd endured, why didn't they become hard-hearted and selfish? This drove me to explore the singular capacity of the human heart to forgive, to heal, to somehow grow in empathy and love after experiencing the most tragic circumstances. In the final analysis, The Tree of Everlasting Knowledge strives to portray how our higher angels prevail even in the most difficult times.
Who are your favorite and least favorite characters? Why?
I've never been able to settle on a favorite character in any of my novels-I adore the entire, pushy, flawed, striving lot! My least favorite character in Tree? Portraying pure evil in the guise of Buck Korchek resulted in many sleepless nights.
Would you please describe the conception of The Tree? Did you begin with story, place, character, voice? From there, how did the story develop?
For reasons unknown, all of my novels simply appear. I feel as if I've been struck by lightning. Tree underwent countless revisions and deepened over several years, with entire scenes blossoming in the dead of night. I'd wake from deep slumber with pages written by my subconscious, leaving me to take dictation at my computer. Then the hard work of revision began.
Early on, point-of-view posed the biggest issue. For the story to work, it was critical to reveal events through several characters, including seven-year-old Emma. Creating language and terrifying memories through the eyes of a child required countless drafts and revisions.
What would you like readers to take from your novel?
The belief that all lives are redeemable.
WRITING & PUBLISHING
Would you please describe your writing process? Do you have a special place where you go to write?
Creating a compelling novel requires mind-body balance. I start writing early in the morning then knock off around lunchtime to head to the gym. After I work out for an hour, I return home to edit the morning's pages. And I eat well-lots of fruits and veggies, thank you very much.
I write first drafts and some revisions in a loft on the second floor surrounded by panoramic views of Charleston. If I'm deepening characters or fine-tuning prose, I write longhand while seated anywhere but my office. Writing manually allows the analytical brain to rest and the poet to wake. I don't wish to simply tell stories; I strive to color the narrative with beautiful phrases.
What are the hardest and easiest parts of the process? Do stories come easily or do you have to work to shape them?
I'm never satisfied with anything I write, even if a scene leaves my critique partners laughing or on the verge of tears. The hardest part is an unshakeable fear of time. I'm 53 years old and pray that I'll live into my 80s to finish creating all the works banging around in my head.
Your characters are complex and interesting. Can you tell us how you go about developing your characters?
Doesn't it seem most novelists are gutless actors? I never feel I've created characters; I become them. If I'm stuck on motivation, I write out the character long hand, in first person. The pages read like passages from a diary. Once I'm fully in character I return to the computer.
Clearly, you could have been published traditionally. Why did you decide to go indie? Are you glad you did? Why or why not?
I worked with one literary agent then another, and thought I had a sure sale first to Random House then, later, to NAL. After those twin disappointments, I entered the fray of Independent Publishing. Treasure Me appeared last year. Given the positive response the book enjoyed, I quickly finished revisions to The Tree of Everlasting Knowledge. The next book after Treasure Me in the Liberty series, Second Chance Grill, will appear in May.
My critique partners urged me to go Indie because they knew I'd tired of the runaround with New York. And I knew I couldn't manage single motherhood, writing fiction, and a 9-to-5 job. It was now or never.
You're currently involved in promoting your book. What has worked best for you, marketing-wise? Why? Have you tried anything that hasn't worked? What would you change?
Terri, I'm such a noob with social media, it's sheer luck any of my promotional efforts have worked. Recently I ran Treasure Me in the KDP Select program and had the sense to read Emlyn Chand's informative posts on how to get the word out. Doing so shot the book onto Amazon's top 10 bestseller list for three blissful days. With Tree, I've just posted a paperback giveaway on GoodReads. Next I'll look into joining a few writer cooperatives.
In truth I'm stumbling around in the dark. Someone should lend me a flashlight.
FINAL THOUGHTS
If you were to give one tip to aspiring writers, what would it be?
Find a critique group and take your work seriously. Literature needs a chorus of diverse and unique voices.
What are you working on now?
Final edits to Second Chance Grill and the first draft of a darker literary novel set in Istanbul.
How can your fans connect with you?
I'd be delighted if they'd visit at any of the following: my website, @christinenolfi on Twitter, GoodReads, FaceBook
FUN FACTS
Lefty or righty? Lefty and very ambidextrous. If you need to paint a room, I'm your girl.
Introvert or extrovert? Introvert
Plane, train or automobile? May I walk? To smell the flowers and all that?
Beer or wine? Dirty martini up, Grey Goose, add extra blue cheese olives
Water: ice or no ice? No ice.
Light or dark? I'm a mix of sober and silly.
Winter or summer? Summer!
Walking or running? Running on a treadmill. Well, maybe it's actually a fast jog.
Sit on a beach or sit by a fire? Beach
Book or audiotape? iPad. I'm utterly hooked.
Read or write? Both. Constantly.
Draft or revise? …and revise, and revise…
Writer's group or editor? Both. I live in fear of a stray typo slipping through to publication.
Christine owned a small public relations firm in Northeast Ohio. Her articles and press releases have appeared regionally. Her short story, Night Hour, appeared in Working Mother magazine.
She has been writing novels fulltime since 2004.
Treasure Me, the first book of the Liberty, Ohio series, is available at many outlets including Amazon.
Her March release, The Tree of Everlasting Knowledge, is also available.
ABOUT THE TREE OF EVERLASTING KNOWLEDGE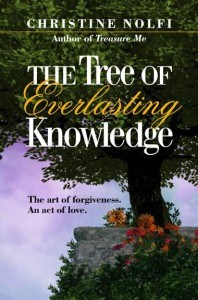 A savage rape on hallowed ground. Secrets buried for decades by the town's most influential family.
Now Ourania D'Andre will learn the Great Oak's secrets as construction begins at the Fagan mansion. She can't afford to turn down a job that promises to stir up the long-buried guilt-and the passion-she shares with powerful Troy Fagan.
She's already juggling the most important job of her career with her new responsibilities as a foster mother for young Walt and Emma Korchek. And there's a hard, older man on the construction crew with eyes void of emotion-cold and killing. The secrets of his brutal past will pose a grave threat to the children in her care. Will she find the courage to face him?
Excerpt
Returning to the construction site, he allowed his heart to carry him up the mansion's steps. He wavered in the foyer. The low hum of a vacuum cleaner barely nicked the silence. Before his nerve might vanish he ascended the wide staircase and strode into the south wing.
The shadowed hallway was thickly carpeted. The muffled thump of hammers reverberated from the new wing. Each bedroom door was tightly shut against the memories. Above, the row of chandeliers swayed.
Squinting, he patted his fingers across the wall in search of the light switch. Before he located it, he glimpsed movement in the shadows.
Far down the hall, Ourania crept from a bedroom. She couldn't see him in the dim light. He meant to approach to ask for an update on her progress with the fuse boxes. The finality with which she closed the door rooted him to the spot.
When she turned and placed her palms flat against the wood, a crushing agony filled him.
She made small circles on the walnut plank. The gesture carried the same affection as his mother's when she'd circled her palm on his chest in a fruitless attempt at healing. Was Ourania attempting a similar rescue? She couldn't save the girl she'd been, wild and careless. She couldn't erase the past. That she'd try to make peace with it all was a heartrending display of stoicism.
The diminished light hid her face. Yet he caught her whispered prayer as she bent her head. When she straightened, she stared at the door. His soul hollowed out.
And he understood: she'd come to the south wing for the same reason as he-to say goodbye to Jason.