I'm delighted to interview Ann Charles today! Ann is the author of the Deadwood Mystery series and the Jackrabbit Junction Mystery series.
Could you please tell us about yourself? Would you be willing to share a secret?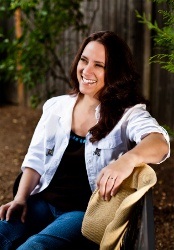 Let's start with the secret-cows freak me out. I once got lost in the woods in the Black Hills of South Dakota because I came across a herd of cattle and refused to walk through them due to my fear. I was even raised on a farm with cows, but there is something about the way they look at me with the big eyes that just gives me the heebie jeebies.
As for me, I'm just your typical schizophrenic author who fills her books with some of her favorite things-purple boots, Moon Pies, Coca-Cola, Deadwood, old mines, dirty old men, alcohol, and monsters (both the human and non-human types). When I'm not living in fiction, I'm working by day as a Technical Writer, hanging with my husband and kids, and taking road trips every chance I get.
When and how did you begin writing fiction? What are your favorite and least favorite aspects of fiction writing? Why?
I started writing fiction in my mid-20s. I had an idea for a romance for Harlequin, so I wrote the story, submitted it to their London office, and received a nice rejection that encouraged me to keep trying. So I did. My genre choice has changed over the years as I felt my way around and tried to figure out what really excites me to write.
My favorite aspects of writing fiction are creating new worlds to live in inside of my head, meeting new readers and authors, and finding people who enjoy the same types of entertainment as I do. These all work together as a driving force to keep writing new, fresh stories and have more fun.
My least favorite aspect is bookkeeping and accounting. Keeping a tally of my expenses as I promote more and more books makes me cringe. Luckily, I've met some wonderful people who are helping me with these tasks now, and I can just periodically hand them a grocery bag full of receipts and skip away to have more fun in the fiction.
Your books are known for their humor. How did you develop comic timing? What is involved in writing funny?
In my opinion, comic timing is all about creating opportunities. I plot a scene that is full of opportunities for comedy, then I just let my mind have fun in the scene and come up with humorous dialogue and action.
Jenny Crusie, a bestselling romance author, once said that the key to writing humor is not making fun of others, but to make fun of yourself. I try to set my heroine up in situations where there are opportunities to laugh at herself, at the way she reacts to something said or done.
DEAD CASE IN DEADWOOD
Would you be willing to take us behind the scenes? Tell us something about Dead Case that we couldn't pick up by reading the description or blurbs.
By the end of this third book, the series hits its first turning point, taking both the heroine and the story in a different direction. I'd love to tell you how and in what direction, but that might ruin the twists and turns in the book. As I told one reader who finished and emailed me with a message full of exclamations and excitement, 'We're just getting rolling now.'
Who are your favorite and least favorite characters? Why?
Favorites are easy-Violet, Harvey, Doc, Cooper, and Natalie. I enjoy most all of my secondary characters, including Reid, Cornelius, Aunt Zoe, and the kids. I even enjoy writing scenes with my villains, because it's fun to be reacting along with Violet in her head.
Least favorite? One might think Ray is my least favorite because he's such a jerk, but actually, I enjoy writing the scenes with Violet and him, because I love building that tension between them. I guess my least favorite characters are the ones I don't give a name to because I have to make them seem like more than cardboard characters, but they aren't allowed too much detail or screen time. It's so much easier to flesh out characters than leave them as just background 'extras.'
You've visited one of Deadwood's haunted hotels. Can you tell us about that?
While I was in Deadwood in 2011 for the South Dakota Festival of Books, the festival committee arranged for me to stay in one of the haunted hotels in Deadwood-Iron Horse Inn. It was a great hotel with interesting architecture and a great staff. We had a cool room on the third floor that overlooked the Adams Museum. In the night, the bathroom door kept coming open, which was creepy in a fun way. We didn't see any ghosts, but the smells and feel of the hotel influenced my thoughts and ideas for the haunted hotel (The Old Prospector) in my third Deadwood book.
Would you please describe the conception of the Deadwood Series? Did you begin with story, place, character, voice? From there, how did you develop the series?
I was visiting family in Deadwood at the time the idea for the series hit me. I was pregnant with my second child and driving into Deadwood and I had this thought-what would it be like to be a single mother trying to make a living in Deadwood. From there, the series just blossomed. My husband and I brainstormed about it for the next couple of months, as I made notes and built a skeleton of the first book's plot. While I have an idea of where I am going with the whole series, I am building many of the details as I go, with each book shedding more light and spurring more ideas.
Why write a series? How do you keep each book so interesting and fun?
I write a series because the storyteller in my head won't shut up. She just keeps adding more ideas and taking me further and further down this long, winding road. As I plotted Violet's story, I knew from the start that I couldn't tell her tale in one little book. This was going to take time and lots of scenes and adventures.
The key to keeping each book interesting is to have the characters experience growth in some way (and I'm not talking about their noses). With each book, I focus on how each character will experience emotional growth by the end of the book. Otherwise, I think the story will become stagnant and will no longer be entertaining.
WRITING & PUBLISHING
Would you please describe your writing process? Do you have a special place where you go to write? Do stories come easily or do you have to work to shape them?
I am what we in the writing world call a 'pantser,' which means I write stories by the seat of my pants. I don't do a lot of detailed pre-plotting. I have an idea of how I want to start the story, the major turning points for the main and sub-plots, and the end. For the in-between details, I let them come as the story fills the page. I have some ideas noted on paper for twelve Deadwood books (the series may run longer, but I figure I'll take fanbase temperatures along the way rather than dragging it out too long). But just as how my plots take a life of their own when I write each scene, the series is taking a life of its own with each book.
As for a special place to go to write, with two kids and a day job, I write wherever I can whenever I can. I don't have an office, I have a couch. Mainly I write wherever, taking my laptop with me more times than my family probably likes.
Would you please tell us how you go about developing your characters? Do you find it at all hard to write about the same characters again and again? Why or Why not?
For each character, both primary and secondary, I write a brief chart containing the characters goals, motivations, and conflict. This is a tool I learned years ago from Debra Dixon's book, GMC: Goal Motivation, Conflict. I will also note a few details I know ahead of time, like eye color and kind of car the character drives. After that, I put them in a scene and see what happens.
I enjoy writing about the same characters in each book because I can get to know them more and more. Just like an interesting and fun friend, it's great to spend more time with them and get to know more about their history, their dreams, and their conflicts. As each book comes and goes, I find it easier to make their 'voice' come through onto the page, and the dialogue in the scenes flow with more ease.
Clearly, you could be published by a large traditional press. Why did you decide to go with a smaller independent press? What are the advantages? Disadvantages, if any?
I tried to go with a large traditional press first, but each one I submitted to rejected me time and again. The common rejection reason is that there probably wasn't a market for my mixed genre story. This forced me to go in a direction I never thought I'd take-hooking up with others to create a small press as one of the owners. I always joke with other authors that 'I just wanted to write books.' Now, I am in charge of my books from creation to print (both as an ebook and printed book). The advantages are that I could choose my cover artist and have a say in the cover design, the book layout, the distribution networks, and price. The disadvantages are that it's harder to get printed books out to the masses due to not having a long-reaching distribution arm : yet. It's also very stressful at times since a book's success or failure is within my control. I have a lot of help along the way, though, and one of the advantages is that I have learned a LOT about the publishing process on a level I never thought I would.
You're currently promoting your book. What has worked best for you, marketing-wise? Why? Have you tried anything that hasn't worked? What would you change?
On the marketing front, Amazon's Select program has been a big help in getting my books out to the masses. My other most successful promo tool are mini-books that I work with a local printer to create. They are the same size as my printed books, but contain only the first couple of chapters of the first book in both my Deadwood and Jackrabbit series. These cost me around $1 a book and are given away for free. Deadwood-area businesses and helpful friends and family members help me to pass the books out all over the place.
I would probably not waste my time on the Facebook ad I tried early on in the game that cost me around $100. I've learned that Facebook is not a good place for me to sell books. While on there, I just focus on hanging out with friends and having fun.
FINAL THOUGHTS
If you were to give one tip to aspiring writers, what would it be?
Be willing to experiment and test-with your story ideas, your marketing/promo ideas, your scenes, everything. When you 'experiment,' failing is an okay thing, which takes the worry and anxiety out of writing. You learn from failure. I try to think of my writing career as one big experiment. Whenever something works out wonderfully, it's as if I finally figured out how to make that dang volcano in Science class actually erupt.
Also, patience and persistence is mandatory in this business.
What are you working on now?
Right now, I'm editing/polishing the second book in my Jackrabbit series called, Jackrabbit Junction Jitters, which will be released this July in ebook and August in print. I am also writing the fourth book in the Deadwood series called, Better Off Dead in Deadwood.
How can your fans connect with you?
I have a website where they can post comments on both my Deadwood Wall and Jackrabbit Wall at www.anncharles.com. I can also be found on Facebook under Ann Charles (I have both a personal page and an author page). And I'm on Twitter as @DeadwoodViolet and @AnnWCharles.
FUN FACTS
Lefty or righty? Right
Introvert or extrovert? I'm an ambivert-or as my husband says, 'A bizarre mix of both.'
Plane, train or automobile? Automobile
Beer or wine? Margaritas!! (Sweet wine, if I have to choose.)
Water: ice or no ice? Ice, please
Light or dark? Dark, definitely, which is why I love living in Seattle.
Winter or summer? Seattle winter, which means lots of dark and rain. I'm not a fan of snow, though.
Walking or running? Walking, unless I'm around zombies.
Sit on a beach or sit by a fire? By a fire
Book or audiotape? Book
Read or write? Read
Draft or revise? Revise
Writer's group or editor? Both!
Ann Charles is an award-winning author who writes romantic mysteries that are splashed with humor. Her book Nearly Departed in Deadwood won the 2010 Daphne du Maurier for Excellence in Mystery/Suspense Award and the 2011 Romance Writers of America Golden Heart Award for Best Novel with Strong Romantic Elements. She has also been a Pacific Northwest Writers Association Literary Contest finalist.
A member of Sisters in Crime and Romance Writers of America for many moons, Ann has a B.A. in English with an emphasis on creative writing from the University of Washington. She is currently toiling away on her next book, wishing she was on a Mexican beach with an ice-cold Corona in one hand and her Kindle in the other. When she is not dabbling in fiction, she is arm wrestling with her two kids, attempting to seduce her husband, and arguing with her sassy cat. Most nights, you can find her hanging out over at www.anncharles.com, on Facebook as Ann Charles, or as DeadwoodViolet on Twitter-especially around midnight when her quirky fictional world comes to life.
Currently, she has several fiction books available: Nearly Departed in Deadwood, Optical Illusion in Deadwood, and Dead Case in Deadwood, which are all part of her ongoing Deadwood Mystery Series. The fourth in this series will be out in late 2012/early 2013.
Also available from Ann is the first book in her Jackrabbit Junction Mystery series: Dance of the Winnebagos. The second in this series will be out in the summer of 2012.
ABOUT DEAD CASE IN DEADWOOD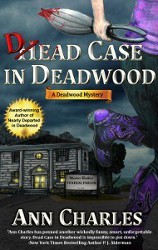 "Nothing good ever happens at the butt-crack of dawn. No doubt, the headless corpse on the autopsy table in front of me would agree."–Violet Parker
Real estate agent, Violet "Spooky" Parker stumbles upon a body-part theft ring at the local funeral parlor and suspects her caustic coworker has a hand in it–or maybe a foot. Can Violet discover what's in the crates the crooks are sneaking out of the mortuary in the dark of night? Or will she end up in one of them herself … in pieces?
Excerpt
Deadwood, South Dakota
Friday, August 17th
Nothing good ever happens at the butt-crack of dawn.
No doubt, the headless corpse on the autopsy table in front of me would agree.
Detective 'Coop' Cooper scowled at me from the other side of the body. A Daniel Craig look-alike right down to his granite cheekbones, Cooper had called a half-hour earlier and ordered me to meet him in the basement of the Mudder Brothers Funeral Parlor before I headed in to work at Calamity Jane Realty.
His lack of patience with my wakeup routine prompted my current caffeine deficiency, which explained this morning's forecast: bristly with a chance of a black eye.
'As I told you the other day, Detective,' I enunciated all three syllables of his title, 'when you so kindly dragged me into your office and forced me to look at pictures of this.' I pointed at the body, not really wanting to think of it once being a whole human. 'I have no idea who this was. Standing here next to the actual body changes nothing.'
Cooper squinted at me with his stainless-steel-colored eyes, not missing a single one of my blinks. I wondered if he practiced his gunslinger stare-down in the mirror every night while he brushed his teeth.
I glared back. While facing off with Cooper often spurred stomach cramps, I'd be damned if I'd let him intimidate me over a dead guy, who just happened to be palming my business card post mortem.
'Ms. Parker,' Cooper spoke through a clenched jaw, something I often did when dealing with my nearly ten-year-old fraternal twins. 'You have to at least look at the body before stating for the record that you don't recognize the victim.'
'What's there to look at? His head is gone.'
Cooper's nostrils flared. Surly bulls had nothing on him. 'Do you recognize any other parts of him?'
'Like what parts in particular?'
'The remaining ones.'
'Nope.'
Cooper growled loudly enough for me to hear. 'Look before you answer.'